Newbery Review #42 (Wrinkle in Time, L'Engle, 1963)
I finally have arrived at the chance to re-read one of my all-time favorite books: the 1963 Newbery A Wrinkle in Time by Madeleine L'Engle. (I've written about it before when I wrote about all the unties, and it's on my list of favorite children's fantasy series) It has always been the light ahead of me in the tunnel during the dark days of some of the Newberies from the 20s and 30s. Also it's soon to be what looks like a really great movie (with Oprah Windfrey, Reese Witherspoon and Mindy Kaling playing Mrs. Who, Mrs. Which, and Mrs. Whatsit!) This book has stayed so timely in its blend of genres. It is at once both fantasy and science fiction—it is the tale of Meg and Charles Wallace Murray with their friend Calvin O'Keefe traveling through space with three former stars to rescue their father trapped by evil on a far planet, and yet it doesn't seem particularly bogged down by explanations of the world (or the universe), which seems to be fully imagined by L'Engle.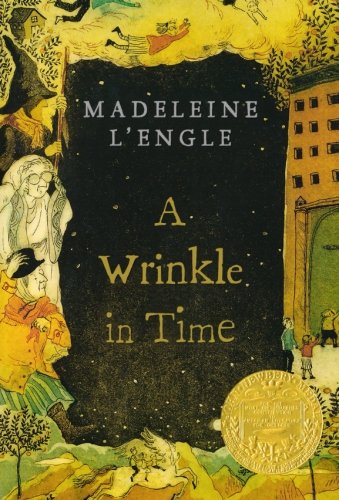 What I liked. I pretty much love everything about this book, but especially the characters: Calvin O'Keefe, Charles Wallace, Aunt Beast, Mrs. & Mr. Murray, the witches, and of course Meg. I love how Madeleine L'Engle writes affection between people — touch and kindness, understanding and admonishment. I think that she does so many things well when it comes to characters' internal struggles, dialogues both internal and between people, but in the end I think that it is her ability to capture affection that is my very favorite.
What was interesting. I love that the book seems so timeless, even though you can if you look carefully pick out touches of 1960s technology: Mrs. Murray is going to buy Meg a typewriter to make her school work easier because her handwriting is so bad, Calvin steps out of the lab to use the kitchen phone, or the post office is the only way that Mrs. Murray would be expected to receive word from Mr. Murray. I don't think those things are distracting, but perhaps when my own kids read it, typewriters and land line phones and lack of email will strike them as very dated. Or perhaps we think that smart phones and computers change everything about communication, when in fact, they haven't really changed that much.
What were some limitations. The strange thing about this book to me is that it is so extremely beautiful with so many editions with truly terrible covers. There is something about how I imagine a centaur and space and young love that evidently is not what ends up on the covers. Or maybe cover designers get held up because L'Engle describes Mrs. Whatsit as transforming into a centaur on the planet Uriel and then says, "No, she thought, it's not like a Greek centaur. Not in the least." (p. 64) This ability to describe a centaur, and then say it's not anything like a centaur works fine on the page, but it seems to have given the cover illustrators a bit of a hiccup in portraying a centaur that's not anything like a centaur.
Similarity to other Newbery winners. It really seems to be the first science fiction Newbery. There have been whimsical books like Dr. Doolittle, or 21 Balloons, but those don't really have the tone like Wrinkle in Time. It has a warmth of friendship and a strong female protagonist like Speare's two books (Witch of Blackbird Pond & Bronze Bow), a family coming together like Miracles on Maple Hill, Caddie Woodlawn, and Krumgold's two books (And Now Miguel & Onion John), and a kind of hero's journey like Adam of the Road and Door in the Wall. But really, Wrinkle in Time was a very striking book that helped to usher in a new kind of story, especially for children.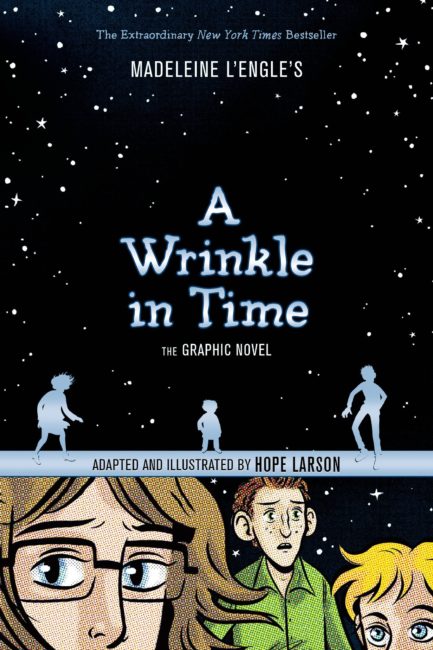 What it teaches me as a writer. I think that there are few books that have taught me more about being a writer than this one. It's warmth and imagination, strong female characters, and chemistry really are elements that I think I'll spend the rest of my life trying to make my own and imbue my own characters with so that they have that same kind of life and love.

Have you read Wrinkle in Time? What are your favorite sci-fi and/or fantasy books?
*Note* This post contains Amazon affiliate links, which means if you were to buy a book, I'd get a tiny commission at no cost to you. Thanks for supporting Stories & Thyme!*
Subscribe to Blog via Email

Instagram

Follow Me on Instagram!

Twitter

Follow me on

Twitter!

Favorite Posts

Archives