Paleo Chai Tea: A Blended Butter and Coconut Oil Recipe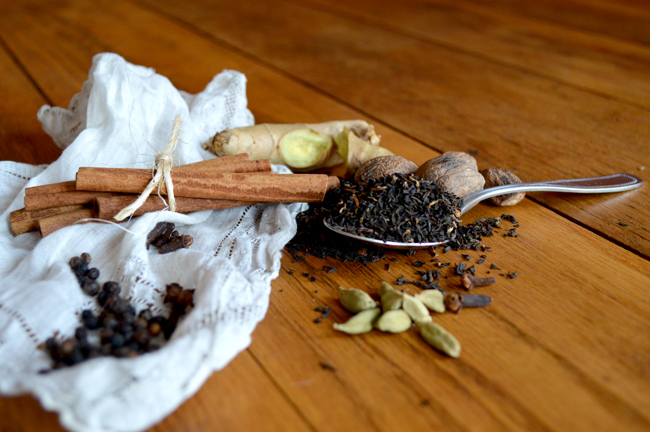 Tea, like Lent, was something that I knew about before college, but was brewed a bit weak, and I was a little unimpressed. High school, around the year 2000, introduced me to fancy coffee drinks and youth group Christian subculture—often together, as my high school youth group met in my church's coffee shop. I don't mean to disparage either—who doesn't love a good cup of coffee and enthusiastic, devoted friends?
But growing up, it seems, means discovering new facets and dimensions to those tried and true ways of doing something. So about the time that I was learning to journey with Christ through the year in the Church Calendar, I was learning to drink a new cup of tea. My sophomore year, I found myself with three beloved and unexpected roommates, Liz, Heidi and Jeannete. In the middle of a Chicago winter, the four of us took a three-day weekend and went downtown. We went to stay a stone's throw away from Lake Michigan in a northern neighborhood of the city at the childhood home of Liz.
I have an enduring memory of that weekend: the four of us lounging on a great sectional couch, looking at National Geographic magazines, listening to a collection of world music—African Drums, Old American Jazz, and Latin Dance, and drinking sweet and spicy homemade chai tea. It was called "Poor Man's Chai," and it was a recipe brought back by a family friend from her time in India, some 30 years before. I loved it so much that the next time we went to Liz's, her mom, Sue, made it with us.
Sue told us that it was called "Poor Man's Chai" because it had only a handful of spices, and the wealthier you were the more spices you could afford. We sliced the same gnarled ginger root and split open the same cardamom pods in Sue's beautiful high ceilinged kitchen, just as Liz had done while she grew up there. And in some way, we also were joined to the story of Sue's friend who had gone to learn and understand the Church in India in the mid 1970s on our college's internship program HNGR—a program that would take Liz to Peru only 18 months later.
One of the harder parts of changing the way you eat midway through life is that you can feel cut off from the tastes and dishes that are so intertwined with memories. So when Evan and I went Paleo, chai tea with milk was something that we couldn't continue to have.
Paleo taught me a lot about my ability to abstain from foods, even foods that I loved, because they would make me feel so sick. Lent is a time of abstaining. I admit that eating Paleo often doesn't feel like it is that much of an asset, since it can feel like even more restriction. But even though we don't do a traditional meat fast during Lent, giving up coffee and chocolate for 40 days reminds me that when I put down something that I love and feel connected to, there is grace there. I set aside my coffee, and turn to tea, and remember how much I love chai, and set my mind to figuring out how to make Liz's chai again, but without milk this time.
The beginning is unchanged. Boil a handful of spices: ginger, cardamom, cloves, and cinnamon. Then brew loose black tea in the spiced water. Finally, add a sweetener and, well, it used to be milk. It is this last step that took some thought. Sweeteners were easy enough: just swap in honey or maple syrup. But the milk, that was the tricky part. It took some time, but eventually I found a way to substitute something delicious for milk (see below the recipe).
And that is what Lent is, it is a returning, and setting down and picking up foods and habits, memories and hopes. Often I am gritting my teeth for the pain of Lent, and I am surprised by a cup of sweet chai tea.
Poor Man's Paleo Chai : Blended Butter & Coconut Oil for Two
Boil (30 minutes)
6 Cups Filtered Water
3 + Cinnamon Sticks
8 + Cardamom Pods (opened)
10+ Cloves
1 + inches of Ginger root sliced
(Optional Additional Spices: Fresh Ground Nutmeg, Crushed Black Pepper, Star Anise, Fennel, Orange Zest, Lemon Grass, Vanilla Bean, Allspice)
Brew (5 minutes in brew basket, or strain out a few hours later)
3 Tablespoons Black Tea in the spiced water ( or rooibos or red raspberry leaf if you're really caffeine sensitive)
(The spiced water, or the brewed tea can both be stored as a concentrate in the refrigerator for several weeks, so the recipe can be easily made into a larger batch by increasing the spices. I would strain out the spices prior to storing, especially the ginger.)
Blend (1 minute on high)
2 Tablespoons Melted Butter or Ghee
2 Tablespoons Melted Coconut Oil or Coconut Cream
2 Tablespoons Honey or Maple Syrup with the piping hot brewed spiced tea
(Optional: 1/2 teaspoon vanilla extract)
A Note on Paleo Options for Replacing Milk in Hot Drinks
Milk has sugars, proteins, and fats that can be tricky to swap out. Almond milk often works well, but it's hard on Evan's stomach and I like, but don't love, the taste of almond milk. Coconut milk can work well, (like Paleo Parents' Chai) but when heated it has a tendency to separate if it doesn't have a lot of binders in it. And the best coconut milk is the kind that you make at home (Like PaleoMom's Recipe).
So one of the keys to having a hot drink is to blend it in a blender. You can choose to blend several different sources of fats together and each one has its pros and cons. Eggs and nuts have some proteins with their fats, along with a handful of vitamins and nutrients. But for people on an autoimmune protocol they (and black tea) can be hard on stomachs. Also, I love eggs blended in with my coffee or tea, but you have to pay attention in order to get your drink hot and not accidentally cook your eggs, which gives you a sort of custard. (Elena's Pantry has a tea-free, egg version) And nuts are really best soaked, so you need to plan ahead the night before. I like homemade cashew milk best. (Spunky Coconut's Recipe) Butter can be a source of dairy, so for those who are really sensitive (or on a full Lenten fast), they should either choose ghee or skip the butter altogether. Coconut oil is generally well tolerated by most people, but by itself it has a distinctly coconut-oil taste.
So choose your own milk substitute based on your dietary, time, and resource restrictions. If I were going to make the very perfect cup of chai tea, I'd probably add a little bit of each of nuts, eggs, coconut milk, coconut oil, and butter. But for an easy, very forgiving recipe, I like to use blended butter and coconut oil. (Similar to the bulletproof coffee recipe)
What particularly meaningful food have you given up and come back to?
*Note* This post contains Amazon affiliate links, which means if you were to buy a book, I'd get a tiny commission at no cost to you. Thanks for supporting Stories & Thyme!*
Subscribe to Blog via Email

Instagram

Follow Me on Instagram!

Twitter

Follow me on

Twitter!

Favorite Posts

Archives