As temperatures fluctuate from 50 to 90 in late May in Maryland, and trees are in full summer greenery, school is about to be out. Summer is upon us. In honor of all my tutoring students who, even if they do not know it, are in search of good books to read over the summer, I have put together 10 of my favorite fantasy series. These ten, in addition to my all time favorite, The Chronicles of Narnia, are perfect for a beach read or a rainy afternoon.
I've enjoyed reading other summer reading lists (Check out Modern Mrs. Darcy's!) and I plan to make a couple other top 10 lists as the summer progresses.
Fantasy is a hard genre to pin down, but all these books contain talking animals, dragons, or wizards.  And most of these authors would agree with George MacDonald when he wrote, "I write, not for children, but for the child-like, whether they be of five, or fifty, or seventy-five."
So without further ado
10 Children's Fantasy Series
1
. Lloyd Alexander, Prydain Chronicles: Taran the assistant pig keeper and his companions' quest to keep Prydain safe from the Lord of the land of death and to uncover their mysterious pasts.  With roots in Welsh mythology, Alexander brings together lively characters: faithful Gurgi always after crunchings and munchings, feisty and sensible Princess Elionwy, Fflewddur Fflam the king-bard with his harp that keeps him honest, grumpy Fair-folk dwarf Doli with longings to be invisible. A solid modern fairy tale that contemplates what it means to be a hero and be at home. I can't wait until my local library gets the final installment, Newberry Award winning The High King in so I can finish the series.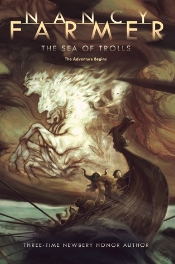 2. Nancy Farmer, Sea of Trolls: Voyage with eighth-century Anglo-Saxon Jack, the young bard-in-training, as he is captured by Vikings and taken across the seas to journey through Jotunheim and to Yggdrasil as he learns about his family, his village, and ultimately himself. Farmer takes Norse myths and early Anglo-Saxon saints and creates a fast paced adventure story. We listened to Gerard Doyle's audio version over some long road trips and enjoyed getting to know a full cast of wonderful characters: the valiant and reckless shield-maiden Thorgil, the capricious little elf child Lucy, the sweet and strong freed-slave Pega, and the hoppy and happy hobgoblin-raised Hazel.  A very different tone from Percy Jackson, but similarly it is a wonderful introduction to the major characters and tales of a classic mythology.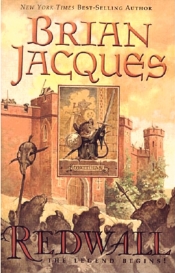 3. Brian Jacques, Redwall: The brave mice and other forest creatures who live within the great Redwall abbey fight to defend their peaceful lives against the evil weasels, lizards, rats, or foxes who would seek to destroy and conquer. With beautiful details of medieval abbey life, the 20+ books are a bit similar, but filled with enchanted dialects and mouth-watering dishes. Jacques writes food (mostly vegetarian with the occasional fish) with such caring and realistic detail that there is now a Redwall Cookbook.  As a child playing imaginary games with my cousins, they were often taken from the pages of Redwall's adventures and quirky swash buckling hares, badgers, or moles.
4. Madeline L'Engle, Wrinkle in Time: The adventures and quests of the Murray – O'Keefe family as they are whisked across time and space and must choose to believe in the face of empty evil and darkness.  L'Engle writes family better than anyone else. There is a warmth between siblings and parents in her books that captures the struggles and frustrations of family at the same time as it makes clear that each member of the family is loved and deeply belongs there.  I am also making my way through her slightly less fantastical (although no less fantastic) Austin books and loving them as well.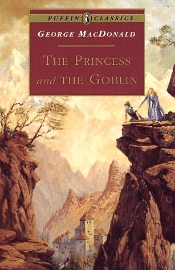 5. George MacDonald, Princess and the Goblin: Princess Irene and the brave miner's son Curdie learn to love and trust their powerful great-great-grandmother who sends them out to defeat goblins and corrupt royal officials and save the kingdom. GK Chesterton once wrote that Princess and the Goblin "made a difference to my whole existence." Madeline L'Engle cites the beautiful rose fire scene from Princess and Curdie in her book The Young Unicorns. MacDonald's princess books are some of his most accessible, but they still have moments of philosophical Romanticism that are more prominent in Lilith and Phantastes. MacDonald wrote fast and to feed a large family. He has the most beautiful sentences and images next to some passages that seems more like rough sketches that could have been refined.  This seems particularly prominent in some free editions.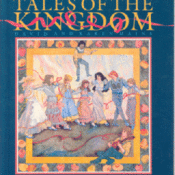 6. David and Karen Mains, Tales of the Kingdom: Scarboy escapes the evil Enchanted City into Great Park where he becomes Hero and believes in the King and the Restoration. Hero's tale is interwoven with a collection of allegorical episodes exploring the adventures of other members of Great Park.   My college wilderness instructors read these stories to us in the wild woods of Upper Michigan's Porcupine Mountains.  They are sweet and convicting.  My favorite toast comes from these books: To the King! To the Restoration!
7. Rick Riordan, Percy Jackson: Classic Greek and Roman myths retold and set in 21st century America with a cast of teenage demigods questing to stop the rise of the ancient Titans.  It has a distinctly junior-high humor feel to it, but I am amazed by Riordan's ability to teach. Percy Jackson to me always feels like I am listening to a funny social studies teacher who is making geography and mythology accessible with apt modern equivalents.  It's not nearly as deep as CS Lewis' Till We Have Faces, one of the most beautiful myths retold, but the Percy Jackson books are very clever and entertaining. We're still awaiting the publications of the end of the second half of the series. Write faster, Riordan! Percy and Annabeth still are trapped in Tartarus!
8. JK Rowling, Harry Potter: Harry Potter discovers he is a wizard, makes lifelong friends, and meets his destiny at the enchanting Hogwarts School with Headmaster Dumbledore to conquer the great evil Lord Voldemort. I think I could listen to Jim Dale read all of Harry Potter every year for the rest of my life. Fortunately for me, Evan feels the same way about all 115 hours of it.  I believe that Rowling is the most gifted storyteller of our generation.  Every time I listen or read back through her books, her level of planning, the details of names, and the elaborate symbolism is stunning.  If you want to notice more of her amazing techniques I would highly recommend reading John Granger's books about the Christian content and literary techniques of Rowling.
9. JRR Tolkien, Lord of the Rings: Unlikely heroes, little hobbits Frodo and faithful Sam Gamgee, journey with elves, men, dwarves, and wizards to save Middle Earth from the evil of Sauron by destroying the ring of power. I listened to the 13 hour BBC theatrical production on most long road trips as a child. It was only a few years ago that I finally listened to the full-unabridged version.  It is a large undertaking, and considerably more lengthy and involved than the others on this list. But along with MacDonald, everything that has come after it owes it a huge debt. Tolkien is the master of detail, creating languages and elaborate back-stories that draw on much ancient Norse.  The Hobbit is considerably more accessible, but the full Lord of the Rings is a tale that could be studied for a lifetime.
10. Walter Wangerin, Jr. Book of the Dun Cow: Along with a cast of barnyard animals before the time of humans, the rooster Chauntecleer has to overcome the great and evil Wyrm. It's intense, hard to put down, and amazing.  Walter Wangerin Jr. came and spoke at Wheaton while I was there.  I can remember no one else who spoke to us with more gentle authority. He told simple stories of caring for his dying mother that were poignant and inspiring. His books have this ability to feel alive and like he understands the variety of human motives intimately and honestly.
Happy Reading!
What are your favorite children's fantasy series?
Subscribe to Blog via Email

Instagram

Follow Me on Instagram!

Twitter

Follow me on

Twitter!

Favorite Posts

Archives