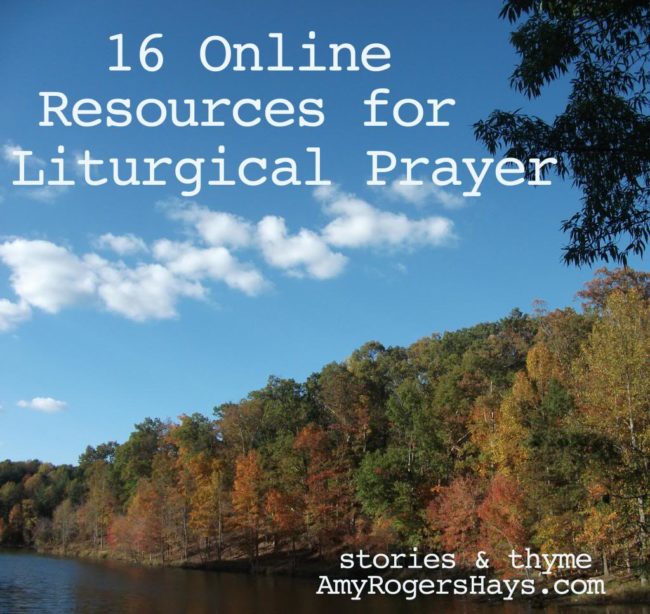 Prayer is simultaneously a very personal and very communal event. It is just you and God talking; at the same time it is part of a great and ancient conversation of the Church Universal. Throughout the Fall we've talked about 9 great paper prayer books (part 1 and 2), definitions of reasons to and examples (Michaelmas and everyday) for how pray liturgically.
In this post, I'll cover 16 online resources.  The variety of resources listed here reflects both the diversity and breadth of that prayerful conversing. But these resources also reflect the personal. Are you someone who wants to know all the technical names and options? Or do you want a minimal and meditative experience? Are you more interested in single historical texts? Or do you like to draw on a broader range of options to customize the form and version? Well, there is likely an online prayer interface for you! I've arranged the online liturgical resources below, roughly guided by those questions.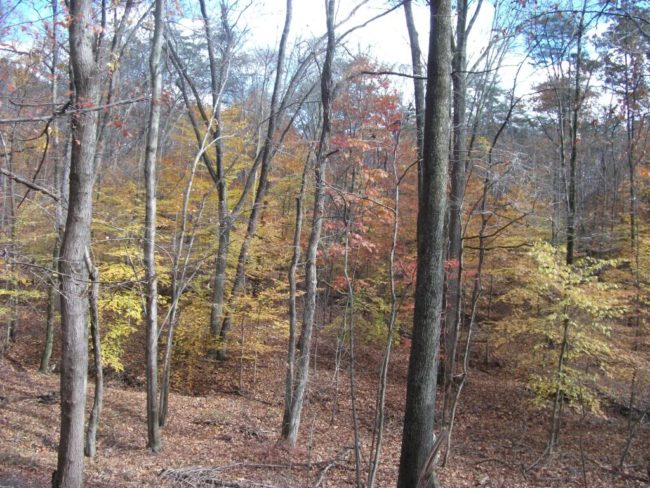 But what if you aren't a pray-from-a-screen person? I almost always prefer to pray from a book rather than from a screen. But even for me there are a lot of reasons to use and appreciate the wonderful liturgical prayer websites, apps, podcasts, and pdfs. You can of, course, use them to pray on the go or at home—they are convenient and have all the text you need in one place. But even if you are like me and like paper prayer books, online prayers can help you learn how to use your own prayer books more effectively. They can also help you keep track of what optional Scripture readings to use. Or they can help you explore a new resource before you commit to buying the book. I particularly like that some websites have options to download pdfs and kindle versions (like the Mission of St. Clare). I like to use those on vacation and save myself some packing room.
Four Online Resources for the more Aesthetic Prayers
1.
Sacred Space Irish, Catholic, Jesuit. Website. Meditative. Easy to Navigate. One prayer per day with one short section prayer per page. Optional body, breath, listening and poem of the week.
2.
Morning Prayer.is American, Anglican. Website. Text from the 1979 Book of Common Prayer. Clean, Simple Design. Just text of morning prayer in a nice font, no extra options.
3.
Common Prayer American. Ecumenical. Companion Website to Common Prayer: A Liturgy for Ordinary Radicals compiled by Shane Claiborne, Jonathan Wilson-Hartgrove, and Enuma Okoro. Burlap and international icons and art. Shorter prayer, lists Scripture reading references, but not full passages.
4.
A Book of Daily Liturgy & Prayers from Church of the Advent, DC. American. Anglican. PDF. Prayer book from my Church's Parish Retreat two and half years ago. Text from late sixteenth century English Bishop Lancelot Andrewes. Each day has a piece of art, layout design by the talented Lauren Shea Little.
Four Online Resources for the more Comprehensive Prayers
5.
Universalis British, Catholic. Text from Liturgy of the Hours, Roman Breviary. Options for morning prayer, terce, sext, none, evening prayer, night prayer and readings from mass. You can see a week's worth of prayers, also available in Latin.
The free iphone/ipad and android app IBreviary has a similar, although slightly pared down version of the Roman Breviary; and divineoffice.org has a podcast for two daily services.
6.
Book of Common Prayer.net American, Episcopal. Website. 1979 Book of Common Prayer. Options for Rites I or II for morning and evening prayer. Feels very much like the paper version of the Book of Common Prayer, with only the appropriate collects and prayers for the season/day listed instead of for the whole year. Helpful for getting a sense of how to use the Book of Common Prayer. BCPonline.org has downloadable PDFs.
 7.
Common Worship British, Anglican. Official Church of England Companion site for Common Worship: Services and Prayers for the Church of England. Options for Traditional or Contemporary for morning, evening, or night prayer and downloadable files.
The Pocket Common Worship Android App has the texts for book the 1979 Book of Common Prayer and Common Worship.
8.
Texts for Common Prayer. American, Anglican. PDF. Working Documents for the Anglican Church of North America. Has a nice collection of collects for each day of the week in the morning prayer section.
Two Online Resources for the more Customizable Prayers
St. Bede's Breviary. American. Episcopal. Website. A number of different texts to choose from (for example 1979 and 1928 Book of Common Prayer). With a beautiful background of medieval manuscript and a series of drop down menus from the type of Rite, Style and Sanctorale for morning, noon, evening, and compline.
10.
Mission of St Clare. American. Episcopal. Website. App. iSilo, Text, Kindle, and Nook. 1979 Book of Common Prayer with additional audio/video hymns and chanted portions of morning prayer.
You can use the iphone/ipad or android app or website for morning or evening prayer, or you can download the texts for the month in various formats. Also, it has a lot of nice resource links to audio versions of sung evening song (compline).
Three Online Resources for the more Ecumenical/Multiple Source Prayers
Oremus American. Ecumenical/Anglican. (Oremus, from the Latin "let us pray") compiled from a variety of prayer books (Common Worship, Common Order, Uniting in Worship 2, New Patterns for Worship, Evangelical Lutheran Worship.) Seems to still be mostly Anglican-based, but with other high church traditions used as well. Oremus has been a labor of love of the two compilers for many years.

Explore Faith.org Pray the Hours American, Ecumenical/Episcopal. Text from The Divine Hours: A Manual for Prayer, (3 Volume Set: Prayers for Summertime, Autumn and Winter, and Springtime) complied by Phyllis Tickle. It heavily draws from the Book of Common Prayer, but has a lot of sources. This is my favorite paper liturgical prayer in online form. My only complaint is sometimes it gets off a week or two from the church year.
3. (Repeat from Aesthetic category) Common Prayer American. Ecumenical. Companion Website to Common Prayer: A Liturgy for Ordinary Radicals compiled by Shane Claiborne, Jonathan Wilson-Hartgrove, and Enuma Okoro. Burlap and international icons and art. Shorter prayer, lists Scripture reading references, but not full passages.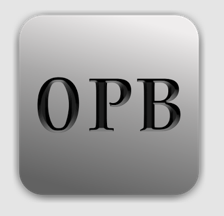 Open Prayer Book Source (collect links to several different sites): Android App. Ecumenical. Has links to many of these prayer websites (Orthodox Prayer Book, Book of Common Prayer, Mission of St. Clare, Common Prayer, Sacred Space, Oremus,  Universalis, Common Worship, Saint Bede's Breviary, Rule of St. Benedict, and some Lutheran links as well.)
Four Online Resources for the more Historical Prayers
13.
Orthodox Prayers. American. Orthodox. From what I can find there isn't a comparable site that combines daily prayers and daily Scripture readings/Saint commemorations for English Speaking Orthodox, like there is for Anglicans and Catholics. So you have to use a couple different sources to pull the various texts. But it's worth it! The Orthodox prayers and readings are really wonderful.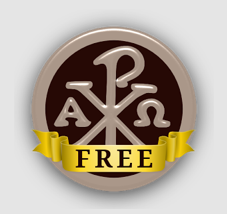 The Orthodox Church of America  has the scriptures and saints for the day on their home page and texts for many prayers under their prayer section.  Similar prayers can be found at St. George's Antiochian Orthodox Church, Portland OR,  or with the Pray Always Free iphone/ipad Android App.
14.
Benedictine Prayers. British. Catholic. Benedictine. Compiled from the writings and tradition of St. Benedict, one of the Fathers of Fixed Hour Prayer,
also published in The Glenstal Book of Daily Prayer. The Glenstal Abbey iphone/ipad  and Android App has prayers for each day of the week, and St. John's Abbey in Minnesota  has daily readings from the Rule of St. Benedict.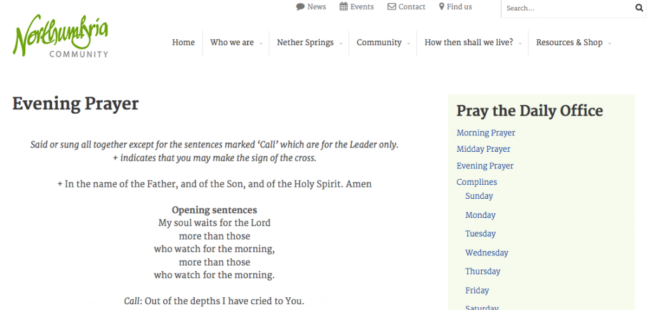 Northumbria Community Offices British. Celtic/Ecumenical: Northumbria Community. From the text of Celtic Daily Prayer From the Northumbria Community– focuses on 6th and 7th century Celtic saints and their prayers. I think the morning, evening, and complines on this website are some of the best parts of the paper edition.
16.
The Trinity Mission, American. Anglican. Text from 1662 Book of Common Prayer also has complete audio version. Really more of a podcast with full text, the conservative Anglican daily prayer is like going to services at a little local church everyday.

Phew! You made it through until the end. There are a lot of lovely online prayer resources! So bookmark them, or download an app. Originally, many prayer books were compiled to make it easy to pray as you traveled. And I think those early compilers would have loved to see their words easily pulled up on phones, tables, and laptops. I sometimes resist praying from a screen because I want it to be this really set apart and beautiful time. And that's good—we should strive for peace and beauty in our lives. But we're invited to pray at all times, even when things are not serene and meditative. The practice of prayer is about cultivating that space within your heart that is always quiet and ready to listen to the life giving words of the Lord. So use whatever means you have to practice praying!
What helps you practice praying regularly? Do you have a favorite website for prayer?
Subscribe to Blog via Email

Instagram

Follow Me on Instagram!

Twitter

Follow me on

Twitter!

Favorite Posts

Archives