Flourless Chocolate Cake: A Simple Recipe for Celebrations
Here's the recipe for the flourless chocolate cake I mentioned making before the 4th of July. It's my go-to cake to celebrate. It's made an appearance for my goddaughter's first birthday and celebrating the beauty of a regular Saturday night visiting best friends. I love really good chocolate, and this recipe is all about the chocolate. All the extra butter and eggs do is to give it a great dense cake feel.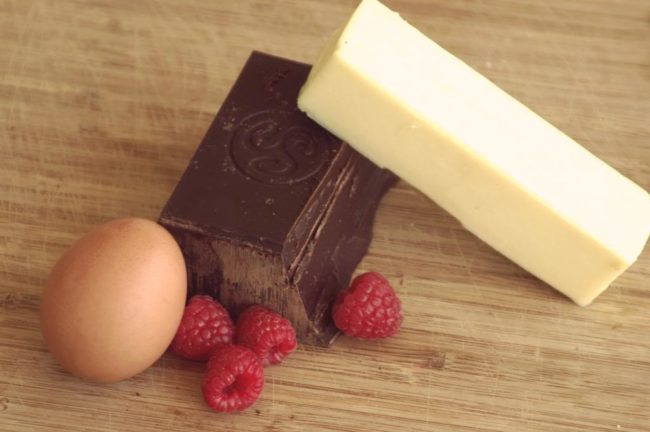 As a child I remember that flourless chocolate cake was one of those desserts that we got at fancy restaurants that we only got to go to with my Grandfather. They would have strange little swirls of hardened chocolate on them, and they would sit on that tiny desert plate with a raspberry and a mint leaf. It was the only dessert I can ever remember getting half way through and wanting to take a break. "Oh this is so rich," my parents would say. It seemed the height of luxuriant decadence.
It turns out that a lot of really rich and wonderful recipes are actually very simple. Get the best ingredients and make sure there is a lot of high quality fat and intense flavor. It's easier to not over-eat when something has a lot of high quality fat and intense flavor. It's still possible, of course. Not over eating, even on Paleo, also means being selective on what you have around and available to create an environment for the healthiest choices.
There are a lot of wonderful blogs and recipes for Paleo treats and desserts. Going Paleo doesn't mean that you can't eat amazing baked goods. But I have found that if I make a batch of cookies up, I eat them. And if I don't make a batch of cookies up, I don't eat them. So since I try to limit the number of batches of cookies I eat, we tend to keep the treats pretty low, focusing on in season fruit and high quality dark chocolate. Occasionally we'll splurge on coconut ice cream.  (On my list of kitchen gadgets I really want is an ice cream maker.) But this cake is a great treat for celebrating with friends and family.
There are three things I love about this chocolate cake recipe: 1) it is super easy, 2) it doesn't have any strange or expensive substitution ingredients, 3) it has three ingredients: chocolate, eggs, and butter.
It really is very easy. You can, and I have, go to Trader Joe's and buy 8 oz of chocolate bars, a half dozen eggs, and a package of butter and cook up this cake in someone else's house if they lend you a couple of bowls, a pan, and an oven. There are more complex directions for flourless cake if you are a serious connoisseur, but I've found that you can skip a lot of the whipping of the egg whites, and it still turns out great. Also, I really like dark chocolate, so I don't add extra sugar (or honey / maple syrup) to mine, but instead I top it with sweeter fruit or sorbet. But if you like a sweeter cake, than add up to a 1/2 cup of sweetener.
Last week I tried using baker's chocolate and added a pinch of salt and a pinch of vanilla along with a half cup of turbinado sugar (evaporated sugar cane) to approximate dark chocolate. It worked really well, although I'd probably dissolve the sugar in a little water next time to make the mixing easier. I think that the Trader Joe's Pound Plus 72 works really well for this recipe, but using your own baker's chocolate/sugar combo means you can avoid the emulsifier Soy Lecithin in a lot of regular chocolate bars.
Amy's Simple Flourless Chocolate Cake
Ingredients:
1/2 lbs (8 oz) dark chocolate
1/4 lbs (4 oz or 1 stick) butter
1/2 dozen (6) eggs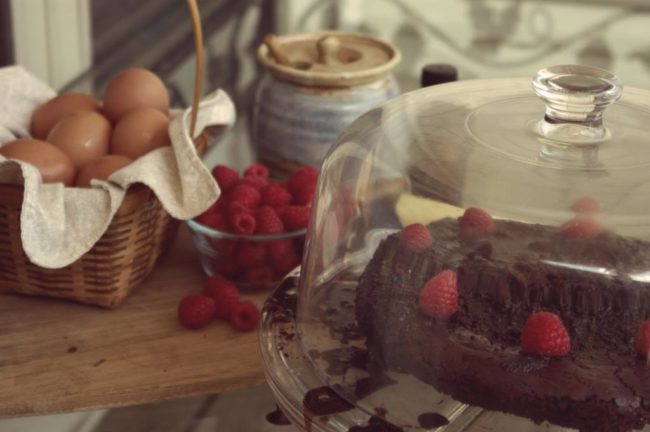 Directions:
1.) Melt the chocolate and butter in a medium bowl. (Or your baker's chocolate/sugar/salt/vanilla equivalent.) You can do this in a double boiler, or in 30-second bursts in the microwave and then stir. Just don't get lazy and think you can microwave it in 3 minutes because you'll burn the chocolate. Just stick to 30 seconds and stir, every time.
2.) Whisk the eggs in a large separate bowl. Then (and this is important) slowly add the melted butter-chocolate to the eggs. You don't want to scramble your eggs by dumping them into the melted chocolate, so just add a little bit of the chocolate to the eggs and stir it in completely before adding more so you bring the temperature up slowly.
(Optional Step: Taste your batter. At this point it is about chocolate mousse. If you think it needs a little more sugar, or salt, or vanilla, now is the time to add it.)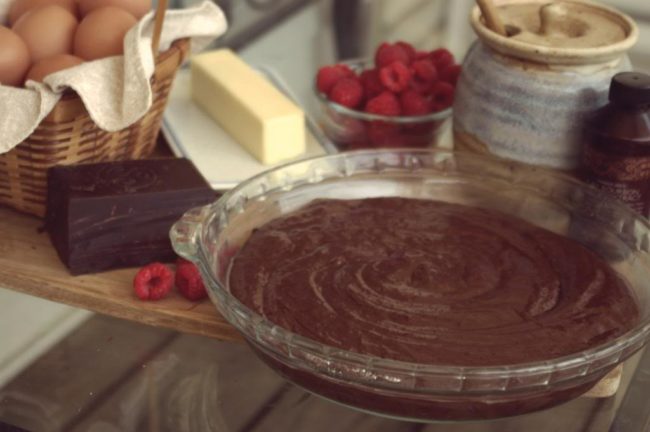 3.) Transfer to baking dish and bake at 270 F for about 40 minutes or until a toothpick comes out clean.
Serve hot or cooled with raspberries and raspberry sorbet or coconut ice cream. Decorate with some chocolate shavings or a simple chocolate sauce (melt one part chocolate and one part coconut oil together and stir).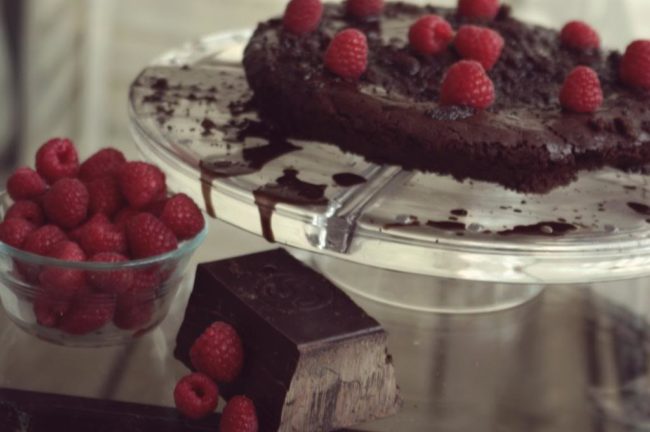 What are you celebrating this summer? What is your simple go-to recipe to celebrate?
Subscribe to Blog via Email

Instagram

Follow Me on Instagram!

Twitter

Follow me on

Twitter!

Favorite Posts

Archives