In honor of our sixth anniversary last Sunday, here is the beginning of the story of Evan and me from seven springs ago…
We met at history honor society.   He was a tall handsome senior. I was a curly-haired, blond junior.  In such a small program, we were both surprised there was a history major we hadn't met yet.
That semester, I was his TA for History Senior Seminar. I remember Dr. Rapp gave him a 100% for his in-class participation. I was impressed.  He was articulate.  He remembered my name when he saw me around campus.
The next semester, I finally got a class with the amazing Church Historian, Dr. Mark Noll. It was a combined undergrad and graduate level class. I got there early. There were only graduate students with laptops and wedding rings in the back row. I sat by myself.
He walked in. I smiled and waved like a lost toddler. He sat next to me. The class was about the history of 19th and 20th century Global Christianity. It was about culture and the Church and the amazing work of the Holy Spirit to be faithful to such a diverse and faltering world.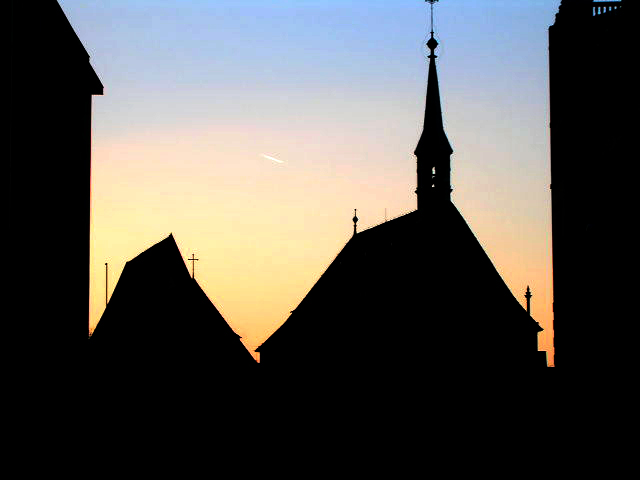 It was a long class with a break half way through. We talked. Weeks went by. We talked about Church. We talked about history. We talked about doing honors papers. We talked about our time abroad. He had been in Egypt the previous spring. I had been in France that summer. He was a good listener.
By early February I was so captivated by this thoughtful, kind boy from history class that when I got the stomach flu, landed myself in the ER, and then was released at 4:30 am—all I could think was that this was a really good reason to email Evan. "Dear Evan, I won't be at class. Take notes for me."
I kept those notes. Notes he had taken for me. I haven't the slightest idea what they were about. Christianity in China, I think.  I wasn't good at reading his handwriting then.
In my inbox at the end of February: "Dear Amy, Do you want to go to a play with me?" It was the Good Person of Szechwan. It was a little weird. The play. And the quasi-date. We were nervous.  At the end I thought he didn't like me.
But I sent a thank you note. I put a picture of Prague on it, since he was about to go there for Spring break. He was surprised to get a thank you note, for a date. He said later that he then knew I really liked him.
Spring break, I only let myself look at his Facebook page once. A day.
Back at school, he was late to class. And during break some boy wanted to know about Prague beer. We didn't get to talk at all. I was convinced I made up the whole thing up in my head. I left class mad at myself.  That was it. I needed better boundaries.
I knew he went to the library after class. I won't go there. But it was cold. And the library was so close. He would be downstairs. I could go in and stay upstairs.
He was upstairs. He sat right by the doors.  He was, jet-lagged, staring off into space. Well it won't hurt to say hello.
"Hello."
I sat down to study next to him. I didn't understand a word of the sixteenth-century French poem. At the end I said, "I'd like to see your pictures of Prague and Budapest, sometime." "Sure, any time they're on my computer."
Class two days later: "Don't you have open floor tomorrow?" (When boys were allowed to visit the dorms.) "Uh? Do I?" "Yeah I think you do, I could come by and we could look at pictures of my trip. I could see your pictures of France. Or I might go into the city for St. Patrick's Day." Class started. I rushed off at the end of class to help with a community art project.
Email that night: "Didn't ask if you were free. I'm not going into the city. I'd like look at pictures tomorrow with you, if you want to." "Ok, let's eat dinner together," I wrote back.
We sat next to loud people at the cafeteria. "Next time, you can pick a quieter place to eat," he says. Next time! I thought.
That night he crammed himself into my desk that was nestled between my bed and the radiator. He was so tall. We looked at pictures of spires and churches and cobblestones.
And then, he stayed.
He stayed for an hour. And we talked, like friends. I remember it was so normal and terribly exciting.
Two weeks later, the awkward to comfortable ratio continued to shift.  We went to the Lincoln museum with the honor society (which on that day included only one other individual). I met his 9 roommates. I gave him a terrible cat card for his birthday. We went to another play: You're a Good Man Charlie Brown.
He held my hand.
We had an RDT that night. (Relationship-Defining-Talk). He said that getting to know me was the best part of his semester. We stated officially dating. We said we wouldn't be serious, just honest.
He got into graduate school in Maryland.  And I didn't want to sway his decision. I didn't want him to stay around Chicago-land for me. Then one Thursday, I just knew, he should go to Maryland, and I loved him.
So I wrote him a note. And told him to go and I would love him. And I read it to him under an oak tree on the way to a jazz concert.  I cried as I read the words. He listened, and at the end he said he loved me.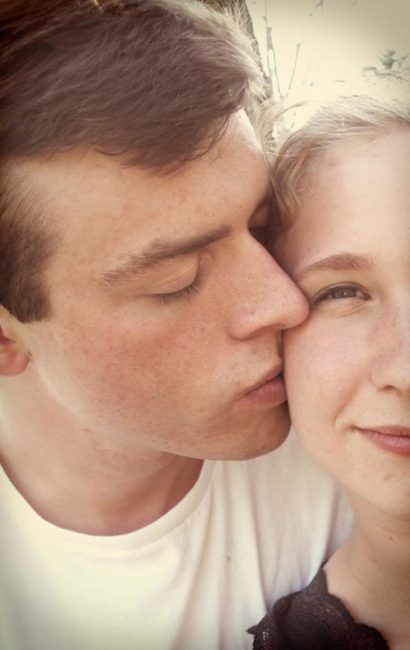 And then we did what we have done dozens of times since: we worked really hard on papers. Researched and revised and visited in the cracks between class and mentor meetings.
It was the most beautiful spring of my life.
Until the next one when we got married.
Or perhaps the next one when he graduated from Maryland. Or the next one when I finished my first year of grad school. Or the one after that when I finished my course work. Or the next one when I decided to leave the program. Or the next one when he started another masters program, this time to be a high school History teacher. Or maybe this one.
Each one has blossoms and new degrees and projects and layers of love. Each one has us taking pictures of beautiful places, and sharing history and love of God's work. Each one has us learning more about how to communicate and how to be wholly ourselves, individually and together.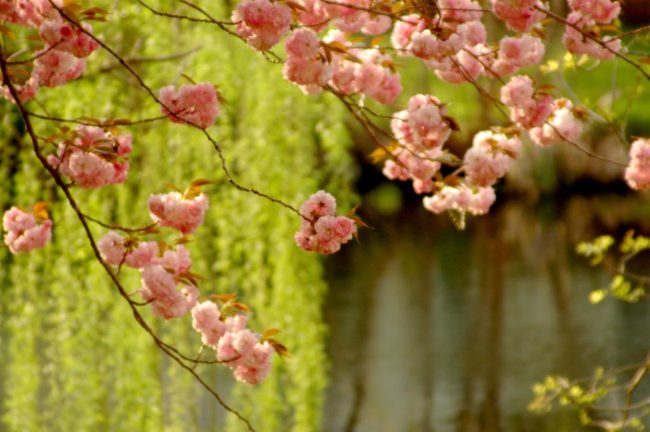 Each one has new ways to try to be honest, and not too serious.
What is your falling in love story?
Subscribe to Blog via Email

Instagram

Follow Me on Instagram!

Twitter

Follow me on

Twitter!

Favorite Posts

Archives