Newbery Review #36 (Miracles on Maple Hill, Sorensen, 1957)
A sweet story about maple syrup and returning to the land, the 1957 Newbery, Miracles on Maple Hill by Virginia Sorensen, is a story about a WWII vet and his family who summer at an old family house. There, they grow gardens and heal ailments of body and soul in the New England woods. Centered around Marly and her older brother Joe, it's an easy book that seems both an older pioneer style book as well as part of the recent trend to care more about the family farm.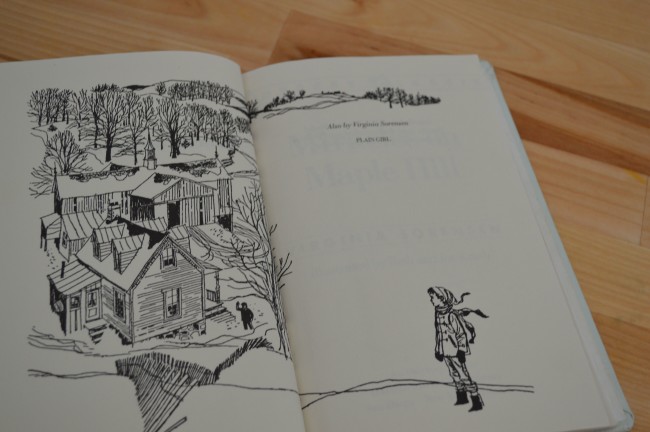 What I liked.  I loved the descriptions of the forest and spring and the land. The wonders of things blooming and growing and the farmers who love them was a central theme of the book. The forest floor covered in little flowers was one of my favorite scenes. The audio version was a full cast, with fun little guitar intros and interludes. At the end, the cast sings a song about a fox that the father sings as he gets better and better. It's nice, but I think Nickel Creek's version is better.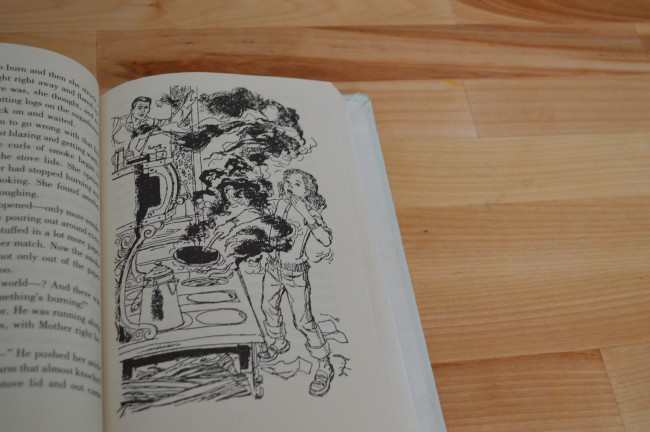 What was interesting. I think the combination of what the kids knew and didn't know about farm life was so interesting. They didn't know about priming a pump with water or how syrup was made—both of which growing up in Wisconsin and going to our cabin in Canada I learned about when I was little. They didn't know about how to light a fire in a potbellied cooking stove — also something I wouldn't know how to do. But they easily understood analogies about milk curdling on a warm day, or the scab on a vaccination, neither of which we experience much now with modern refrigeration, pasteurized and homogenized dairy, and modern shots. They still used horses a bit to do some work, which while a bit quaint wasn't completely unexpected, and the school children in the local school got permission to come and help out at the farm, as laborers, which while unconventional, seems like it would be all but impossible today. Returning to rural small farm life seems both timeless and yet also, nearly 60 years later, considerably different.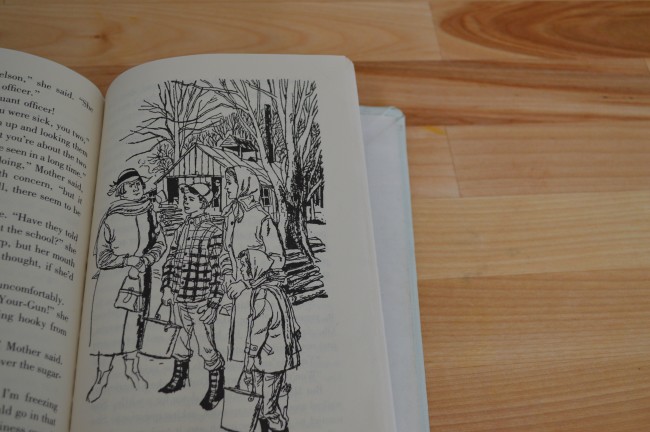 What were some limitations. I admit that the book was so sweet at times, with such strong foreshadowing that one of the beloved grandfather-like figures of the book was going to fall ill, that I was sort of dreading that this book was going to be about death. So I was relieved that (spoiler alert) Mr. Chris survives his heart attack. I wonder if that narrative tension was integral to the book, or if it was a bit heavy handed, or whether as an adult reader I just am better at spotting the potential conflicts, but a younger reader wouldn't be worried. I'm not sure. By the end of the book I think that it was definitely worth a re-read, and could be a great thing to pair with learning about maple trees and syrup.
Similarity to other Newbery winners. It probably reminds me most strongly of Thimble Summer with its themes of farm life and family as well as Caddy Woodlawn and Strawberry Girl with strong female characters in nature. The descriptions of nature and gardens reminded me of Rabbit Hill and Dobry, the themes of sickness and healing to Door in the Wall, brother-sister duo like Ginger Pye.
What it teaches me as a writer. One of the things that worked well in the book was the way that nature presented themes through its repetition. Spring starts the book and ends the book, and then in two separate instances, Marly wants to spare the mice and foxes on the farm. Even though the book is short, returning to a season or situation, and having the characters remember and anticipate makes the book feel longer and deeper. I think that I tend to not want to repeat myself, but I think that repetition and theme and variation is an important part of the books and characters we love.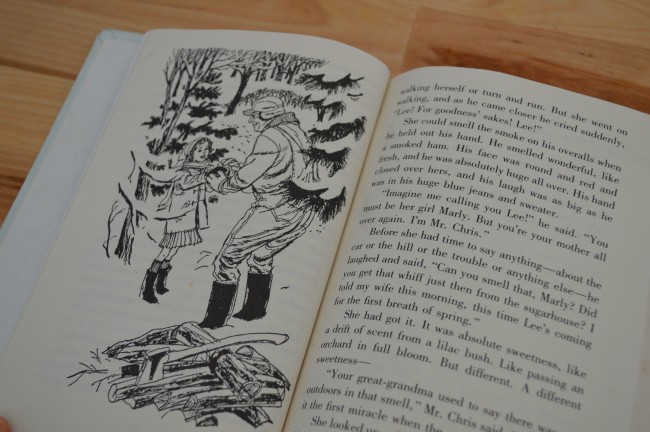 Have you read Miracles on Maple Hill? What are your favorite books about family farms and returning to nature?
*Note* This post contains Amazon affiliate links, which means if you were to buy a book, I'd get a tiny commission at no cost to you. Thanks for supporting Stories & Thyme!*
Subscribe to Blog via Email

Instagram

Follow Me on Instagram!

Twitter

Follow me on

Twitter!

Favorite Posts

Archives