Simple Breakfast: 10 Minute Eggs & Sausage Paleo Scrambler
I have always loved breakfast. It makes sense since I'm a morning person. I was that kid at a sleepover who woke up a 6 am and had to sit around quietly for hours before anyone else got up. I read some strange books in friends' basements. But, whether it's at 6 am or 6 pm, I love breakfast. Growing up, on those nights when for whatever reason my parents didn't feel like cooking, they would open a can of baked beans, scramble some eggs, and butter some toast and call it "English Breakfast." I thought English Breakfast dinner nights were the best.
In some ways, breakfast can be the most challenging meal for people to adjust to on a Paleo diet since the traditional and convenient cereal, pancakes, and other baked goods are out. But ever since I was a regular at my college cafeteria's omelet station, I knew that eggs, veggies, and meat for my morning meal was a better start to my day than even the most healthy oatmeal and whole-wheat bagels which left me hungry by 10:30.
But what to do when you aren't in college and you don't have a sweet omelet lady who knows your order as you show up at 8:05 every morning?  What happens when you have to be your own omelet lady?
I have two strategies for no fuss everyday breakfast. One is to bake up a week or two's worth of egg bakes, and the second which I'll talk about today, is to make a simple cast iron skillet scrambler.
Amy's No Fuss  (10 minute) Breakfast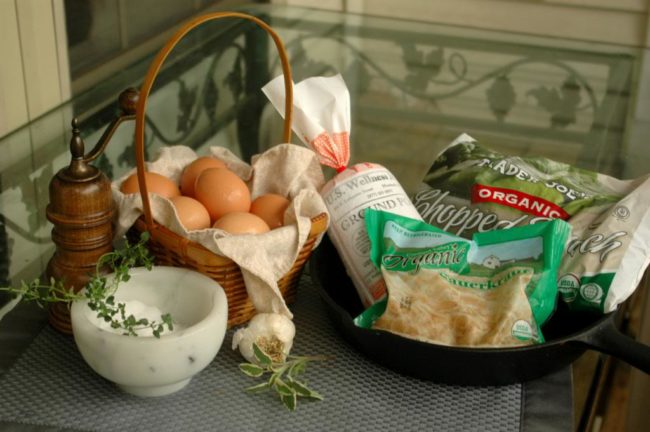 Ingredients (for 2 servings)
– 1/3 lbs of ground pork (about 2.5 oz per person.)
– 1 T organic grass fed butter/ghee or rendered bacon grease (optional)
– A pinch of salt, pepper, rubbed sage, and garlic powder
-1/4 cup frozen organic spinach (1/8 cup per person)
– 6 organic, if possible pastured, eggs
-1/2 cup of organic fermented sauerkraut (1/4 cup per person)
-1/8 cup seasonal fruit (optional)
Directions
1. Heat your cast iron skillet on medium. (For easier clean up heat a tablespoon of butter or render bacon grease) (2 minutes)
2. Brown 1/3 lbs of ground pork with a pinch of salt, pepper, rubbed sage, and garlic powder. (2 minutes)
3. Add 1/4 cup frozen spinach. Stir until spinach is warm. (1 minute)
4. Add 6 eggs. (I break the yokes in the pan by stirring. But for easier pan clean up, you can slightly scramble them before in a separate bowl and then turn down the heat and let them cook undisturbed without stirring.) (Between 30 seconds and 3 minutes depending on how well cooked you like eggs, and if you're stirring them).
5. Serve with fresh herbs like thyme and basil, 1/4 cup sauerkraut on the side, and if in season, like now, add a few blueberries.
6. To aid clean up: While the pan is still warm, scrape out the remainders of the eggs with a metal spatula and wipe clean with a towel or newspaper.
Extras
This breakfast has just about 30 grams of protein à la Tim Ferris' 30 grams of protein within 30 minutes of waking.  It has two different vegetables, fermented cabbage for the pro-biotics and cooked spinach to help the absorption of minerals à la Sally Fallon's Nourishing Traditions. Next on the list of things to do is to ferment my own sauerkraut with Diane Sanfilippo's Balanced Bites Recipe!)
With the blueberries, the breakfast clocks in at about 6 grams of carbs (4 from the blueberries and 2 from the sauerkraut), and with the added butter about 30 grams of dairy and porcine fats. If you wanted to increase your carbs, you could add a little sweet potato on the side.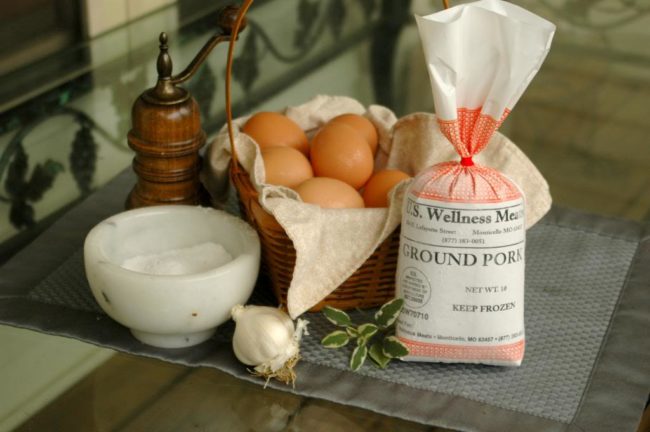 I am trying to figure out the quantity of nightshades I can tolerate (tomatoes are out, but I'm not sure about peppers yet), so the garlic and sage sausage spices are nightshade free sausage mix, but others that include paprika are great. If you were doing a strict auto-immune protocol/elimination diet, the sage and garlic would work and you'd want to double the amount of sausage, and skip the butter and the eggs.
If you want to really make your breakfast count, and whether or not you are doing a strict elimination diet, skip the coffee or tea and replace it with warm bone broth for extra minerals and proteins!
On mornings that we want to make it more special, we caramelize some onions and mushrooms, but that extra 15 minutes doesn't usually fit into my normal morning routine.
Where to buy: We get our pork online from US Wellness Meats and our spices from Penzeys. Our favorite eggs come from a local health food store M.O.M.'s—My Organic Market—but we often get them (and the frozen organic spinach) at Trader Joe's or Whole Foods. The organic fermented sauerkraut is from Whole Foods. And the fresh herbs are from our little balcony garden.
What is your go-to, everyday breakfast?
Subscribe to Blog via Email

Instagram

Follow Me on Instagram!

Twitter

Follow me on

Twitter!

Favorite Posts

Archives