Newbery Review #33 (…And Now Miguel, Krumgold, 1954)
…And Now Miguel by Joseph Krumgold is our 33rd Newbery Award winner. It's about a young shepherd boy who longs to leave home and be fully accepted into a family, which is almost exactly the premise of the previous Newbery Secret of the Andes. Only Miguel Chevez is a middle child in a large Latino New Mexico family that herds sheep (and Cusi was a lone indigenous llama shepherd growing up in Peru). Miguel's heart's greatest desire is to go with the Chevez men into the mountains (Sangre de Cristo) on the annual summer migration.
What I liked. I loved all the descriptions of the sheep, particularly the mothering ewes and newborn lambs. Probably since I'm a new mother myself, this image of mothering and nursing and knowing was really meaningful to me…but I imagine may not strike a deep resonance with your average 9-year-old. Grandfather Chevez has some really lovely things to say about sheep and shepherds that made me think about the Christian allegory of Christ as our shepherd, "That is the real work of a pastor," my grandfather told me, "of a shepherd. To see that in all the flock there is none that is alone by himself. Everyone together. Only so can all live."
"How is it they go off, the way they do, by themselves?" I asked. "Why are sheep not so smart?"
"Sheep! There are many men who don't understand this simple thing. Not only sheep." (p. 52)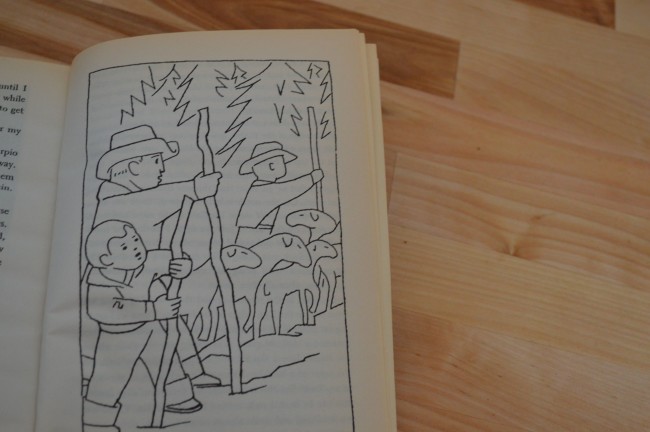 What was interesting. I thought that the role of St. Ysidro, the patron saint of farming, was really interesting. St. Ysidro is also the patron saint of Miguel's little town, so his extended family built a chapel for the saint on the edge of their land and that's where the feast of St. Ysidro is celebrated every year. Miguel's prayers and thoughts of the saint, and of the way that all the saints work was a combination of a sort of whimsical child-like image of saints running around answering prayers, and also a reflection of a broader view of the cult of saints that I imagine was a fairly accurate representation of 1950s southwest Latino Catholic belief.
Similarity to other Newbery winners. As I said in the beginning, it's very similar to The Secret of the Andes. But as a coming age tale it is in the good company of other Newbery novels such as Johnny Tremain (also a book which stressed me out with the protagonist's communication style and arrogance), Young Fu of the Upper Yangtze, Waterless Mountain (also set in the southwestern US), Dobry, Adam of the Road, and The Door in the Wall.
What were some limitations. Miguel is painfully, painfully bad at communicating with his father. He leaves out details. He brings in absolutely random bits from his own stream of consciousness. His father is distracted and confused. The first third of the book is just filled with these disasters of conversations. I seriously would have stopped reading the book four or five times in the first half because it is just so terrible. In the end I think there was a lot of redemption, but it was so painful in the beginning that I would have stopped reading it given the chance. I think that Krumgold could have been more subtle and given the reader a little relief (and Miguel a few more relational wins), because then when Miguel finally does communicate what he wants effectively, I was just worried that Miguel was going to mess it up and rupture the recently repaired relationship. It was stressful on me as a reader!
What it teaches me as a writer. In reflecting on why the beginning half of …And Now Miguel was so painful, it makes me think about the art of writing characters making poor choices. I prefer when a character makes a choice that I, as the reader, am wary about but still could understand why the character would want to make that choice. But with Miguel, I could not really see the motivation behind why he was just blundering about not telling his father and brothers what he really wanted and why. Partially, I also think as a 12 year old who longs to be an adult, he really is capable of communicating more plainly (and does so later). I think part of the charm of Beverly Cleary's Ramona Quimby is the way that Ramona is constantly misunderstood. But as Ramona is a lot younger (4 to 10, depending on the book) and a lot more comical, I find that the misunderstandings are compelling and part of the charm and beauty of those books.
Have you read …And Now Miguel? What are your favorite books that center on a child being misunderstood by adults?
*Note* This post contains Amazon affiliate links, which means if you were to buy a book, I'd get a tiny commission at no cost to you. Thanks for supporting Stories & Thyme!*
Subscribe to Blog via Email

Instagram

Follow Me on Instagram!

Twitter

Follow me on

Twitter!

Favorite Posts

Archives