Newbery Review # 22 (Adam of the Road, Gray, 1943)
Adam of the Road by Elizabeth Janet Gray was the first re-read in this Newbery journey. I read Adam of the Road for the first time less than two years ago. Adam of the Road was a favorite of my husband's, and we own a well loved copy. It is about a 13th century minstrel father Roger and his harp playing son, Roger with his beloved dog Nick. It is well researched historical fiction that really immerses the reader in the world of southern England with a trip to smelly London, a grand fair, a monastery, and of course the road.
What I liked. My first reading of Adam of the Road was partially what convinced me that this Newbery Project would be something fun to undertake. Returning to it again, I was struck by just how much more developed this book is than some of the Newbery winners in the years before it.
What was interesting. I thought that the psychological insight into people was particularly strong. Adam's father Roger has a bit of a gambling problem, and the interplay between the two when Roger loses the beautiful horse Bayard (which had been Adam's ticket to being accepted by a new group of boys) was surprisingly real and Roger feels the shame of his gambling addiction seeing the disappointment in his son's eyes.
What were some limitations. While I really enjoyed the re-read I found that it was dragging a bit; the plot moves us through interesting places but it's at times more of an atmospheric book than a page-turner. I found myself enjoying a few pages at a time, but being a little pokey to really finish more than a chapter at a time, but that might be because I had read it so recently.
Why I think it's a Newbery. A historical coming of age tale is an early Newbery favorite, and this one has such a vivid and well researched setting it's really a fun read. It's still rather popular—a friend's son at church just finished it for school and there are a lot of editions. Plus we also have a dog that miraculously is found at the end of a book, a theme I think that might crop up again in future Newberies.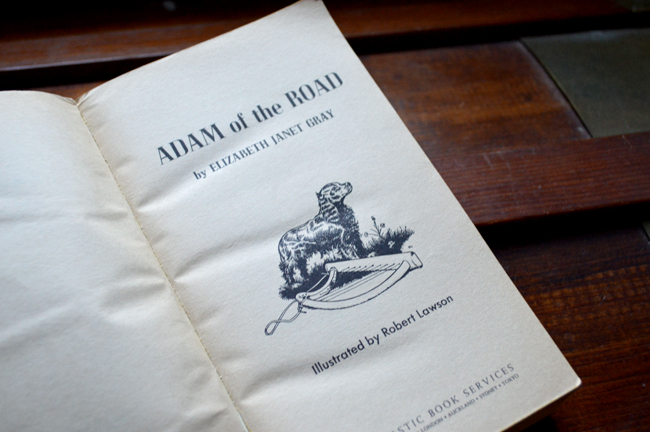 Similarity to other Newbery winners. The historical detail in Adam of the Road was similar in depth and quality to the third Newbery The Dark Frigate although Adam of the Road was a lot more readable because it kept the dialogue and narration in contemporary English. The eighth Newbery The Trumpeter of Krakow shared a main character as a medieval boy in a new city, but Trumpeter had a lot more fantastical elements than Adam of the Road.
What it teaches me as a writer. I loved the mixture of specific historical details (the foods, the smells, the social structure at the abbey or castle) with the kind of universal truth of the human heart that Elizabeth Janet Gray mixed in her story. The section in which Adam is about to head out from school and says goodbye to the woman who looked after his dog Nick is a good example:
"Well, I'll miss you both," said Dame Malkin, standing with her hands on her broad hips looking down at them.
Adam gave her two of his remaining comfits—a poor widow in a village wouldn't taste such sweetmeats once in a year's time—and a silver penny. She gave him a cabbage leaf full of strawberries that she had found for him. It was easier to say good-bye when you had something to give." (P. 50)
I loved that image of strawberries in a cabbage leaf—something that I could imagine and yet have not exactly seen before paired with that lovely thought about saying goodbye. It is a good reminder as a writer that readers both want what they know and what they didn't know that they knew. Also the power of well described food and presents can make the reader feel like they have received each themselves.
Have you read Adam of the Road? What are your favorite medieval books?
*Note* This post contains Amazon affiliate links, which means if you were to buy a book, I'd get a tiny commission at no cost to you. Thanks for supporting Stories & Thyme!*
Subscribe to Blog via Email

Instagram

Follow Me on Instagram!

Twitter

Follow me on

Twitter!

Favorite Posts

Archives