Newbery Review # 29 (Door in the Wall, de Angeli, 1950)
The 1950 Newbery winning book, The Door in the Wall, by Marguerite de Angeli, spins a medieval tale about an English boy named Robin, separated from his parents, and crippled by the plague who learns to walk and trust again, eventually saving a castle from the attacking Welsh.
What I liked.  Even though the metaphor was not the most subtle, I sort of loved the encouragement of that repeated phrase of the kindly friar, Brother Luke, "if thou followest a wall far enough, there must be a door." The whole book is a simple story of overcoming hardships through perseverance and friendship — following the wall long enough to find the door. Of course it's also pretty fun to have Robin follow an actual medieval castle wall far enough, find a door, and save the day.  Plus the illustrations by the author are really lovely.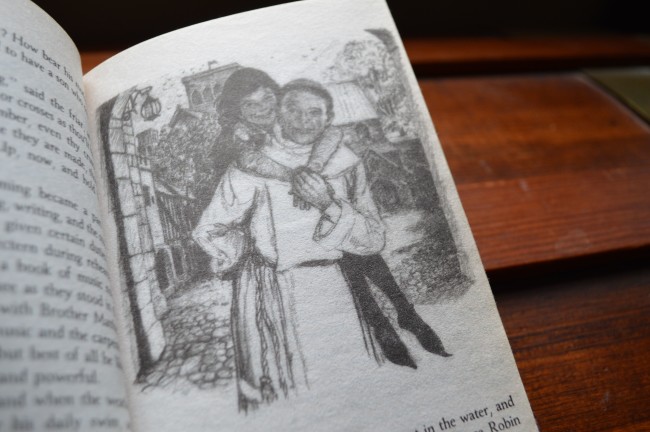 What was interesting.  The portrayal of medieval life, especially of the mendicant monastic life — the singing and praying and writing of the monks and friars — was one of my favorite parts of the book and made me want to go visit a monastery myself.  A lot of medieval stories have monks as a bit corrupt (and that's a literary trope for a reason–some were not very good) but it was fun to have the monks be so great in this story. I thought the warmth and vibrancy of the monastery reminded me a lot of Brian Jacques' Redwall books with everyone milling about with their work, and of course having Brother Luke take a journey with Robin, outsmarting bandits and helping with a castle battle might have contributed that Redwall-ish feel as well.
What were some limitations and some similarities to other Newbery winners. Overall, I think that Door in the Wall could have been a little longer and more complex. One of my other favorite early Newberies has been Adam of the Road which is also a coming of age tale about a boy in search of his father, traveling throughout southern medieval England, recovering from an injury at a monastery, and playing the harp. Adam of the Road is a bit more complex of a story compared to Door in the Wall, although I think that Door in the Wall could be a great story for a younger strong reader, and I personally liked it more than other earlier medieval Newbery The Trumpeter of Krakow.  It also reminds me a bit of the much more recent Newbery honor winner Karen Cushman's books (like The Midwife's Apprentice) with a cranky, crusty main medieval character who softens up with friendship and confidence throughout the book. Although like Adam of the Road, Cushman's books are more rich and layered in their telling.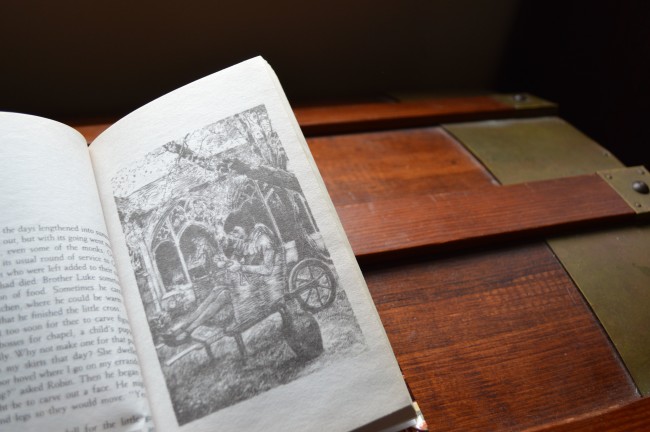 And yet…
What it teaches me as a writer. What was really so charming about this book was the clear love the author had for the time and the people; she wanted Robin to grow and succeed and for the medieval world to feel alive, and both shone through.  I think that it's easy to get bogged down in writing something compelling and clever for your characters, and losing track of simply sharing something you think is beautiful and lovely. It's a good reminder for me to be willing to describe the best parts of my writing worlds in a simple, straightforward way.
Have you read The Door in the Wall? What are your favorite medieval books?
*Note* This post contains Amazon affiliate links, which means if you were to buy a book, I'd get a tiny commission at no cost to you. Thanks for supporting Stories & Thyme!*
Subscribe to Blog via Email

Instagram

Follow Me on Instagram!

Twitter

Follow me on

Twitter!

Favorite Posts

Archives