When I was tiny, vacation felt like leaving for the airport before dawn. It was exciting to feel the bumps of an empty highway as we rushed with our bags full of swimsuits and books to make an early flight. And once we were there, Florida or California, vacation was full. It was full of swimming and zoos and sunburns, of cousins and grilled hamburgers and exhausted happiness.
But now vacation feels less like the excited rush before dawn, and more like ability, the privilege, to quietly watch the dawn unfold. Vacation now is the extravagant act of simply taking in sunrise and sunset. It is the still unfolding of cloud and color. It is mountains silhouetted back against golden blues.
It's not that the sun doesn't rise or set on an ordinary day. But it gets crowded out. The horizon is full of telephone and electric lines, garages and garbage cans. And our mornings are filled with sleep until the last possible moment and then breakfast and clean up and pack up the papers and soothe the baby and the start the day.
A few weeks ago, I went out early for our Arizona family vacation and stayed with one of my college roommates, Heidi. She picked me up from the airport mid-morning and we spent four beautiful days hiking and talking, praying compline before bed, seeing a play, listening to lovely music, cooking and brewing coffee together.
As I get older I treasure my friendship with Heidi more and more, she is one of the very few people in my life who seems to take in both the really horrible and beautiful parts of me at the same time. There is no pretense with Heidi: I could call to confess or celebrate and she wouldn't miss a beat. Our friendship is secure.
The first morning after I arrived, Heidi was scheduled to have some workers pour a concrete patio at about 6 am. But something went wrong with mixing the cement, so we were up at 6 with an hour to simply wait. So we watched the sunrise. Coffee in hand, we watched the sky, telephone poles and palm trees and skyscrapers and crimson. I don't think we even said much. It was good to just be.
And then on our last morning together, when I had convinced her to drive three hours south of Phoenix to my parents' condo, I banged around in the kitchen long enough to wake her up for the sunrise. (See, she is a very forgiving friend.) We crept upstairs and watched as the mountains woke up, and it was enough to just be quiet witnesses greeting another day.
(photo I took of Heidi in the sunrise, looking wisely into the dawn)
(photo Heidi took of me laughing at something hilarious she said)
What stands out to me about my time in Arizona is the sky. It's big and clear and hemmed in with mountains. It's my dad calling for my mom to stop washing lettuce  and come upstairs to the little Romeo and Juliet balcony and watch the sunset.
It's walking with a glass of wine in a plastic tumbler to the hot tub and watching the eastern mountains glow rosy in the shadow of the sunset. It's the bigness of the sky mid-hike with cliffs and scrub brush and open range cattle beneath you.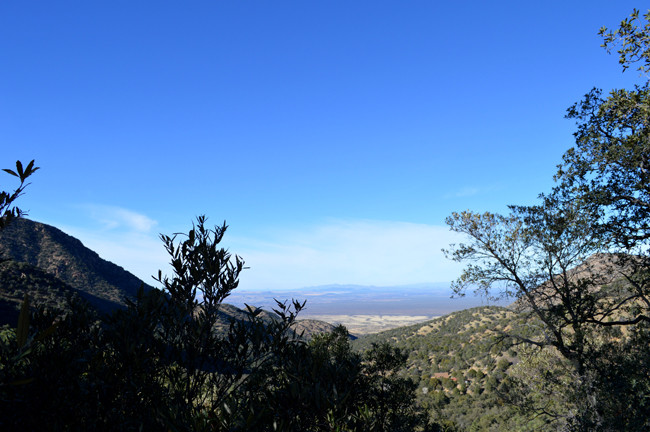 The thing about vacationing as an adult is that it is often not really a leaving of responsibilities. Someone still needs to make breakfast, and clean it up, and go buy more bacon and kale (because that's what we tend to eat for breakfast on vacation.) Vacation can feel more like real life, especially when you travel with the people that you live with, when you are an adult. And now that vacations are filled so often with Wi-Fi and remote access to work projects, vacations more and more have to be a conscious choice to be present and do less.
Even a thousand miles away from home, you still have to choose to be on vacation. You still have to choose to stop and look up at the sky and wonder at its bigness, or look down as see the intricate smallness of flowers and plants.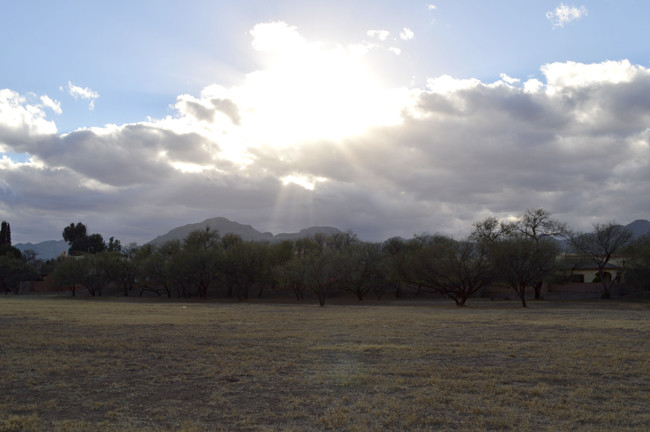 And now six weeks later, in the dead of winter in urban Milwaukee, I think back to those warm sunsets as the cool of the winter desert crept in, and wish I had taken time to see more of them.
Of course, sunsets are here too. Last weekend Evan called me out to see the moon and the clouds. Strips of clouds covered the moon which in turn created a rainbow aura around herself in the clouds. We stood outside in the scattered patches of snow and took in the show.
We have the choice to stop now and take in the winter moon. I can choose to hold my niece as she screams out her grief at her mother leaving for work, and we can watch the sunrise behind the dozen houses and wires. I can stop for a moment to appreciate the sunset as I cut sweet potatoes for dinner.
It's not the decadent 20 or 30 meditative minutes of taking in a mountain sunset, but it's a good reminder: Everyday we can choose to stop and breath and take in the beauty around us. Because if we enjoy the stolen seconds on a regular Tuesday evening, it helps us to really appreciate the luxury of watching a summer sunset when vacation comes again. And as sure as the dawn, summer will come whether or not the little groundhog sees his shadow today.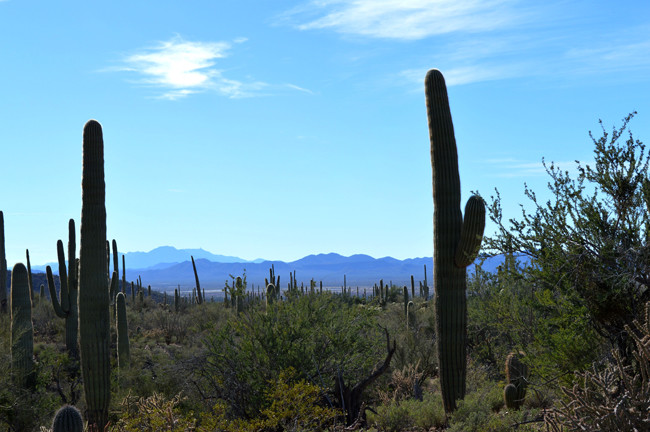 What helps you stop and appreciate a vacation or an ordinary day?
Subscribe to Blog via Email

Instagram

Follow Me on Instagram!

Twitter

Follow me on

Twitter!

Favorite Posts

Archives