On Saturday morning we got up and crept quietly out of the house, hoping that we could let my niece and brother and sister-in-law sleep past 7:30. I think the dogs foiled this plan, but I hope we slipped out without causing too much of a ruckus. We finally, after almost five months of being here, were getting around to one of the big reasons we moved out here: we were driving down to Chicago, a trip that only takes 2 hours or so. We have all sorts of college friends and extended family in the Chicagoland area, and moving back here was, in part, to be closer to them. And one of the people we were most excited to see was a tiny, blond girl who turns three in August: our goddaughter, Teresa.
We drove south through Milwaukee into cornfields, past cheese castles and construction, amusement parks and sprawling suburbs on the flat, flat land of Illinois. We arrived at the cheery yellow house without even remembering the address, just the look of the street names and the big church on the corner. We climbed the steps and knocked once before pushing the door open to find around the corner two shy little girls blinking up from their bedroom floor.
My first memory of my own godmother was hiding shyly behind a chair at church, sort of pleased and embarrassed to have her talking to me, so we aren't surprised that our own goddaughter giggles when asked who we are. It takes a good half hour for the twins to warm up. We sit on the floor with them helping to clean up the happy explosion of little girl toys with our dear friend Brett and his two precious daughters.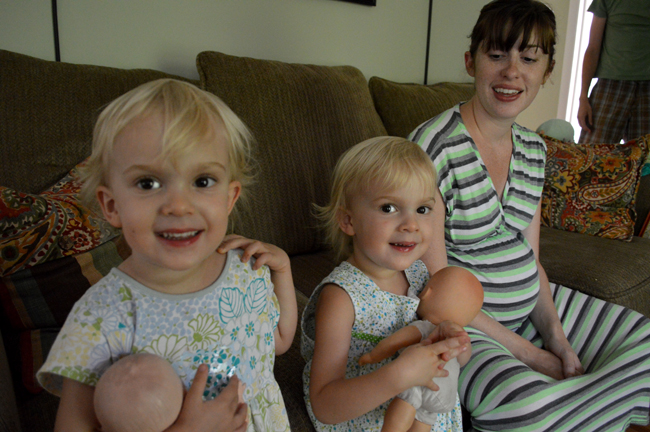 Julie comes home then, 38 weeks pregnant, from Trader Joe's stocked up with eggs and bacon and salmon and chicken for our weekend. There are a dozen signs of our decade long-friendship, but Julie with brown bags bursting with food bought just for us, is one of the great ones. She usually asks for a menu and grocery list of what we can eat, and then we often cook for everyone in their welcoming kitchen, while Julie and Brett tend to their brood.
It is easy, like family.
It feels like family, because it is family. We are Uncle Evan and Aunt Amy there. We were at the hospital when the girls were born, so tiny at 35 1/2 weeks.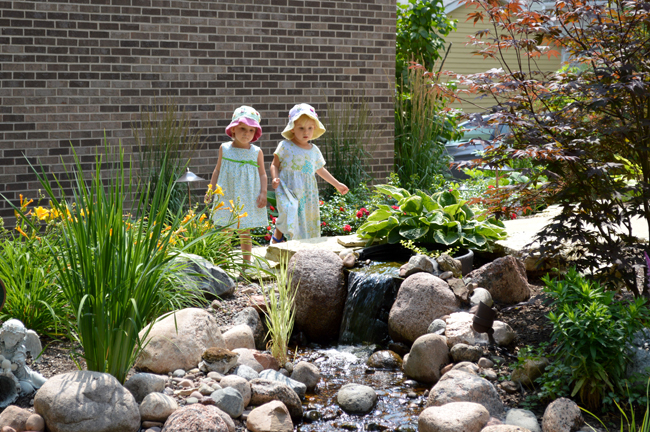 We still have some vegetables to buy. So we all search for lost tiny flip flops and sun hats to walk to the Saturday Morning Market. We stop and admire hydrangeas and water fountains on the way.
The sun is a bright and warm mid-July one. It reminds me of the all the outings in sunny San Diego I took when I was a child with my own parents and godparents—the zoos, animals parks, & Disneyland. The market is full of people and vegetables and candles. And by then we've become familiar enough to hold hands and pick up tiny girls to keep them from being swept up in the slow tide of people admiring the artisan olive oils and used books. They snuggle down, happy to watch mom selecting carrots and zucchini a few feet away. I miss my godson in Maryland, the little boy I used to nanny, the feel of a tired toddler sinking into your shoulder and taking in the world.
It is such a sweet thing to care for your friends' children, to be swept into that extended family role. I love to hear my brother coo over his daughter, to watch my dear friend negotiate vegetable consumption at lunch, to see the tears soothed and the tummies filled with patience and perseverance. They are such good parents. And when I hold their daughters, I hold their hearts.
I would love those little girls regardless of who brought them into the world, but then to love them and through them love their parents—it is a mysterious and great thing. It seems to me that one of the great moments of humanity is to look at two people, other than yourself, loving each other and be filled with joy at it.
I love my own godmother so deeply, and have spent almost my whole life longing to be like her. Now that I have my own set of godkids and nieces, I find myself remembering how she made us feel so loved and important. When the babies are this tiny, of course, it's different.
So I remind myself to be patient, but to pay attention. The secret to being a good Aunt or Godmother seems to be to consistently, over the years, be present and willing to get messy and have fun.
It's about letting tiny twins jump on your air bed declaring "kerplop!" and roaring with laughter. It is trying to remember that her favorite color is orange, and her doll's name is Eva, and she does not like pickles. It is remembering and telling her in years to come that at breakfast she said, "Mommy, do you know where butter comes from? … Butterflies!!" It is listening to Uncle Evan tell them the story of Jesus calming the storm, and explaining what a miracle is by telling them their own miraculous birth story. And then for the rest of the weekend having them declare in those small voices, "I am a miracle!"
Because they love stories, their own and others. And who doesn't? And that is what drives me to want to write. It is about bringing a good gift to a child. It's about story time with my goddaughter. It can feel like so many other things, but at the end of the day it is about bringing a good gift to the children in my life.
How do you love the children in your life?
Subscribe to Blog via Email

Instagram

Follow Me on Instagram!

Twitter

Follow me on

Twitter!

Favorite Posts

Archives