Learning to Pray: 4 More Resources for Liturgical Prayer
Today we'll continue with part four of the Fall mini-series on liturgical prayer.  I started with a reflection on my journey to loving liturgy, then began to look at some of my favorite resources, and last week I shared a prayer for the Fall Holiday Michaelmas. The four prayer books we'll look at today are much smaller than the five comprehensive volumes we explored two weeks ago, and they also have an older and more foreign feel to them.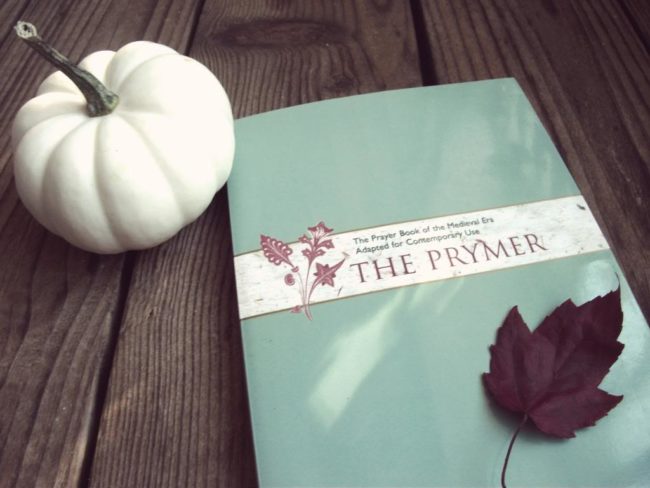 These volumes are much easier to slip into a pocket and take with you for the day or a week away.  Actually, the ability to have a small prayer book isn't a new concern. For hundreds of years various groups of Christians, those on the move, in hiding, or hoping to encourage more to pray, have been looking for ways to make prayer books smaller (and cheaper).  Actually that very impulse to make prayer books portable (or brief, the reason one name for some prayer books is the "breviary") is one of the reasons that prayer books can be so complicated. In an effort to make the books have fewer pages, there are a lot of abbreviations and assumptions that the reader would understand the basic framework of the prayer and would need reminders only about the parts that change frequently.
But today's four books have the benefit of being both short and straightforward. They cover much less of the year, and they focus on prayers for a single meal, day, or week. All four have small appendices with suggestions for additional prayers for a few special times.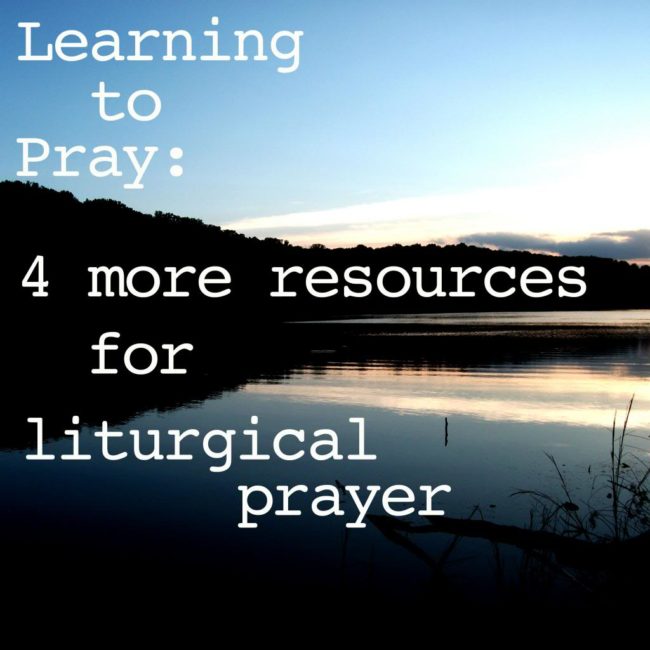 1. Orthodox Hours: A Manual of the Hours of the Orthodox Church Compiled by Archimandrite Cherubim Monastery of Paraclete, Attica, Greece
The first prayer book this week is the smallest volume. It's an Orthodox book of Hours, a gift from my parents. There are eight different prayers for eight different parts of the day (about every three hours).  It was originally compiled by some Greek monks, and reflects that monastic focus on having the day (and night) be punctuated by times of prayer: Vespers (sunset), Compline (bedtime), Midnight, Matins (dawn), First Hour (6 am), Third Hour (9 am), Sixth Hour (noon), and Ninth Hour (3 pm). About 50% of the text is taken from 14 different psalms. Each hour has a different focus on a different facet of God. Beginning in the evening there is a focus on praising, repenting, abiding, and receiving love and protection from God the Father and Creator. Then mid morning there is a reflection on the Holy Spirit's descent on Pentecost morning. Then the rest of the day marks the afternoon sufferings and death of Christ on Good Friday.
I associate using this prayer book mostly with being with my family on vacation. We often read it together, a rather late "third hour," lounging on couches with half drunk cups of coffee and plates with scraps of scrambled eggs on breakfast plates near by.  I love how simple it is and yet how it reminds me that half way around the world some Greek monks and nuns are praying the same psalms. For Western Protestants the emphasis on the prayers of the Theotokos, (literally "God Bearer," i.e. the Virgin Mary), Guardian Angels, and other Holy Fathers may be a new experience.  The translation that they use is a bit old, and I do find the language often unnecessarily gendered – but still it's a rather lyrical and poetic rendition: "Guide my life, O calm Haven of the storm-tossed, and reveal the way in which I should walk." (p. 53, the third hour)
2. The Prymer: The Prayer Book of the Medieval Era Adapted for Contemporary Use Translated and Adapted by Robert E. Webber
The Prymer also has the same eight Hours for a single day's prayer. It's an updated version of the popular 15th century text that was widespread and popular before the 16th century Book of Common Prayer. It was a Christmas present from my husband Evan, and it is a lovely merging of the way that we love history and prayer books.
The Prymer is similar in some ways to the Orthodox Manual of the Hours. It has an even greater  emphasis, than the Orthodox Hours, on the passion, death and resurrection of Christ through each of the hours, leading the reader on an abbreviated stations of the cross. At the end there is an appendix dedicated to the prayers for the time of death and grief, a particular focus for many late medieval laity. There are also suggestions for how to use the manual for a retreat or how to focus on one hour for a week's worth of meditations.
It also has a heavy Marian focus. The volume's wonderful editor, Robert E Webber, who was an amazing Wheaton Professor and a leader in making the liturgical tradition accessible to lower-church Protestants, comments on this Marian focus in his introduction: "The Hours are focused on Jesus from the perspective of his mother. These prayers constitute the daily prayers of medieval spirituality." (p. ix) Next to each of the various parts of prayer are what they were called in Latin.  Overall, it's an amazing combination of very foreign, medieval set of prayers and contemporary language: "Capitulum: Sicut cynamomum. Just as cinnamon gives off a sweet-smelling scent, so also is Mary…the meekest among all women. Free us to be chaste and meek like you" (p. 66, vespers).
3. Food in Due Season: Daily Table Graces for the Christian Year compiled by David Goode
One of our new prayer books for this Fall is this Table Grace book. Table graces pre-Reformation were often more elaborate, but the Book of Common Prayer did not include this particular set of prayers. We're still exploring this book, but it's cool to have longer liturgical prayers for meal times, since that is often when we're together and a have a few minutes to pray. One of my very favorite English historians, Eamon Duffy, has a little introduction reflecting on how Christians have long seen table graces as an expansion on the "daily bread" section of the Lord's Prayer, images of the banquet of the King, and the Marriage feast throughout Scripture. The prayers are for both before and after the meal, and each is a few minutes long. There are different prayers for each of the Church seasons (Advent through Pentecost) and an appendix with prayers from various Eastern traditions (Egyptian, Orthodox, Armenian).
It feels foreign to have such long prayers for grace (although I remember as a child that my Dad's prayers before dinner certainly could feel very long!) but I'm looking forward to seeing how we use this resource to supplement what often is (full disclosure) a rather simple "Thank you Jesus for this Food" prayer before pushing play on an episode of The Office. The title comes from psalm 145 and the opening of the regular time prayer: "The eyes of all wait upon you, O Lord, and you give them their food in due season: you open wide your hand and fill all things living with plenty." (p. 86, ordinary time)
4. Celtic Prayers from Iona Compiled by J. Phillip Newell
The final book is a collection of a week's worth of Celtic morning and evening prayers. This is the last of our new prayer books. It has a similar feel to Celtic Daily Prayer, which I talked about two weeks ago. All modern English Celtic prayer books are indebted to the work of people like Alexander Carmichael who in 1900 went around the Scottish Hebrides to transcribe Gaelic prayers and poems before they were forgotten (if you are up for an incredible and challenging read, try the Carmina Gadelica, which can be obtained free online). This edition by Newell has a great collection of Celtic prayers that is also very simple to use. I think this might be my new go-to travel prayer books because of its simplicity and emphasis on contemplative prayer.
Each day has its own emphasis, starting with Monday's focus on Justice and Peace, going through a day for Healing, Goodness of Creation & Care for Earth, Commitment to Christ, Communion of Heaven & Earth, and ending with a Saturday emphasis on Welcome & Hospitality. What I really love about this prayer book is how it has big, calligraphy like font and a lot of white space. It also tells me in various different ways and throughout the prayers to take moments of silent reflection and open times of prayer. To me, with the Celtic emphasis on repetition, the layout of the book, and the emphasis on open prayer, this book feels the most meditative of the prayer books. For example on Wednesday evening: "Silence: Reflect on the gospel and on God as the well-spring of all life." (p. 43 Wednesday Evening).
What is a time when you found prayer outside of your tradition to be meaningful in your devotional practice?
*Note* This post contains Amazon affiliate links, which means if you were to buy a book, I'd get a tiny commission at no cost to you. Thanks for supporting Stories & Thyme!*
Subscribe to Blog via Email

Instagram

Follow Me on Instagram!

Twitter

Follow me on

Twitter!

Favorite Posts

Archives