Learning to Pray: 5 Resources for Liturgical Prayer
Welcome to the second part in the Fall Liturgical resource mini-series! This week I had planned to tell you about all 10 of our prayer books, but I got through the first 5 and the post got rather lengthy…so I'll tell you about the other 5 in another post. Last week I reflected on how I came to love prayer books, and in the coming weeks we'll explore a prayer for Michaelmas (a Fall Holy day celebrated on Sept 29), look at the second half of our prayer book collection, have a little tutorial on how to navigate the Book of Common Prayer, and perhaps dive into the history of English liturgical prayers. This week's prayer books are five large volumes that you could easily use for a whole year with each day having relatively unique prayers. Each of them also has additional prayers for special occasions. Many of them have online editions and companion sites, so likely the final installment in this Fall's liturgical resources mini-series will be a collection of online and electronic resources.
The First Half of the Rogers Hays Prayerbook Collection:
5 Comprehensive Volumes
The Divine Hours:  A Manual for Prayer, (3 Volume Set: Prayers for Summertime, Autumn and Winter, and Springtime) compiled by Phyllis Tickle.
This is the set of prayer books that I use most often for solitary or personal prayer. It's exceptionally thorough while still having the whole prayer conveniently in one place. It has over a thousand different prayers fully written out: a morning, midday, and evening prayer for every day of the year and each month has its own set of complines.  It draws heavily on the collects and prayers from the Book of Common Prayer (BCP), although it also includes prayers from a wide variety of traditions in its Vesper (evening prayer) hymns.
It's easy to navigate: you just find the date you're closest to (right now we're closest to Sept 21) and the day of the week (Wednesday—Nearest to September 21) and you're all set. There are no charts to consult or Psalms or other scriptures to find.  Periodically, it also includes prayers related to some saints' days or other holy days as well. One limitation of the Divine Hours is that it's a rather large volume for traveling with, although there is an online version. I also find its use of the Jerusalem Bible for its Scripture passages other than the Psalms somewhat clunky and distracting. I love that it has refrains repeated through each prayer, and weekly prayers that often correspond to the weekly prayer we pray on Sundays: "Grant that I, Lord, may not be anxious about earthly things, but love things heavenly; and even now, while I am placed among things that are passing away, hold fast to those that shall endure…" (p. 574, Summer)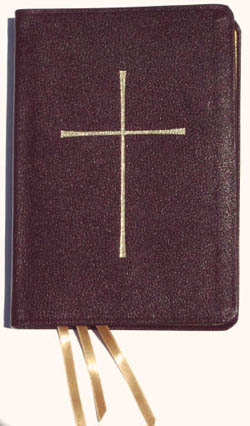 The Book of Common Prayer (BCP)
The 1979 American (Episcopal) edition of the Anglican standard whose first edition dates back to the mid-1500s contains all the liturgies for all the services within the Anglican church year, and it includes a morning and evening prayer service.  It has a distinctly more communal prayer focus than the Divine Hours (actually one of the more interesting editorial choices of Tickle was to change the BCP's prayers that use "we" and "our" to "I" and "my"). I use the BCP when I want to pray in a group.  It's what we use in our triad for evening prayer—partially this is because all three of us have a copy of the BCP, and partially because it's so flexible. You can easily length or shorten a prayer by adding or limiting the optional prayers.
Its morning and evening services have two versions—one with older "traditional" language (thee and thou) and an updated "contemporary" version (you and yours). It's more complicated to navigate than Divine Hours:  you only pick one or two prayers from various long lists of prayers for different times, you have to flip to the back to read the Psalm, and you have to have your own Bible to read the Scripture passages. There are charts in the back if you want to read selected the Psalms and Scripture passages of the week, and there are separate charts (daily lectionaries) to guide daily readings. Especially if you have a small Bible, the small edition of the BCP is probably easier to travel with than the full Divine Hours.  In the back there are prayers and thanksgivings for special occasions, including travel:  "O God, our heavenly Father, whose glory fills the whole creation, and whose presence we find wherever we go: Preserve those who travel…"(p. 831).
Celebrating Common Prayer: A Version of the Daily Office, SSF
This prayer book compiled by the (Anglican) Society of Saint Francis is slightly more focused on daily prayer than the BCP, although again it does share many of the BCP's prayers.  This is prayer book my mom bought in England, so I always feel very connected to her and the charming ancient English stone chapels we visited. Celebrating Common Prayer has four different prayers for each day of the week (morning, midday, vespers, and compline) each with a different focus that corresponds to a particular season of the Church year. For example, Friday is focused on the Cross, and those are also the Lenten prayers. Similar to the BCP, it has orders for many other Church services, a full Psalter (all the Psalms) at the back, and a chart for the assigned daily and weekly readings. Again, as with the BCP and almost every other prayer book other than Divine Hours, you'll need to have your own Bible to read the Scripture passages.
I think that Celebrating Common Prayer is easier to navigate than the BCP — it has a lot of the smaller charts of scripture passages right in the daily prayers. Also, most editions come with four different colored ribbons, which even if I may not make full use of them, I feel very official knowing that I could. I like that it has you walk through the whole church year every week. Wednesday has the same focus as Christmas. A little Christmas every week! "Almighty God, you have shed upon us the new light of your incarnate Word, giving us gladness in our sorrow and a presence in our isolation: fill our lives with your light until they overflow with gladness and praise…" (p. 96)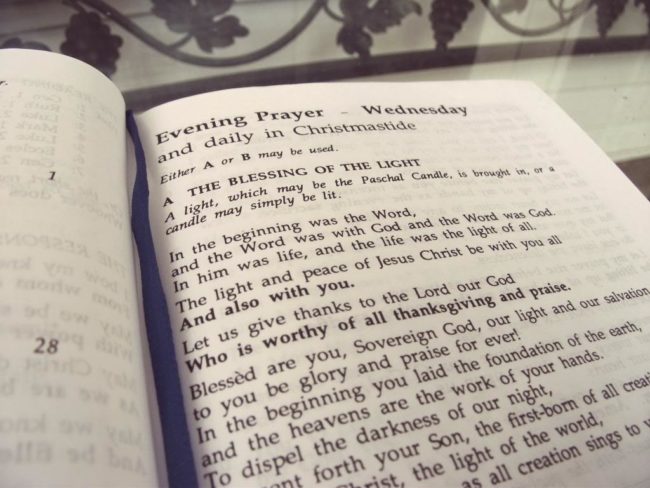 Celtic Daily Prayer From the Northumbria Community
This prayer book, unlike the previous three, has a distinctly Celtic feel to it. There is a big focus on 6th and 7th century Celtic saints and their prayers, so it sounds a lot different than the 16th Century English-Anglican BCP prayers. To me, the Celtic prayers have a very circular, rhythmic feel to them. You repeat phrases, often in sets of three: "Christ as a light illumine and guide me. Christ as a shield overshadow me. Christ under me; Christ over me; Christ beside me on my left and my right…" (p. 18). I think it's very meditative and beautiful.  Celtic Daily Prayer has one morning, midday, and evening office (set of prayers), and 7 different complines (right before bed prayers).
It also has a set of daily "meditations" for the month and two different sets of daily readings for the year with suggested scriptures to read (in a separate Bible). The daily readings are a bit uneven: some are wonderful writings of ancient Celtic saints, but other days have contemporary selections that seem a bit thin and out of place.  We've found that the 7 complines, the large selection of prayers for special occasions, and small biographies of saints are the parts we use and enjoy the most. I love the line from tonight's (St. Felgild's) Compline: "Calm me,  O Lord, as you stilled the storm. Still me, O Lord, keep me from harm. Let all the tumult within me cease. Enfold me, Lord, in Your peace…" (p. 38)
Common Prayer: A Liturgy for Ordinary Radicals compiled by Shane Claiborne, Jonathan Wilson-Hartgrove, and Enuma Okoro.
This is one of the new prayer books we got last week, so these are just my first impressions of the book. Something I noticed right away is that one of the strengths of Common Prayer is that it's set up to be used by people who've never used liturgical prayerbooks before. It has a lovely introduction that explains the ecumenical origins of the book and how it's set up. And it is remarkably ecumenical for a formal prayer book. Following the introduction, it has a week's worth of different evening prayers, a year's worth of morning prayers, a midday prayer, and prayers for special occasions. It also has a small songbook with about 50 songs with their melodies written out at the back. It probably is the prettiest of the prayer books I've mentioned so far with beautiful borders in different languages and wood-cut like graphics to mark different sections.
The morning prayers are probably a little shorter than the other morning prayers in the above prayer books, although they have suggested Scriptures (to read in a separate Bible). Also even more than Celtic Daily Prayer they have a blending of contemporary and ancient saints (or heroes, their more ecumenical choice of words). For example, for September 15 they have an introduction to the morning prayer about the 1963 Birmingham 16th Street Baptist Church bombing, and the prayer that follows centers on crying out the Lord for justice for the harmed innocent ones, like the children killed in the bombing. Then September 17 has an introduction to the 11th century mystic-saint Hildegard of Bingen, and the prayer that follows draws on Hildegard's vision of grace as "viriditas" or greenness as reflected in nature: "We shall awaken from our dullness and rise vigorously toward justice. If we fall in love with creation deeper and deeper, we will respond to its endangerment with passion…" (Hildegard of Bingen, p. 445).
Have you used any of these prayer books? How do you find a balance of repetition and change in your regular prayers?
*Note* This post contains Amazon affiliate links, which means if you were to buy a book, I'd get a tiny commission at no cost to you. Thanks for supporting Stories & Thyme!*
Subscribe to Blog via Email

Instagram

Follow Me on Instagram!

Twitter

Follow me on

Twitter!

Favorite Posts

Archives