Summer Reading: 10 Children's Books Set in the Late 19th Century
School is officially out in Maryland this week, so today is another installment of Summer Reading: 10 Favorite Books. (Check out my fantasy series list).
Just like the charming May B that I wrote about on Thursday, these books are set the in rough and romantic late nineteenth century. The late 1800s with its trains and corsets, Wild Wests and grimy streets saw a boom in the children's literature market.
Four of the books on my list today were written in the 1870s and 1880s and the other six are set in that charming late Victorian period.  The works actually composed in the nineteenth century are longer, but their copyrights have all expired, so be sure to check out their free kindle and epub versions!
10 Late 19th Century Children's Books
1. Eight Cousins by Louisa May Alcott (published in 1875): Recently orphaned Rose Campbell goes to live with a host of maiden aunts, a progressive uncle, and seven male cousins. There, she finds warmth, life, and contentment in that bustling extended family.  Considerably shorter than Little Women, this Alcott story still has a strong female character who is finding her place within a large family.  My outstanding memory of the book is Uncle Alec's renunciation of corset wearing, and the transformation of Rose into a young woman who can run around and enjoy all her cousins. It's a beautiful story of becoming whole again.
2. Rodzina by Karen Cushman (set in 1881): Rodzina is a Polish orphan who leaves Chicago on an orphan train to the west with a broken and hardened heart and learns to care for and trust her traveling companions along the way to her new home. Cushman is the queen of historical fiction, and this one portrays one of her signature feisty female narrating protagonist. This is her second 19th century novel after The Ballad of Lucy Wimple. (Also a great book!) Cushman's background in museum work gives her novels an incredibly authentic historical feel which immerses you fully with Rodzina in the wild west of the 1880s.
3. The Evolution of Calpurnia Tate by Jacqueline Kelly (set in 1899): The only daughter in the middle of six sons, 12 year old Calpurnia strikes up an unlikely friendship with her naturalist grandfather and falls in love with science and the world around her.  As my own scientist grandparents died before I was 12, I imagine the beautiful relationship that Calpurnia had with her grandfather as they traipsed around in the dry Texas summer in search of specimens might have been similar to how I could have passed summers with my botanist Grandma. It's a gentle tale that leaves you on the cusp of the new century believing in the hope of how we can all grow and change.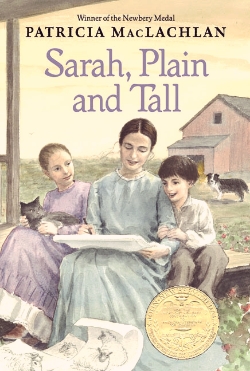 4. Sarah, Plain and Tall by Patricia MacLachlan (set in late 1800s): Anna and her younger brother Caleb wait with their father for his new mail-order bride from Maine, Sarah, self-described as plain and tall.  This is the first slender book in a beginning of a series that describe the way the family heals after heartbreak and trials with the land.  I like the way MacLachlan writes her characters so you identify and feel for each one even as he or she is struggling to communicate with and believe the others.
5. Holes by Louis Sachar (partially set in 1880s) Stanley arrives at the court-ordered youth work camp in Texas to a motley crew of cabin mates and discovers connections to a set of 110 year-old mysterious holes they have to dig each day.  With flash backs to the town in the 1880s, and to Stanley's Latvian great-great-grandfather Elya Yelnats, Sachar's book has one of the most satisfying endings I have ever read. Like Rowling's Harry Potter or Gaiman's Graveyard Book, Sachar's Holes' back story comes together for a stunning finish.

6. Black Beauty by Anna Sewell (published in 1877): A young horse experiences both the rough and the refined aspects of nineteenth century England as he is bought and broken, cared for and used up by a series of wonderful and terrible masters. Sewell's only novel published months before her death was an instant success and sparked a whole genre of children's pony books. As an adult rereading it, I found it borders on preachy at times with its graphic portrayal of cruelty to animals that I hadn't noticed as a child. In an age when we don't have to think about how our car feels about going all night, it is an eye opening account of how we are interconnected and how kindness is a more valuable commodity than gold.
7. Five Little Peppers and How They Grow by Margaret Sidney (published in 1881) The five Pepper children are terribly poor, living with only Mamsie (Mrs. Pepper) in a little brown house, but they are rich in love and adventures. When a rich young boy and his dog Prince enter their lives, their fortunes change. This was one of my mother's very favorite books as a child. I remember reading it and tried to call her "Mamsie" for a week in honor of our shared love for this charming family that made simple and homemade fun.
8. Heidi by Johanna Spyri (published in 1880): Five year-old orphaned Heidi is taken to live with her recluse grandfather high on a mountain in the Swiss Alps. Heidi grows strong running with the goats and drinking warm goats milk, and her grandfather's heart grows soft in the presence of little Heidi.  The English translation of Spyri's tale centers on the healing of children and their care givers in a similar style as Eight Cousins or the early 20th century Secret Garden. Heidi has a gorgeous Alpine setting and a varied cast of Swiss characters from the invalid Clara, to the boy goat herder Peter and his blind grandmother, to her gruff Grandfather the Alm-Uncle that leave you checking the price of flights to Geneva.
9. Little House in the Big Woods by Laura Ingalls Wilder (set in 1871) Young Laura Ingalls is all snug in her Wisconsin log cabin along with sisters Mary and Carrie and her Ma and Pa as they harvest and hunt and sing and dance as pioneers in on the edge of the great wilderness.  My mother first started to read this book to me when I was five and about to move from California to Wisconsin, and it made me so excited to move to that great wooded state.  It's a cozy start to the host of adventures that Laura and her family face traveling across the great West.
10. Incorrigible Children of Aston Place by Maryrose Wood (set in late 1800s): Young 15 year-old-governess Miss Penelope Lumley's first job is to care for three adopted children recently found in the forest who appear to be raised by wolves. With a witty narrator in the style of Lemony Snicket, Miss Lumley with her beloved Giddy-Yap, Rainbow! books (pony genre books!) sets about teaching the children with care and discovers their pasts may be mysteriously interlinked. The fourth book comes out in December, and I have high hopes that perhaps we'll get some answers to the delicious questions about werewolves, red hair, and Swanburne Academy for Poor Bright Females.
Happy Summer Reading!
What are your favorite books from or about the nineteenth century?
Subscribe to Blog via Email

Instagram

Follow Me on Instagram!

Twitter

Follow me on

Twitter!

Favorite Posts

Archives