Simple Company Dinner: Roasted Chicken, Broccoli & Sweet Potatoes
Since the birth of my sweet niece, we've been camping out at the family lake house. It's a beautiful place to watch the trees unfurl their leaves and the sun come up earlier and earlier on the water of Lower Genesee Lake. We've also gotten to share this space, hosting a few weekend events for our new church friends. Last weekend we had our small group over for a retreat complete with late night bonfires and morning quick dips in the frigid spring waters of the lake. We also have had quieter dinners with other couples.
While I think good food is a really important part of hosting, I don't want to spend the majority of my time when people are over in the kitchen. So I want simple and easy ways to let the oven do the work so I can focus on being with people.
A solid, go-to recipe for us is to roast a chicken and some vegetables in the oven. The Dutch oven is amazing for this. I originally learned to make this with Mark Bitman's cast iron skillet recipe, and I admit that version does make for a more crispy chicken, but the Dutch oven has a lot less oven clean up since it keeps all the chicken splatters inside the pot. I'm all about simple prep and even more: simple clean up.
Also, there is something about a whole bird that seems fancy, like a mini thanksgiving meal. It's great to save all the bones (and giblets) and make chicken broth later. We love to advocate for eating Paleo by feeding our guests great food that leaves them feeling good afterward. You need to eat other meat beside just poultry, but not everyone is ready for liver in their meatloaf, so a whole roasted chicken is a nice way to introduce friends to grain-free eating.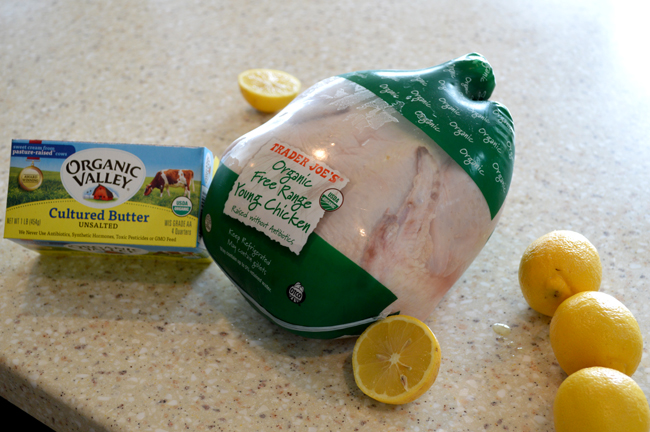 Easy Dutch Oven Buttered Lemon Chicken:
1.) Preheat the oven to 400 with the Dutch oven and lid inside to get hot as the oven heats up.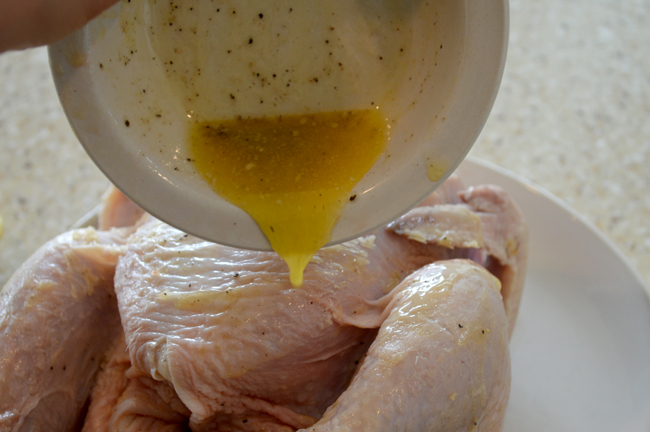 2.) Rub the whole (giblets removed) chicken with 2 tablespoons of melted butter, and 1/2 tsp salt and pepper.
3.) Put 1 quartered lemon inside the cavity of the chicken.
4.) Carefully put the chicken with the lemon in the Dutch oven and cover.
5.) Cook the chicken 17-20 minutes for every pound (a 4 pound chicken 1 hour & 20 minutes etc.)
Roasted Sweet Potatoes
1.) Option One: slice whole sweet potatoes into slices with 1 TBSP butter, coconut oil, or rendered bacon fat and sprinkle with salt and cinnamon or
     Option Two: keep them whole with a dozen knife or fork punctures (and wait to put butter, coconut oil, or bacon fat and salt and cinnamon on until they are cooked)
2.) Put on baking rack or in glass Pyrex pan
3.) Bake for about 45 minutes @ 400 degrees (suggestion, put them in 45 minutes before the chicken should be done)
Roasted Broccoli
1.) Rub butter or rendered bacon fat on a pound of fresh or frozen broccoli florets and sprinkle with 1/2 tsp salt and garlic powder
2.) Put in cast iron skillet or glass Pyrex pan
3.) Bake for about 20-25 minutes @ 400 degrees (a little longer if frozen)

I aim to have everything done about when the company arrives, and then a few minutes (10 maybe) before I turn off the oven and just let things sit inside the warm oven until we're ready to eat. Chicken, sweet potatoes, and roasted broccoli are fairly forgiving. I serve everything with a big salad, and when people ask what they can bring we suggest dark chocolate and berries.
 What is your go-to, easy company meal?
Subscribe to Blog via Email

Instagram

Follow Me on Instagram!

Twitter

Follow me on

Twitter!

Favorite Posts

Archives