Sometimes on long car rides or walks, Evan will indulge me and talk about our dream house. I say it is an indulgence because Evan likes to dream slightly practically, in a way that, with not too much difficulty, could become real. I like to dream extravagantly, in a way that will never most likely, become real. For example, in Evan's version of our dream house it has a small library with a round window and a fireplace, the sort that CS Lewis or Tolkien might have had.
In my extravagant version, there is a great library—with ladders to reach high shelves along the walls of vaulted, airy ceilings. The space would be bright with great windows like that scene from Beauty and the Beast when the Beast shows Bell their dusty library, and she is deeply moved that he would share this treasure with her, and thus begins their romance. Only, my library would be slightly smaller than the Beast's because my dream house is minimalist and well-laid out.
On the shelves of my great library, I always wanted to have all of the Newbery Award winner and honor books. I am not sure why this particular detail of having those nearly 400 books in my dream house seemed to represent extravagance. Imagine, just like Belle, the pure joy of going to a shelf with so many amazing books.
I think like most elementary children of the 1990s, my elementary school curriculum was filled with Newbery winners The Whipping Boy, The Witch of Blackbird Pond, Island of the Blue Dolphins, Julie of the Wolves, Sounder, Shiloh, Dicey's Song, Missing May, Sarah Plan and Tall, The Giver, and Roll of Thunder Hear my Cry.  My parents and other gift-giving relatives seemed to be drawn to them as well so that outside of school my childhood is filled with the words of A Wrinkle in Time, The Midwife's Apprentice, and Mrs. Frisby and the Rats of NIMH.
But it seems that one of the great secrets of adulthood is to learn to use your public library well. So taking a leaf out of Evan's dreams-that-are-prone-to-come-true, I'm embarking on reading through all the Newbery Winners! (If it goes well, I'll swoop back and do the honors—a more Amy-styled dream, and thus one that I best not commit to now.) This means returning to blogging more than once a week, and committing to a project that'll take the better part of two years. I wonder where I'll be at the end of it?
The John Newbery Medal literary award has been given to one children's book since 1922. It's an award given out by the American Library Associations' Association for Library Service to Children. So there are currently 93 award winners. The first was Henrik van Loon in 1922 for The Story of Mankind, and the 2014 winner is Kate DiCamillo's Flora & Ulysses: The Illuminated Adventures. The award was named after a seventeenth century English printer, who printed a number of titles specifically for children. Of course, books for children had been printed and even copied out manually long before John Newbery, but he was a champion who deserves to be remembered by this prestigious award.
I want to read through these books both as a reader and as a writer. So each week I'm going to have second weekly post devoted to discussing that week's Newbery winner. I'll talk about:
1. What I liked about it.
2.) What I thought was interesting about that week's work.
3.) What I felt some of its limitations were.
4.) Why I thought it was selected as a Newbery winner.
5.) How it is similar to other Newbery books.
6.) What it teaches me as a writer.
It's just going to be one book a week, so feel free to read along, or pick one or two that interest you. The great thing about Newbery books is that they are pretty easy to get a copy of from your local library. I'm not the first person to blog through the Newbery winners;  Mr. Schu@ Watch.Connect.Read  and Colby Sharp @ SharpRead  hosted a Newberry Challenge a few years ago, and Lorna @ NotforLunch and Julie @ Smiling Shelves  are in the middle of their own Newbery Challenges. I'm delighted to join in the conversation about these books that have helped shape 20th and 21st century American children's literature.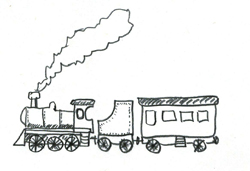 Next week, we'll plunge in with Henrik van Loon's lengthy, but readable, history book. From primordial ooze to World War I that had finished up only a few years before its 1922 publication, The Story of Mankind was awarded the first Newbery Award 92 years ago. I am hoping to be inspired and challenged by these books, and hopefully be able to give some great recommendations about new books for you to put on your own dream or real life library shelves.
What have your favorite Newbery Winners been? Do you have any Newbery winners on your to-read list?
Subscribe to Blog via Email

Instagram

Follow Me on Instagram!

Twitter

Follow me on

Twitter!

Favorite Posts

Archives