While I wouldn't necessarily think that having a baby would help my reading life, all in all, I somehow made time for the usual number of books, and not all of them were baby-related. About half the books on this list I listened to on audio book (often while lying and nursing), and the rest I read in print while walking Jackson on the treadmill, nursing Jackson in the overstuffed chair, waiting while he napped in the car and Evan went shopping, and very, very, occasionally reading after he went to bed at night (pretty much only Harry Potter). About a third were for book club, a bright spot in my year, and some of my first ventures out of the house without Jackson. This is my third year doing birthday reading lists and here are the links to my 2014 and 2015 lists.
Novels
1.The Martian by Andy Weir. This book definitely lived up to the hype and was just as much fun as the film. A friend called it, "Sci-Fi John Grisham" and it certainly was an amazingly easy read for something so technical. I loved Mark Watney's space survivor story. He does have a potty mouth, which while I didn't find it distracting, would keep me from recommending it quite as widely as I would otherwise.
2. Be Frank with Me by Julia Claiborne Johnson. This was a fun book about an eccentric writer, her brilliant but anxious son, and the assistant, Alice, that the publishing company sends to help get the next great book finished. In the end though, I think it made me think a lot about mothering and nannying, about coming into someone's life to help with their child and how that is both amazing and but complex.
3. All the Light We Cannot See by Anthony Doerr. It was so beautifully written that I didn't even mind that it was so sad and meandering in pace. It really captured the beauty of Germany and France, and made me want to travel there…although not in the middle of World War II. I really liked it, but in some ways am surprised that everyone felt that way about it as well.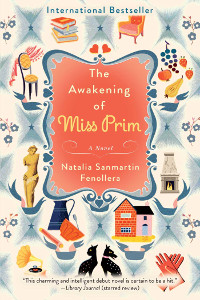 4. The Awakening of Miss Prim: A Novel by Natalia Sanmartin Fenollera. If you love GK Chesterton, I think this book is definitely worth reading. I read it as a spiritual allegory, a woman who is hired and loves in love with a man who has devoted his life to something larger. It engages questions of gender in a way that is fascinating, if the answers are more essentialist than I would like.
5. Still Life by Louise Penny. I've heard such wonderful things about this murder mystery series. I did like it…except the murder part. Which I think is more that I just don't love murder mysteries, especially when one of the main characters you think you like and trust ends up being the murderer. Still it was so well done, and I did love Chief Inspector Gamache. I'm tempted to read more, especially because of how well Penny does mystery and human psychology.
Book Club Novels
6. The Bees by Laline Paull. A book club book that has a bee as the main character. I thought the information and imagining of hive life was really wonderful, and it gave book club a lot to talk. I loved how it was sort of a female Arthurian tale — everyone devoted to the queen bee, a few male drones for romantic interest, but mostly just female bees with honor and jobs and agendas. Bees are pretty incredible.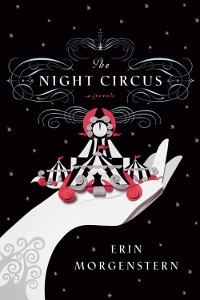 7. The Night Circus by Erin Morgenstern. Luscious and dreamlike, I loved The Night Circus, especially since the audiobook was read by Jim Dale. The food description and the magical act descriptions were so beautiful. It makes me want to have caramel and chocolate and wear a red scarf just remembering it.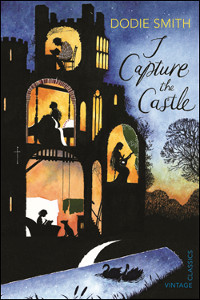 8. I Capture the Castle by Dodie Smith. I picked this one for book club after hearing so many people, including JK Rowling, recommend it. Its greatest strength was its dynamic narrator. The last third of the book was pretty adolescent angst-y, but it made for a solid discussion.
9. Love Letters by Madeline L'Engle. Based on an actual publication of 17th century confessional letters from a fallen nun, L'Engle does her magic imagining the back story and a parallel contemporary one. This made for a really interesting book club discussion since L'Engle went back decades later and rewrote the ending to this book, which book club members unanimously agreed made the story a lot better.
10. Frances and Bernard by Carlene Bauer. A very liberal, but enjoyable, re-imagining of the friendship and correspondence of Flannery O'Conner and Robert Lowell. I didn't really know that going into it, and I think I might have liked it more taking Frances and Bernard on their own as characters in their own right. Ultimately a really sad story, it was really well done and left so much for us to discuss about faith and mental illness, especially in the 1950s and 60s.
11. The Comet Seekers by Helen Sedgwick. Tracing two families that are bound together by the magic of ghostly ancestors visiting them every time a comet comes back near the earth, this book had gorgeous settings—Antarctica, Ireland, Southern France—and a large cast of (mostly dead) characters. There is some serious first-cousin romance going on, just an fyi.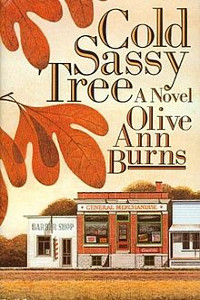 12. Cold Sassy Tree by Olive Ann Burns. Southern small town life in the early 1900s with scandals, Winter-Summer remarriages, early automobiles, and a coming of age tale of 14 year old Will Tweedy. It captured southern life so well, and I think that for a week I caught myself exclaiming, "Boy Howdy!" The audio book was really great.
Memoir/Non-Fiction
13. Brown Girl Dreaming by Jacqueline Woodson. The audio made this book come alive. It was so lovely, telling the story of a young African American woman coming of age in the south and New York city in the 1960s. The part that has stuck with me the most is the background of her family being Jehovah's Witnesses. It makes me have so much more fondness for the Witnesses that every other month ring our doorbell to chat, despite our obvious no soliciting sign (which is actually there to prevent Jackson getting woken up from naps from over-zealous lawn-care salesmen).
14. Garlic and Sapphires by Ruth Reichl. This was such a great and interesting book by New York Times Food Critic Ruth Reichl. It concerns her years going undercover in six different costumes and personas to get unbiased restaurant experiences to make for more fair reviews. Filled with amazing descriptions of food and thoughtful reflections on her different characters and their approaches to womanhood, this was a fantastic read.
15. Why Not Me? by Mindy Kaling. I loved Mindy's first book, and this one was fun & funny as well. I thought my favorite chapter was Mindy making up a romantic-comedy about her alter-ego Mindy the Latin teacher and the grumpy handsome widowed history teacher, which reinforced to me that Mindy's great strength is the writing that she does for her shows.
16. At Home: A Short History of Private Life by Bill Bryson. I went on kind of a Bill Bryson audio book bender this year and polished off 7 of his books. At Home, A Walk in the Woods, One Summer, and Shakespeare were excellent. Amazing, funny, well researched, just spectacular, and just as wonderful as his book on Australia and growing up in Iowa, that I read in years past. (I thought that I'm A Stranger Here Myself, Neither Here Nor There, and The Road to Little Dribbling were, honestly, kind of cranky and not as charming. I think that overall I tend to like his researched books a bit better, or at least more consistently, than his straight-travel books.)
17. The Late Homecomer by Kao Kalia Yang. This was a book club book, and such a great one. Minneapolis and Milwaukee have really large Hmong populations, so I've heard bits and pieces of the struggle of these groups since I've lived in or by these two cities, but this book really was a touching and informative and well-written narrative of one Hmong family's journey to America. I'd highly recommend it.
18. Present over Perfect by Shana Niequist. I really enjoy Shana's work. At first listening to this one on audio book made me think that maybe I'd just rather read her works so I can stop and ponder a sentence if I want to. But by the middle of the book I warmed up to listening to Shana, and I felt like the last half of book was, overall, a bit more focused on how to be present, how to reject hustle and perfectionism than just the problem of being overworked. These are the themes of my life the past 6 years, so while there wasn't a lot new, there was a lot that I agreed with and was encouraged by.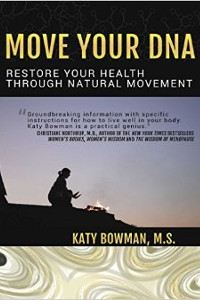 19. Move Your DNA: Restore Your Health Through Natural Movement by Katy Bowman. Katy Bowman's work on body movement—creating a life of movement and not just an hour of exercise—is really so paradigm shifting. I feel like I'm going to need the rest of my life to slowly work in all the things that this book brought to my attention about how and when and where I need to move my body. Besides completely affirming my obsession with a long daily walk, Bowman also really gave me so many practical, holistic goals for my body like working on a full squat, slowly changing my gait so my foot doesn't twist, and stretching and moving a lot of different parts of my body to change my posture, especially in my neck.
Parenting & Marriage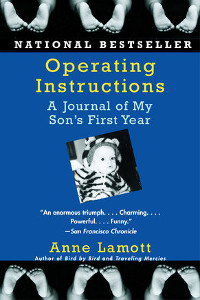 20. Operating Instructions: A Journal of My Son's First Year by Anne Lamott. Anne is so funny and moving and insightful, and Anne on babies is all of those things and more. Somehow Anne makes you want to be that intense, noticing all the rich and wild and abundant blessings that being a single mother with wonderful friends would bring, and at the same time so thankful that your life is not as dramatic and difficult as hers. It was just the perfect time for me to read this book taken from Anne's diary of her first year with her son Sam, when my own son Jackson was about four months old. I think it is perfect to read in postpartum time.
21. Great with Child by Beth Ann Fennelly. I had come across this book so many times because one of my favorite books on pregnancy and spirituality shares the same title by Debra Rienstra. So I picked it up after a number of blogs recommended Fennelly's. It was so lovely. Very different from Rienstra's, but both are very much worth reading. I loved the epistolary nature of Fennelly's and especially her reflections on being a writer and becoming a mother.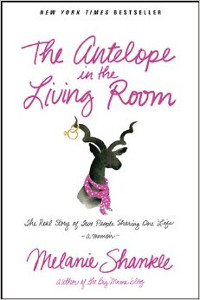 22. The Antelope in the Living Room by Melanie Shankle (also Green Sparkly Earrings, Nobody's Cuter than You) I had never read Melanie Shankle's blog, but I just found her books to be like reading a very funny, well-written blog (which of course she has, hence why she got to publish these lovely three books.) Even though I am not a southern lady with a penchant for fashion and Chick-Fil-A, I found Shankle to be so easy to relate to as well as so funny but with a sweet and understated truth in them as well. I am so sad that I have come to the end of her published books, but glad that I can read about her adventures with her husband, daughter and best friend who I came to care so much about in each of her three books.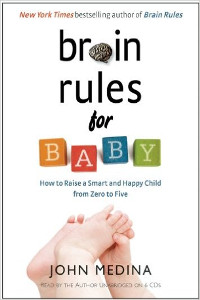 23. Brain Rules for Baby: How to Raise a Smart and Happy Child from Zero to Five by John Medina. My sweet friend Julie lent me this book, and I really enjoyed it. It is fascinating and practical, and really gives concrete reasons for why to approach parenting in a low-tech, high-connection way. It's great encouragement that what I need to do most is stay calm, consistent, empathetic, and kind as a parent.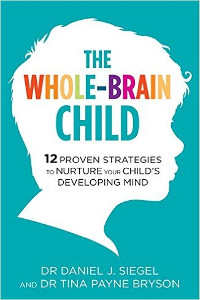 24. The Whole Brained Child by Daniel J. Siegel and Tina Payne Bryson. A perfect companion to Medina's book, Siegel and Bryson's book is also so full of the latest research on the brain and how that can apply to parenting. I had read (and loved) Siegel's book Parenting From the Inside Out, and this one has a couple of the same stories, but a lot of new content balancing practical tips with big overarching ideas. I especially liked his thoughts on how to help anxious kids get unstuck.
25. Modern Romance by Aziz Ansari. This is definitely a book that I keep thinking about. Aziz Ansari, Tom Haverford from Parks and Rec, creates a one part comic one part research look at 21st romance, especially in light of all things cell phones (texting & social media in particular). People gave him and his research co-writer access to their phones, participated in focus groups, and gave so many great stories about the trials and triumphs of modern romance. As someone who got married almost a decade ago (ah!), this is a world that I really skipped, but so many of my friends are smack in the middle of it. Language warning: Aziz has a potty mouth and while the book isn't erotic, but as you might expect there's some sexual stuff in it.
26. The Course of Love: A Novel by Alain de Botton. Philosopher de Botton tackles marriage in this fictional account of two modern people. It has very readable meandering passages about what it means to mature in love. In some ways I have big feelings about this book: I loved parts of it, such as the psychological insight into marriage, the idea that love and our interest in love often ends with a wedding, when it really should begin—it was one of the first times a few things were articulated that I had only vaguely noticed before. In other ways, this book felt like such a departure from my own life and view on Christian marriage. I think that it would make a really good book club pick. Like Modern Romance while the book isn't erotic, there's also a lot of sexual stuff in it.
Middle Grade & YA
27. Children of the Red King #1: Midnight for Charlie Bone by Jenny Nimmo. I had seen these around so much, and I picked up a copy in a Little Library. They are fun and a quick read, and the start of a long series. It's tempting to compare them to Harry Potter and find them wanting, but they really are a very different sort of book, even though they have a lonely boy in a magic school as the premise. Charlie Bone can hear what people where thinking in photographs! I loved all the tree references.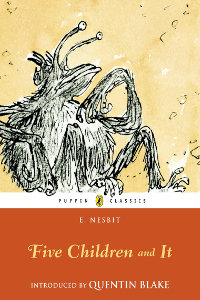 28. The Five Children and It by E. Nesbit. I've been wanting to read an E. Nesbit book for a long time and this one did not disappoint. It feels a lot like the Half Magic books that it inspired, and is a great example of what makes magic in books work (magic has to cause as many problems as it fixes). I was struck by how much of the book was about the challenges of having a baby/toddler younger sibling under foot…which really resonated with my day to day life keeping a 13 month old alive and well-cared for.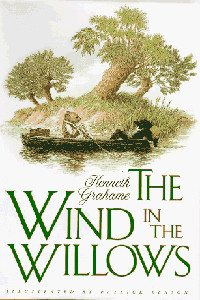 29. The Wind in the Willows by Kenneth Grahame  I had grown up watching the 1949 Mini classic Disney version, but had never read the original. Evan bugged me until I did, including finding this Libravox recording by Adrain Praetzellis and putting it on my mp3 player for me. It was so lovely, and every once in a while, I'd remember an image from the movie and then know what would happen next. There are a couple of really romantic-era random chapters (finding Pan, Ratty almost becoming a sailor) that most movie versions skip, but even those were enjoyable.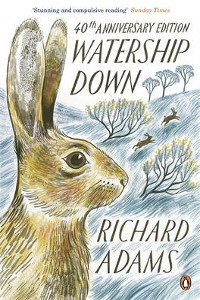 30. Watership Down by Richard Adams. I always wondered about this book since I loved reading the Redwall books and they often had "in the spirit of Watership Down" on back cover. Evan also bugged me (his words!) about this one because it is one of his favorites. And now I can see why. Watership Down is really the beginning of a new era of animal protagonist books; it's different than Wind in the Willows in tone and personification of animals, more like The Jungle Book than animals driving motorcars. I can see the influence of Watership Down on books as diverse as Redwall to the adult novel The Bees I read for book club.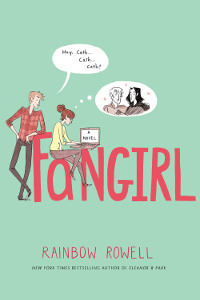 31. Fan Girl by Rainbow Rowell. Rowell does sweet YA love like no one else. She is just so good. This one, with its setting in a Midwestern state college and a main character who is obsessed with fantasy fan fiction might be my favorite setting so far. And it was the perfect book to read just before I read Cursed Child because it's all about wizard fanfiction, which while not actually Harry Potter, is clearly very inspired by it. I thought it really captured public University Midwest life, or at least what I saw of it visiting my friends and their schools.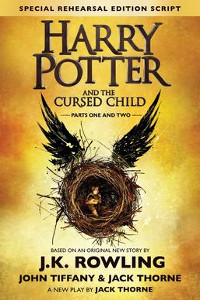 32. Harry Potter and the Cursed Child, Parts 1 & 2 by J.K. Rowling, Jack Thorne, and John Tiffany. I'm so glad that I read Fan Girl before I read Cursed Child, because Cursed Child felt to me like amazing fan fiction, innovative and fun, playful and great. But it didn't feel like the 8th novel by any means. Fan Girl I really feel made me appreciate fan fiction, and especially as a writer, appreciate the way that we re-imagine and are inspired by our favorite authors who've built such wonderful worlds. Plus I loved Scorpius. He was the best thing to come out of Cursed Child, and he was so great.
What were  your favorite reads of last year? Any books we both read, and did you feel similarity about them?
*Note* This post contains Amazon affiliate links, which means if you were to buy a book, I'd get a tiny commission at no cost to you. Thanks for supporting Stories & Thyme!*
Subscribe to Blog via Email

Instagram

Follow Me on Instagram!

Twitter

Follow me on

Twitter!

Favorite Posts

Archives