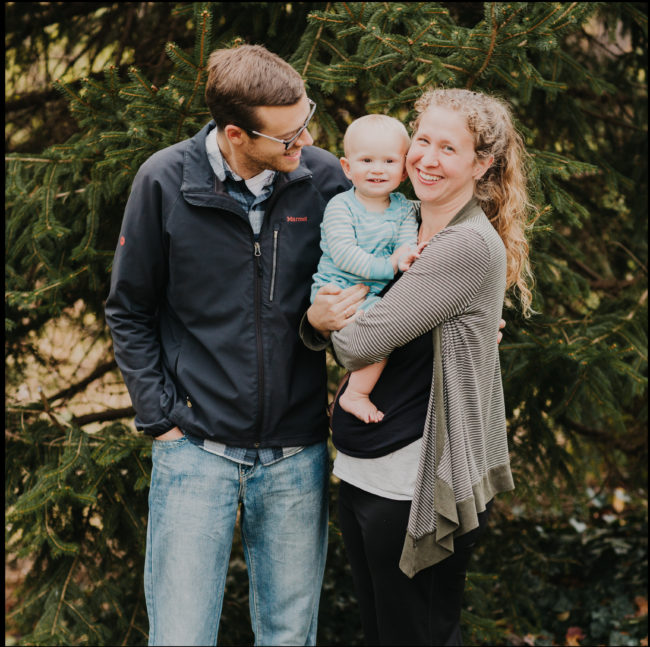 Dear Friends and Family,
It's a very snowy week before Christmas here in Milwaukee. With snow falling, snow on snow, Milwaukee looks like a snow globe, everything fresh and clean and quiet and quaint. It's hard to believe that during the last Christmas snows we had a nine-pound month old baby who was just learning to smile, and this Christmas we have a giggling, squawking, delightful twenty-pound toddler on the verge of walking and for now crawling at lightning speeds.
At one, Jackson laughs easily and loves dogs, coconut eggnog, throwing socks, splashing about, opening any drawer or cabinet, and holding on to our legs like a pint-sized tree hugger yowling protests at being removed.
The year has been filled mostly with his care. Somehow despite getting by on little sleep and less time as a couple, it's been a great year of watching Jackson flourish. One of our great joys this year was introducing Jackson to nearly all his extended family. It was a bitter sweetness that he got to meet Great-Grandpa Hays a few months before Grandpa Jim died in September. We miss him so very much, and we felt his absence keenly at Thanksgiving and Jackson's first birthday party.
The year started out with Jackson's January baptism. Family and friends made pilgrimages to Milwaukee to meet him and welcome him into God's family.
In the Spring, we started to ease into being a family of three, taking walks and getting into a routine as the snow melted. For Easter break we went to southern California for sun and more family. Jackson saw the Pacific Ocean, and we had Easter Sunday with our Bishop under the palm trees. It was amazing.
In April, his cousin Jonny was born to Amy's brother Jon and sister-in-law Candace. Jonny's older sister Anika called him "Donny" and Jackson "Dacket." She loves having both babies around. And we love living a block away from them.
Over the summer, we drove out to Maryland and DC for two weeks seeing of seeing Jackson's godparents and godbrother and friends and, of course, lots and lots of Maryland family. It was special to take Jackson on the well-worn trails of our favorite Maryland hikes.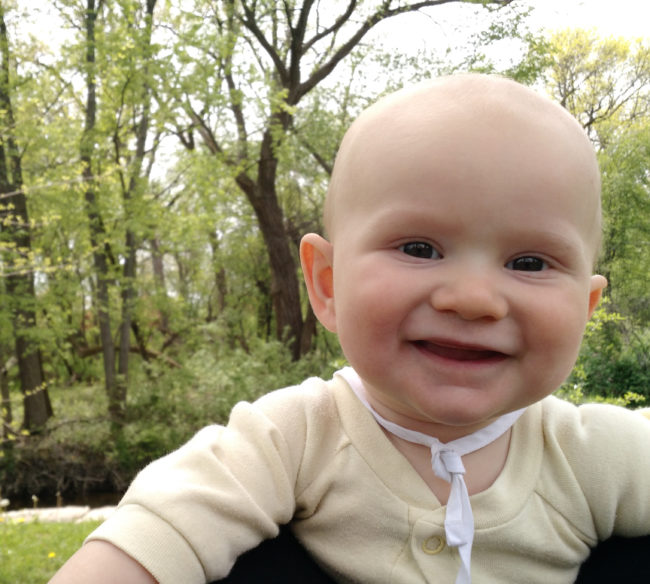 Upon our return to Wisconsin we painted the inside of our new house, fenced in our yard, and put together a significant amount of Ikea furniture. We spent a lot of time enjoying the gorgeous Wisconsin summer and using our state park pass—our favorite hikes were along Lake Michigan beaches.
Fall brought Evan back to school, coaching soccer, and newly serving on vestry at church.  Jackson started crawling…backwards, and got stuck under that new Ikea furniture repeatedly, which left him a mixture of delighted and a tad frustrated.
Ever since he was tiny, Jackson has loved to watch people and hates to see them leave, even if they've only been inside a few minutes. A highlight of our week is hosting small group on Thursday nights, of course saying goodbye to our friends is one of the worst parts of Jackson's week, but the joys outweigh the sorrows.
We're looking forward to having a quiet Christmas in Wisconsin and a 2017 that is filled with first steps, a few more words to add to his three (Ddgg, Da, and Maaa), and of course lots of hikes and even more books. This past year Evan's favorite book was Ready Player One (Honorable Mentions: Jonathan Strange & Mr. Norrell, Killer Angels, Night Circus, and Hero of Ages), Amy's was Watership Down (Honorable Mentions: At Home,  Move your DNA, Operating Instructions, and Garlic and Sapphires) and Jackson's was Pat the Bunny (Honorable Mentions: Go Dog Go, Mr. Brown Can Moo Can You? That's Not My Dragon, Hide and Seek Duck, and Little Blue Truck.) 
We hope your Christmas and New Year are filled with great books, delicious food, sweet family time, but most of all Christ's peace and hope!
Love from Amy, Evan & Jackson
P.S. A special thanks to Evan's best friend's Jake for capturing a quick family photo at thanksgiving!
Subscribe to Blog via Email

Instagram

Follow Me on Instagram!

Twitter

Follow me on

Twitter!

Favorite Posts

Archives