My somewhat organic & minimalist list of favorite baby registry things
I love baby things. I love how cute they are. I love how you can imagine your own sweet baby using each item. I love looking at people's lists of baby gear. For years before I had my own baby, I kept an amazon baby registry, and every time I ran into a cool baby product, I put it on my amazon baby  registry. (I have been reading mom-blogs and parenting books for a long time, years before we were even trying to have a baby, when it was a little bit weird for me to be so into reading about cloth diapers). Fortunately I nannied for a few years before Jackson, which meant I got to buy a few baby things, borrow a bunch of baby things, and learn to do without most baby things.
Still, one of the great joys of finally getting to have our own baby was making a real registry.  In an ideal world it would have been all organic and minimalist…but it ended up that people passed along well loved, perfectly wonderful things, or bought new adorable baby things, or that most ideal organic item was outrageously expensive. So our list of baby items ended up being somewhat organic and minimalist and a lot second-hand.  Now those things are full of our wonderful baby memories and probably someday will passed along to some other mom.
About the list: We had one boy (which we didn't know about until he came!) in November, in Wisconsin, which is going to be a different list than if you have twin girls in the summer in Florida. We had to think about warm and cozy,  itty-bitty, neutral colored winter things. My approach to infant care is sort of a mash up between baby-wearing attachment parenting and RIE, so I have a couple of baby carriers and warm quilts for the floor, but didn't get a baby gym or a baby swing. I could definitely see a baby (especially a second baby) really using them, although I'm glad we got away without having to. Considering how long this post is (but look at all the pictures of baby Jackson!!), it's not really very minimalist –because all your baby, at the end of the day, needs is you.
But… it is nice to have something to wipe up the spit up. What follows is my sorta organic, sorta minimalist, sorta hand-me-down list of baby things. I broke it down into eight parts:
warm baby (clothes & winter gear)
clean baby (diapers & toiletries)
sleeping baby (cribs & swaddles)
playing baby (toys & books)
moving baby (carriers & strollers)
fed baby (bottles & dishes)
nursing baby (clothes & ointments)
A list of a few all time baby shower favorites and other favorite registry lists.
*All the amazon items are here too in a fancy little amazon store.*
My somewhat organic & minimalist -ish list of favorite baby registry things
Footie Romper Pjs  //   Organic Cotton Romper Pjs //baptismal outfit // fancy boy outfit //  Carter's bunting // Disana Merino Wool Romper //  Babysoy Janey Baby Hat // sun hat iplay baby  Smartwool Infant Booties // toddler size wool socks
We took short family walks all winter with Jackson in the ergo, so he needed to be bundled to "enjoy" the Wisconsin weather. Smartwool Infant Booties were the very first things I bought when I was only a few weeks pregnant. I knew from nannying how great these were, toddler size works for newborns too and can be used for years but are a little harder to track down. These socks actually keep a baby's feet warm, especially if layered under footie pjs or footie-pants. You only need a couple of pairs of these, as people will give you cotton socks because baby socks are adorably tiny — and I often just put the cute sock over the wool one if I want my baby socks to match something.
The best hat we got was the Babysoy Janey Baby Hat. These hats actually stay on a baby's head, which is a surprising deficiency in most baby hats that aren't issued by hospitals. When I saw how awesome and adorable they were I promptly got three more, which was probably one more than I really needed. For the summer, I love (and Jackson frankly does not) the iplay baby summer hat, which I tie to my ergo, so we're prepared for sunny walks.
Newborn clothes are probably not something you need to buy (new) because people love to give tiny baby clothes. (Also thrift store newborn clothes are abundant, cheap, and often in good shape.) I personally dressed Jackson almost exclusively in 7 different thrifted Footie Romper Pjs  for the first 8 weeks (or as my brother called them "day-jammies.") I like the zipper ones (with the little zipper guard at the top) for night time, but people seem to be divided on whether they prefer zippers or snaps.  Check out Wellness Mama's post on organic baby clothes options. We did buy a L'ovedbaby Romper Pjs  in white for a baptismal outfit and it worked perfectly. I'd suggest for boys having one fancy outfit in each size and then in summer mostly just letting him hang out in a onesie.
One of Jackson's Great Aunts knit him a great bonnet style hat and another one gave him an adorable Carter's bunting outfit for the cold that has worked really well in combination with the wool socks and cotton pjs for winter walks in the ergo (inside a parent's warm winter jacket). The Disana Merino Wool Romper, is a more organic (and expensive choice) but I liked that this bunting had closed feet and hands with a generous hood which kept him nice and toasty, and we used it nearly everyday in the winter.
the aden + anais Classic Burpy Bib. // disposables  // Thirsties Diaper Cover //Kissaluvs Cotton Fleece Fitted Diaper. // OsoCozy Size 1 Prefolds // Rumparooz cover // BumGenius All-in-One Cloth Diaper.  // mother ease fitted diaper //OsoCozy Size 2 Prefolds //  changing table // changing pad //Kushies Deluxe Flannel Change Pads // Logan + Lenora Classic Wet Bag // Country Save detergent. //  mini bidet //spray mate, // Dr. Bronner's Fair Trade & Organic Castile Liquid Soap – (Baby Unscented) //  alcohol free witch hazel//essential oilGentle Baby or Roman Chamomile or Lavender //  Konjac Fiber Baby Bath Sponge// motherlove diaper cream. // All-Purpose Nipple Ointment  // Motherlove nipple cream // neem oil// sister-in-law's whipped grow with wonder homemade lotion// Earth Mama Angel Baby unscented// babycare kit// nose freda
Maybe my very all time favorite baby item is the aden + anais Classic Burpy Bib. They are a little luxury, since it turns out almost anything can be used to wipe up drool and spit up. However, these are so nice. They are soft and beautiful (I do have an obsession with aden + anais woven muslin cotton!) and they are shaped ergonomically so they stay on your shoulder or around baby's neck well. They even have little snaps so you can use them as a bib, or more often snapped along the strap of an ergo carrier or diaper bag. I put one under Jackson's head 95% he's in the ergo to catch spit up, pillow his head, or keep us from getting too sweaty. I don't leave home without one. They also end up just strewn around the house, so it's nice that they are cute. We got four and someone gave us two more and that is more than we need, but nice to always have one clean and around.


Diapers. For the first few weeks we just used disposables until Jackson's cord fell off and I was recovered enough to handle the extra laundry, although in hindsight I think we probably could have started using cloth earlier. Newborn cloth diapers are something that you might want to borrow since people are often not using them, or buy used, because it's such a short time that babies are in them that they're often in good shape. We had an array of borrowed newborn diapers, but my favorites were a Thirsties Diaper Cover and Kissaluvs Cotton Fleece Fitted Diaper. If I were going to buy newborn diapers I'd probably opt for either for using OsoCozy Size 1 Prefolds and a cover (like Rumparooz) or BumGenius All-in-One Cloth Diaper.  Borrowing or buying used will give you an idea of what kind of diapers you (and the other care givers) like and are willing to invest in for when your baby is bigger. For night time we used a mother ease fitted diaper and when Jackson hit about 18 lbs we started those or Size 2 Prefolds used during the day with the Rumparooz or organic wool disana covers. For wipes I just cut up some flannel in 9 inch squares—I think I have about 80 wipes.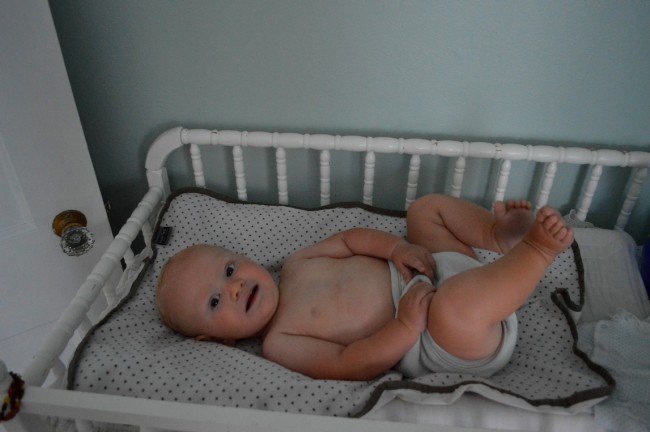 You definitely don't need a changing table and a changing pad, but it's certainly nice to have. I just put a pillowcase around the changing pad instead of a cover, and put a Kushies Deluxe Flannel Change Pads over the pillowcase, which makes it easy to throw them in the wash if they get dirty. (Those flannel change pads are SO useful; we have four and love them.) A friend of mine from DC makes these gorgeous wet bags– Logan + Lenora Classic Wet Bag that are great for traveling with all things diapers or babies. For everyday laundry I used four smaller and inexpensive wetbags and Country Save detergent. And once your baby eats solids, you're going to want to get a mini bidet and spray mate, trust me.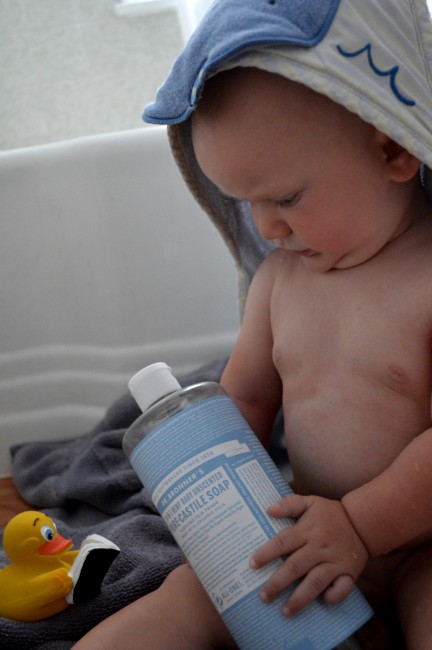 Dr. Bronner's Fair Trade & Organic Castile Liquid Soap – (Baby Unscented) This organic mild Castile soap is great for when you need a little more than just the sponge to clean the baby. I keep some diuluted 5 parts water to 1 part soap in a foaming dispenser in the bathroom for washing hands or baby. I also use Dr. B's as the soap in a simple wipe solution for reusable wipes. (A couple drops of soap, an ounce of alcohol free witch hazel, 2 cups of water, and 6 drops of the essential oil like Gentle Baby, Roman Chamomile, or Lavender, in a spray bottle.)  Also a  Konjac Fiber Baby Bath Sponge is a great little tool to help you do those first sponge baths. It's also easy to grab the sponge and do a quick wipe down of baby's neck during a diaper change, since that's primarily the place that spit up tends to end up. These sponges are also great for a natural way to wash your face. Also for this first baby we just held him in the tub for his weekly baths and didn't get out the out the baby bathtub someone passed along to us until he was 7 months. I wouldn't travel with the konjac though, unless you are really careful to let them fully dry out before packing them up. People love to get special washcloths and hooded towels for babies, so even if you don't register for them, you'll likely still end up with more hooded baby towels than you need, and you don't really need them, but they are super cute.
So far we haven't had any diaper rash issues, and if Jackson's bum is a little red I like the motherlove diaper cream. (Also after I stopped having to use Dr. Newman's prescription All-Purpose Nipple Ointment  I transitioned to using Motherlove nipple cream which I liked a lot more than plain lanolin or coconut oil.)   For more serious skin issues (like cradle cap and other little rashes) I found that neem oil worked really well, but smells terrible, as neem oil always does.  Sometimes we break down and use 1% hydro cortisone cream too for a day or two, which feels a bit like a crunchy mom fail, but it does the trick. Post bath time, I love to use my awesome sister-in-law's whipped homemade lotion, but I'd probably buy Earth Mama Angel Baby unscented. Most of the time we just use the thermometer, nail clippers and the little comb (with some olive or neem oil for cradle cap) from the babycare kit. Babies need their nails clipped at least once a week, which is one of the not fun surprises of motherhood since it's hard to cut just their nails and not their little fingers. I'm not sure that the nose freda has done more than make Jackson hate it, but it makes me feel like I'm doing something to help his colds, and other moms I know swear it's a life saver.
Lotus Travel Crib & bassinet // Arm's Reach cosleeper //waterproof mattress cover // Flannel Change Pads //  Wedge Bed Pillow // Boppy // Twins Nursing Pillow. // my breast-friend // organic wool nursing pillow // crib //mattress //waterproof mattress pad // low VOC crib mattress //organic crib mattress //wool puddle pad // aden + anais sheets // aden + anais Organic Swaddles //  summer infant swaddle//  Zippy zip,// Black out Curtains // White noise machine // Salt Crystal Lamp // amber anklets //Baby Monitor
The Lotus Travel Crib is a low(er) toxic/fancy version of a traditional pack n' play. The Lotus is easy to set up, and has the great feature of a zippable side so you can nurse lying down and then sneak out, or just put your sleeping baby in more easily. (And then when the baby is mobile he or she can crawl in and out for fun.)
If I hadn't been lent a co-sleeper, I might have just gotten the bassinet that goes with the crib and put it next to our bed. We have absolutely loved the big co-sleeper from Arm's Reach.  It's the right combination of close, safe, convenient, and separate for us. It is attached to my side of the bed and it is so easy to get Jackson out and nurse.
Also a waterproof mattress cover for our bed and those handy Flannel Change Pads were very helpful to nursing in bed spit up issues.  The first few months I'd nurse in bed leaning back against our Wedge Bed Pillow with Jackson on either our hand-me down Boppy with 3 firm pillows under it or in a football hold on a Twins Nursing Pillow. Then starting around four months I'd bring him over to do side-lying nursing. I think if I were to buy my own nursing pillow I'd either opt for the my breast-friend or an organic wool one, but we made the free bobby and twin foam one work, and my mom made me a beautiful new cover for the bobby that matched our bedroom quilt (also made by her).   I already had a crib and mattress and waterproof mattress pad, but if I were to do it over, and have a much larger budget, I might go with a low VOC one and organic mattress and wool puddle pad. Although Jackson still hasn't actually slept in his real crib yet. I did get and love these organic sheets, from aden + anais.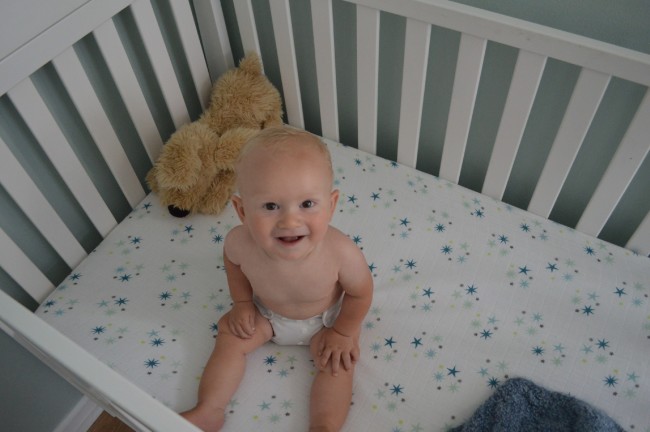 aden + anais Organic Swaddles I love, love, love these blankets. They are soft and beautiful and can be used for so many different things because they are thin, warm and breathable. You can tie them around your neck for a nursing cover, or around the handle of the car seat for a car seat cover. Of course you can swaddle the baby as well.  We used the organic summer infant Velcro swaddle with our aden + anais swaddle blankets swaddled loosely over the top which over a romper seemed to be the right amount of warm if our house was set to 66 degrees F. At about 7 months we switched from the Velcro swaddle to a transition swaddle called a Zippy zip, with an aden + anais blanket loosely swaddled over it. So he falls asleep with his arms bundled next to him because of the aden + anais blanket, but most of the time he wakes up with his arms out, but his hands still warm because they are covered by the zippyzip. We often call him our little starfish baby. I don't know if that system would work for a really active baby, but it works for us!

We also, for our own sleep, love our Black out Curtains and White noise machine (although it's underneath the co-sleeper so it's not quite as loud, and hopefully a bit better for Jackson's developing ears). We have a Salt Crystal Lamp in the hall way outside of the bedroom to help me see to nurse Jackson, but keep the light dim and in the warm light spectrum. (In theory the salt crystal helps clean the air, which is about as hard of science as amber anklets helping teething pain, but we have those too that Jackson wears at night around his ankles under his romper so he can't take them off. Mostly I think the lamp and the amber just mark as crunchy, but they both look nice.) We honestly didn't use our Baby Monitor until traveling this summer, but it's nice to have if you have a big house and a heavy napper.
Lambskin // Kushies Deluxe Flannel Change Pad // BABYBJORN Bouncer Balance //  classic oball, //skwish// Sophie La Girafe Teether, // wooden blocks,//  duplo legos, //magna-tiles, // modelling beeswax// beeswax crayons,// easel & learning tower //Play Silks
This beautiful Lambskin is where Jackson spends a lot of his waking time. Lamb skins are soft, and help babies stay at the right temperature, and are tough enough to last. Most of the time I end up putting a Kushies Deluxe Flannel Change Pad on top since those are so easy to toss into the wash. (Lambskins can be washed, but it's more of a process.) The lamb skin is too soft for sleeping or early tummy time, so it's definitely a nice-to-have, not an essential; a quilt works just as well for hanging out. My mom also made us a beautiful baby quilt which is beautiful and washable and perfect, but not available on amazon 🙂
The other place that Jackson hung out a lot  when he was awake was in the BABYBJORN Bouncer Balance. I love this one because it's super simple, packs flat, and can be used as a toddler seat. Most of the time it was in the kitchen so Jackson could watch us cook, but it was super easy to move around, and the cover is washable (and ours is organic cotton). At about 5 months he stopped being content in the bouncer and wanted to be free, so we passed the bouncer to Jackson's little cousin at that point, but I know some toddlers absolutely love the seat when the strap is removed.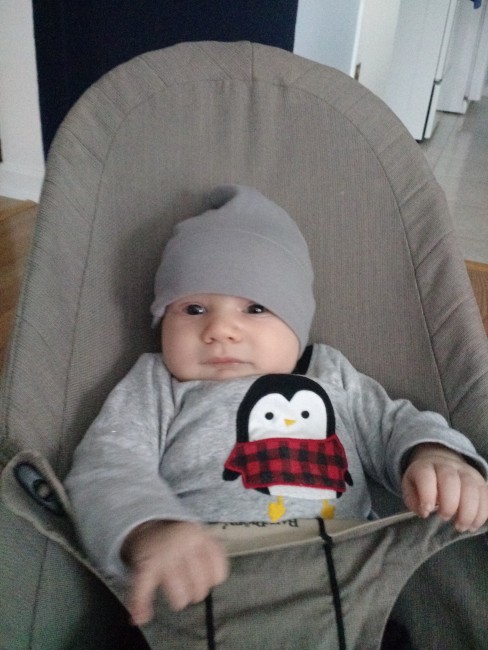 Honestly, newborns don't really need toys or mobiles or gyms…but people love to give them anyways. My favorites baby toys are the classic oball, the skwish, Sophie La Girafe Teether, and a crinkle toy, like this one. I love the traditional wood Montessori toys although Jackson honestly hasn't been very interested in them before 8 months. Seriously, babies mostly love to play with cloth napkins, the tags on bib clothes, jar lids, empty small disposable water bottles, half inflated beach balls, silicon muffin trays, and measuring spoons. So I'd try and get people to buy bigger kid toys like wooden blocks,  duplo legos, or magna-tiles, art supplies like modelling beeswax, beeswax crayons, or an easel that goes with the learning tower.  Or pretty much any and everything from Bella Luna Toys or Palumba especially the Play Silks. Waldorf toys are the best.
People also love to get you kids' books, and I love books, but really a lot of these you can get at the library. So get a few books that you love to read. Goodnight Moon, Little Blue Truck, Go Dog Go, Old Hat, New Hat, most everything by Sandra Boynton (like Barn Yard Dance and Moo Baa Lalala),  Byron Barton, Sally Lloyd Jones (the board book Baby's Hug-a-Bible or the most wonderful Jesus Story Book Bible), and Dr. Seuss. (Except I've never known a baby to be interested in One Fish Two Fish Red Fish Blue Fish, and believe me I have tried to read that book to a number of babies.)  Jackson loves Dr. Seuss' Mr. Brown Can Moo Can You. I think that Alison Jay's 1 2 3 and ABC books are gorgeous, although Jackson doesn't seem as impressed. Similarly I love Each Peach, Pear Plum, On the Night You were Born, and Psalm 23, and hope that Jackson comes to love them as well. Below Evan is reading a board book that my dad read to me: Hind and Seek Duck.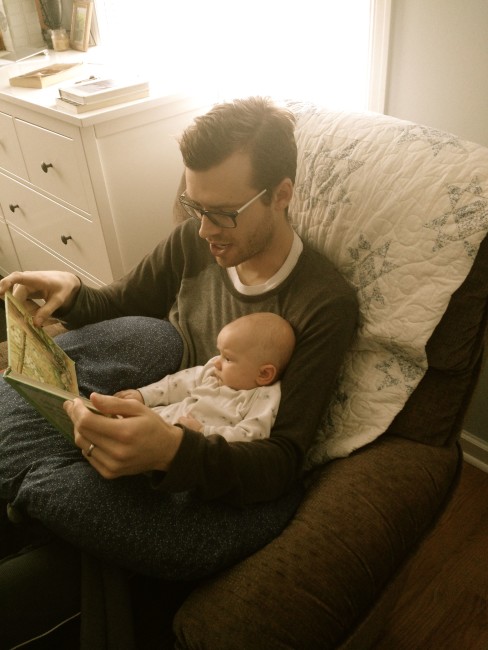 ERGO & infant insert or  ERGO 360 with the infant insert // k'tan // Moby Wrap //  umbrella stroller // sunshade // tandem stroller  // Graco SnugRide Click Connect 35 Infant Car Seat, // jj Cole Original Bundleme // a convertible car seat // Eddie Bauer tote (kind of like this one) // travel changing pad
If you're only going to get one baby carrier, I'd probably get the organic ERGO with infant insert. If you ask my husband Evan, he'd say that ERGO 360 with the infant insert which lets 5 month+ old babies face out, and I agree it's a really nice feature. I like both the ergos, and wish that I could combine the light organic cotton, zipper pocket, and easily adjustable waist band with the outward facing and adjustable buttons of the 360.  Someone lent me a great k'tan for the first few months which I loved to keep in my diaper bag; it's like a less bulky version of the Moby Wrap, which I have but really didn't use a ton.

We have the older version of this simple umbrella stroller which I would conservatively guess that I put about 20 miles a week on that stroller for the better part of 3 years, and a couple thousand miles later it's still in great shape. My one complaint is that the sunshade is way too small. While the newer version seems to have improved it a little, an additional sunshade for stroller and car seats makes it so much better, if a little like a spaceship. I'd say if you LOVE running, then get a jogging stroller, but if you don't love it, than a simple stroller can work great for lots of walking, which I'm pretty passionate about. For a double stroller I have my eye on this tandem one. We mostly just wear Jackson, I think the first time he was in a stroller was at 5 months, although sometimes it's a bit cooler in the hottest parts of the summer.

A lot of moms research the best carseat options religiously, but someone gave us a brand new car seat, the Graco SnugRide Click Connect 35 Infant Car Seat, which has been great especially with the jj Cole Original Bundleme which keeps Jackson nice and warm. If I were going to buy one I'd probably opt for a convertible one. For our diaper bag we just used a black Eddie Bauer tote (kind of like this one, but honestly an old backpack works great) that we have had for years with a thrifted travel changing pad we got for $1, and every time I use it I think it was the best dollar I've ever spent.
Pura Kika bottle & silcone tops //booster Travel Feeding Seat // Super Nutrition for Babies //Nourishing Traditions Baby Care //Baby and Toddler Silverware //bamboo bowl & plate, // silicone tray // aden + anais Classic Burpy Bib // ikea smock bib. // SeekingHealth (ProBiota Infant Probiotic) // vitamin D
Jackson has probably had a total of 2 ounces of expressed milk from a bottle the three times he's been offered one. So that's why I love that we just have one stainless steel  Pura Kika bottle that can grow with him with different silcone tops to be a toddler waterbottle. (Here are some other great bottle options from Mama Natural.)

We have a thrifted feed/booster seat that is simple and easy to attach to a chair (similar to this Feeding Seat.) There isn't a readily available baby food book for paleo, but Super Nutrition for Babies is one from the Weston A Price perspective. Honestly, I had to modify some of the recipes for making pâté and custard instead of grated liver and soft boiled eggs, but I think it's a great resource and a bit more accessible that Nourishing Traditions Baby Care book, but that one has some great recipes as well.  My niece has tested out the Baby and Toddler Silverware set and I love that it isn't plastic.  I also am looking forward to when Jackson can use his bamboo bowl and plate, but he might end up using this tray like my godson (who I nannied) did.  We often use the aden + anais Classic Burpy Bib for a bib, but we also use the more serious ikea smock bib. Since I was on a penicillin iv for beta strep, we got Jackson a paleo-friendly probiotic from SeekingHealth (ProBiota Infant Probiotic), which mostly I just felt guilty about not giving him, as I also felt about his vitamin D. Both would have been very easy to add to a bottle.
Medela Breat Pump //nursing tanks // cotton nursing pads//criss-cross V or surplice neckline tops  // Wedge Bed Pillow // Boppy  // inflatable my breast friend travel pillow // Motherlove nipple cream //Lansinoh Soothies Gel Pads

I got a breast pump from my insurance at the hospital since Jackson's tongue tie led to a rough start on nursing, and I like the Medela just fine. (But that is a good thing to look into how your insurance handles covering breast pumps!) Someone gave me a couple of nursing bras, but mostly I just lived in four different nursing tanks from Target and about 12 cotton nursing pads. The nursing tanks mean that almost any clothes become nursing friendly, except dresses. Dresses you have to think about nursing in! I loved the criss-cross V or surplice neckline style for maternity tops & dresses. Someone gave me a beautiful infinity nursing scarf, which I do like, but honestly most of the time if I use a cover (which I often don't need to since 90% of my nursing in public is nursing in the ergo) I just tie an aden+ anasis blanket around my neck and use that. Like I mentioned in the sleep section I love our Wedge Bed Pillow to lean again and then have the baby on a nursing pillow (we had a Boppy  a Twins Nursing Pillow that someone gave us) although I think that my breast-friend or an organic wool one might  be better. My sister-in-law loves her Dr. Brown Gia nursing pillow, and I have to agree that it's really nice.  I got an inflatable my breast friend travel pillow for plane travel, and it was great, although I'd probably only get it (or borrow!) for a long plane ride for a baby under 6 months. In the beginning Motherlove nipple cream and  Lansinoh Soothies Gel Pads were lifesavers.
 motherlove lotions and creams // aden + anais Classic Burpy Bib// aden + anais Organic Swaddles // Smartwool Infant Booties //Babysoy Janey Baby Hat // Flannel Change Pads.
So all in all, my favorite things to gift a new mom would be a motherlove lotions and creams set, a few aden + anais Classic Burpy Bib, aden + anais Organic Swaddles,  Smartwool Infant Booties and Babysoy Janey Baby Hat, or a couple Flannel Change Pads.
If you love baby items and registries as much as I do check out these great lists: from howwemontessori.com becomingpeculiar.com, mamanatural.com, realfoodliz.com, finnishbabybox.co, hitherandthither.net, theminimalistmom.com, lindseykubly.com, thoughtsbynatalie.com, wellnessmama.com, homegrownandhealthy.com, mymundaneandmiraculouslife.com, theartofsimple.com,  readingmytealeaves.com, thesensesfive.com, nicoleneesby.com, and  thewisebaby.com.
Or my other pregnancy posts: surviving first trimester, my favorite pregnancy and labor books, my favorite postpartum care books or Jackson's birth story.
What are your favorite baby items?
*Note* This post contains Amazon affiliate links, which means if you were to buy a book or a baby thing, I'd get a tiny commission at no cost to you. Thanks for supporting Stories & Thyme!*
Subscribe to Blog via Email

Instagram

Follow Me on Instagram!

Twitter

Follow me on

Twitter!

Favorite Posts

Archives