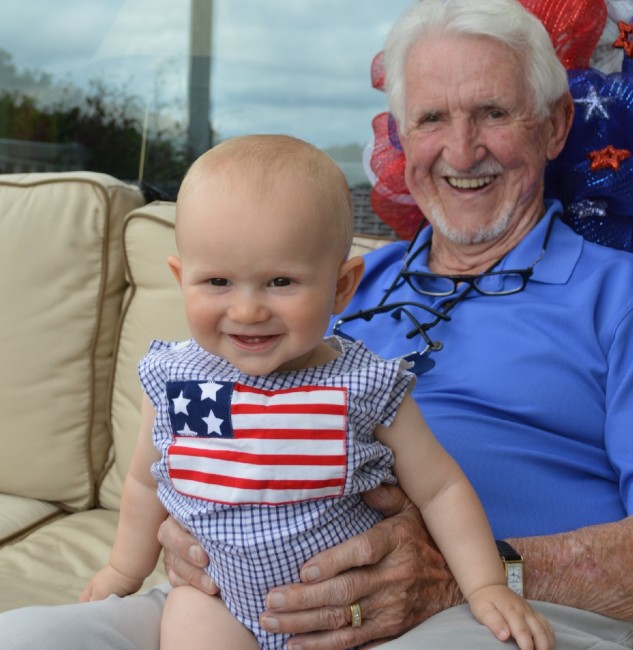 One of the byproducts of becoming parents is watching your own parents become grandparents and your own grandparents become great-grandparents. I don't have any memories of my great-grandparents. Supposedly, I met one of my great-grandfathers, but the details of that story are vague and the photograph we have of the event seems like it might be my cousin meeting him. I have some stories about them though, like the story of how my great-grandpa Rogers found a ring on the floor of the factory he worked at in Ohio and gave it to my teenage Grandma who in turn left it for me to wear as a teen. They were children of missionaries, chemists, farmers, hunting and fishing guides, married too early at 15, or too late at 44, Great Depression survivors, my great-grandparents lived full lives with legacies that I knowingly and unknowingly carry with me as much as my grandma's little square antique ring.
This summer we had the immense privilege of introducing Jackson to all 5 of his living great-grandparents. These were sweet and sacred little moments, with both parties content to simply gaze at the other. Our grandparents are all over 80 now, some with the cancer and dementia that is slowly stealing the body and minds of the people I remember stronger and younger, but everyone seemed so especially present and alive meeting little Jackson. And Jackson, who is not always one to appreciate strangers holding him, seemed to know that these people were family — perhaps the arch of an eye brow or the shape of a nose that reminds him of us — or perhaps just the joyful face and slow and peaceful gait of a practiced grandparent put him at ease.

Jackson first met Grandma Katie in late March. We were out in California for Spring Break and my 80 year old grandma took the train down from Santa Barbara to Oceanside, California by herself, walking from the train station to the condo, slowly but surely, with my mom. A preschool teacher and a fervent Christian, my grandma often seems the most at home with small children, explaining the world to them in song and story. Jackson would babble at her and she would listen and then say, " I don't believe it, tell me more." I have videos on my phone of her singing the same songs to Jackson that we have old VHS tapes of her singing to me as a baby, about blue birds and all the children of the world, and Jesus loves me in Burmese—something her own Grandmother taught her.

Then on Memorial Day and again on the Fourth of July, Jackson met Grandpa Denny at his beautiful southern Wisconsin lake house.
I have so many memories of spending these holidays on the lake (only the lake house then was much smaller before the flood of 2008). My grandfather is the embodiment of the American Dream, and could have been a character on Madmen, if Madmen were about incredibly successful Wisconsin bill collectors. He's handsome and generous, and only now at 80, battling liver cancer, is he slowing down, a bit, from his global jet-setting days. He was so over-joyed to meet his first great-grandson. Grandpa Denny has given a lot of thought to legacy. He is immensely proud to be the first in his family to go to college, and loves to see his children and grandchildren and great-grandchildren learn and work hard and achieve great things. I think that holding his great-grandson is up there with some of his (many) wonderful legacies.
In June we drove out to Maryland for a few weeks, and there Jackson got to meet a whole host of the Hays and Lattea clan in Annapolis. Grandpa Lattea is the oldest of his living grandparents.
West Virginia born, a paper salesman with a unique knack for putting people at ease and treating everyone with dignity and respect, Grandpa Lattea described his grandson with the practiced ease of someone who made a living pointing out the best qualities and hidden treasures before him. Grandpa Lattea loved Jackson's observant spirit, Jackson's delight in books and meeting new family, his easy-going nature and sweet disposition. . Jackson's Grandma Kate and Aunt Colleen showered him with gifts — fuzzy bears and well-loved classic books. It's hard to see Grandpa Lattea's memories of a long and hard working life slip away, but he was the most happy I had ever seen him meeting his only great-grandchild.
Across town, Jackson got to meet Grandma and Grandpa Hays—who have graciously let me refer to them like I do my own grandparents with their first names. This seems so fitting since after getting to know them for almost 10 years, they do seem more like my own grandparents than just Evan's.
Grandpa Jim had just turned 86 a few days before we got to their beautiful house, a short walk from the Chesapeake Bay where for more than 30 years they've lived between sailing trips. A traveler by land and sea and air, Grandpa Jim was an Air Force pilot and his four boys were born all over the globe (Jackson's grandfather was born in Jackson, Mississippi, another great reason for his name.)
Grandpa Jim has so many stories to tell from his rich and well-lived life that the loss of his voice box a few years ago to throat cancer leaves a gap in family gatherings. But this did not hinder his connection with Jackson. If anything there was a strong understanding between the two Hays men, both with so much to say and no ability to form the words, a delight in sitting round the table with family, even if they can't enjoy the food. Fortunately Grandpa Jim can write down his words, both on a pad of paper during visits, and also longer reflections on the computer.
He's written a great memoir we got a copy of this June that captures so much of his joie de vivre and adventures. I'll always remember that right before we said goodbye Grandpa Jim wrote out a lovely little benediction of sorts calling Jackson a beautiful child. It's a phrase I treasure.
Grandma Anne welcomed us into their airy home with beautiful build in bookcases housing a life-time of treasured books, some of which Grandma Anne herself wrote. One of my most faithful readers, Grandma Anne has been such a source of encouragement to me, and a model of wife and mother and writer, grandmother and great-grandmother.
She has been a partner to Grandpa Jim for over 60 years, through dozens of moves and hardships and adventures and joys. She took pictures of Jackson on her ipad, leaves comments on my blog about pictures of him, and sent him a fun bib from Annapolis institute Chicken Ruth's where they meet their friends the C.L.O.D.(Cruisers Living on Dirt) for Wednesday breakfast. Grandma Anne hosted a birthday lunch for her eldest son, Jackson's Grandpa Doug, with cake and great uncles coming in to celebrate. That's the way that I remember the house, filled with cousins and cake, domino tournaments and good china. I hope that someday we will have a home and family like theirs.
Jackson's great grandparents stretch back in time, connecting him to the past in such a personal way. If he had been alive, Jackson's oldest Great-Grandpa Norton would have been 105 when Jackson was born. His Great-Grandma Irma would have been 98, born before women had the right to vote and two months before the US entered WWI. They would have loved to meet Jackson, to get a text about us going to the hospital and a picture on their phones of an hours-old baby. Time with great-grandparents puts in perspective how fast things change and how unchangeable the connection between family is. With practiced hands that have held their own babies and their babies' babies, they bounce Jackson with ease, letting him stretch and explore the world from the safety of their laps. Soon he'll be running and shouting and exploring the same woods and seas and skies that they have, carrying with him their blessing and love and legacy.
What are your memories of your great-grandparents?
Subscribe to Blog via Email

Instagram

Follow Me on Instagram!

Twitter

Follow me on

Twitter!

Favorite Posts

Archives