Newbery Review # 35 (Carry on Mr. Bowditch, Latham, 1956)
Carry on Mr. Bowditch by Jean Lee Latham is the 1956 Newbery winner. It's a biography of Nathaniel Bowditch who had little formal education but was one of the great mathematicians in early America, dedicated to making the published charts for nautical navigation accurate. Ok that sounds dull, but it's a really lovely story that makes you fall in love with Bowditch who does love math, but also loves to teach rough and tumble sailors how to navigate so they can be promoted, and saved a lot of lives correcting charts that ships used to navigate.
What I liked. I loved the rich detail of the Bowditch world— all the pieces of shipping equipment and the culture of sailing and sailors. My all-time favorite book is Voyage of the Dawn Treader by CS Lewis and this would be a great book to read next to it if someone was interested in boats. I also (have a somewhat guilty pleasure) love Lori Wick's Christian Romance Wings of the Morning about a 19th century female ship captain (Smokey!). And a recent addition to my love of sailing books is Swallows and Amazons.
Similarity to other Newbery winners and limitations. However, I know that some sailing books can be really heavy on the technical stuff like The Dark Frigate or very light like Dr. Dolittle. Mr. Bowditch also had the sort of pacing problems that a lot of biographies (especially) for kids have and just like Daniel Boone, Invincible Louisa and Amos Fortune, we don't always get the kind of information we'd like about the main character's family or falling-in-love. And particularly like with Amos Fortune, wives and siblings die unexpectedly and tragically in that jarring way that happens in real life—without any foreshadowing or narrative purpose that death in fiction often can create.
What was interesting. I had no idea before reading this book about nautical tables or why they were so important to sailing. Evidently the nautical manual that Bowditch created was used for many, many years, and was one of the great American contributions to the world of sailing.
What it teaches me as a writer. I read a quote by Neil Gaiman the other month, which I cannot find–much to my annoyance, (so if you find it let me know!!) that said basically (but of course much more eloquently, since it was Gaiman) that protagonists should be placed into problems that they need to think their way out of, so that the reader can both think with the protagonists and feel that if he or she were in their shoes the reader too could get out of the problem. I have been pondering that idea a lot, and I think that Mr. Bowditch is a great example of what Gaiman was talking about. I loved all the problem solving that Mr. Bowditch did, trying to understand both technical problems like the math behind the nautical charts, calculating position based on the sun and moon, or interpersonal problems like his apprenticeship stipulations, or the bad attitude of the sailors in front of the mast who wanted more from life. (He wasn't particularly good at recognizing romance….but fortunately the ladies took care of that!)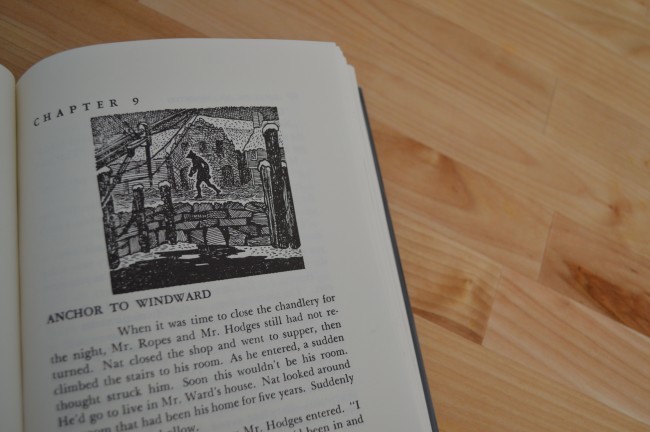 Have you read Carry on Mr. Bowditch ? What are your favorite sailing books?
*Note* This post contains Amazon affiliate links, which means if you were to buy a book, I'd get a tiny commission at no cost to you. Thanks for supporting Stories & Thyme!*
Subscribe to Blog via Email

Instagram

Follow Me on Instagram!

Twitter

Follow me on

Twitter!

Favorite Posts

Archives