My reading for 2015 was dominated by pregnancy and birth books, and to a lesser extent the great Newbery project which slowed down but kept up a steady rhythm around the blog. Here are the other fun literary adventures that filled up last year. 31 in honor of my 31st birthday at the end of 2015—one more than last year's birthday book post.
Home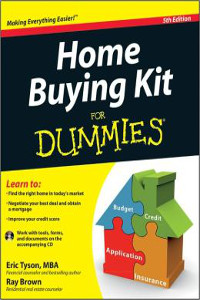 1. Home Buying Kit For Dummies by Eric Tyson & Ray Brown. We bought our first house this year, and I read this book pretty much cover to cover to help me figure out what was going on. It's a solid introduction to the process involved both in terms of figuring out what you can afford and the steps involved in buying the house. Now for next year: Home Maintenance For Dummies.
2. Design Mom: How to Live with Kids: A Room-by-Room Guide by Gabrielle Stanley Blair. This book walks you through room by room pointing out how to make a home with children beautiful and functional. I loved it. It's pretty and filled with tips and tricks and just good common sense about how to make your space work for you. I kept finding myself nodding, and thinking —yeah that a really good idea!
3. Eat Drink Nap: Bringing the House Home by SoHo House. In some ways this is the opposite of Design Mom since it's about the workings of the elite(st) and exclusive club that has hotels and restaurants with extremely selective and restricted membership. But in other ways, it picks up on the theme of Design Mom about making spaces functional, inviting, and beautiful—with some fabulous cocktail recipes included. **Side note: I noticed this year watching my favorite guilty pleasure Christmas Romantic Comedy The Holiday that smarmy, handsome, Jasper Bloom says he's having dinner at the SoHo house**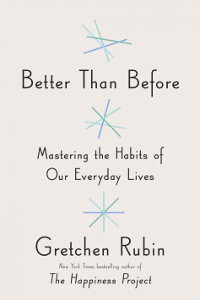 4. Better Than Before: Mastering the Habits of Our Everyday Lives by Gretchin Rubin. This isn't technically a "home" book, but it picks up where Rubin's last book (Happier at Home) left off, focusing on specifically how to implement habits that make us happier, many of which are again home-centered. I love all of Gretchin's work, and have especially loved her sister Elizabeth Craft's podcast happier.
Memoir/Non-Fiction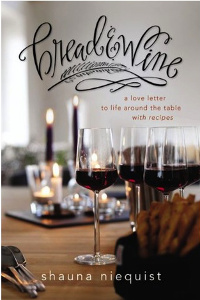 5. Bread and Wine: A Love Letter to Life Around the Table with Recipes by Shauna Niequist. Shauna Niequist writes about food and friends and dinner parties in a way that makes me want more of all three in my life. Somehow, she weaves some really difficult parts of life—disappointment and death and exhaustion and sickness—in with all the lush and rich and sweet and beautiful parts.
6. In a Sunburned Country by Bill Bryson. Evan, for several years, has been raving about Bill Bryson to me, and finally this year we listened to several of his books together as we feel asleep. It quickly became one of the very best parts of the day. Bill Bryson can tell a story, a travel story, a personal memory, and historical fact, so well—they are funny and insightful, smart and informative. This one talks about his travels through Australia, which made me simultaneous want to go to Australia and terrified of all the incredibly dangerous plants and animals there.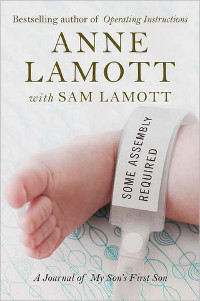 7. Some Assembly Required: A Journal of My Son's First Son by Anne Lamott. This is classic, wonderful Anne Lamott at her best: irreverent, liberal, and deeply insightful and wonderful. I particularly loved how she described the first few weeks and months of her grandson's life. She really captured something about the disruption and love and craziness of new motherhood (or grandmotherhood!).
8. Found: A Story of Questions, Grace & Everyday Prayer by Micha Boyett. Micha Boyett is one of my favorite bloggers. I love how she meditates on Benedictine practices of prayer, coming back again and again to learn how God makes enough room for us, inviting us gently into prayer even in demands of motherhood.
9. A Little Salty to Cut the Sweet: Southern Stories of Faith, Family, and Fifteen Pounds of Bacon by Sophie Hudson. This is a very funny, lovely book about Sophie Hudson's parents and grandparents. It's so charming and a great picture of the south. She really captures dialogue, the particular ways that the zany cast of characters that make up her family speak and see the world. I was sad when it ended.
10. The Zimzum of Love: A New Way of Understanding Marriage by Rob Bell and Kristen Bell. I love Rob Bell; sometimes, I wish that he would talk a little more about Jesus and a little less about Spirituality, but I still think that what he says is so smart and insightful and a real blessing to so many people. I loved that we got to hear Kristen's voice in this book, and I loved thinking about this Wheaton College couple (like me and my husband) making marriage and career and family work by serving and loving and learning to make their marriage a sacred place for both of them to flourish.
11. Yes Please by Amy Poehler. Amy is smart and funny and surprisingly insightful. If you like Tina Fey's Bossypants and Mindy Kaling's Is Everyone Hanging Out Without Me?, you'll love this memoir on girl power, the comedy industry, and general reflections on life. I love it even more because of how much I love Parks and Rec.
12. Persepolis: The Story of a Childhood (Pantheon Graphic Novels) by Marjane Satrapi. This was a book club pick from my friend Zoe, and I'm so glad that I read it. First I've read very few graphic novels, and I've also read very little about Iran. This story is in two parts, and I liked the first part more. Not that the second wasn't done well, but that part of Marjane's story in Europe was harder for me to read about.
Children's
13. Emily of New Moon by L.M. Montgomery. Emily is just as charming as Anne, but different enough that this spunky Prince Edward Island orphan stands on her own as well. Emily's aunts and uncles are spectacularly unreasonable in their demands for Emily's decorum, something that the 100 years since its publication has only heightened. You 'll be cheering for and groaning with Emily throughout her escapades. I'm excited to finish the series!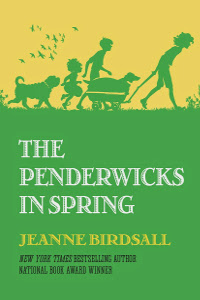 14. The Penderwicks in Spring by Jeanne Birdsall. I've already written a full post on my ode to this amazing book, but let me summarize by saying that I love the series and this one is just as strong. If you love Little Women, you'll love the Penderwicks.
15. Blue Birds by Caroline Starr Rose. One my favorite authors writing a new book is always a highlight, but I do love a good Roanoke mystery so this one is doubly fun. You can read more about the many, many reasons I love Blue Birds and Caroline's writing here.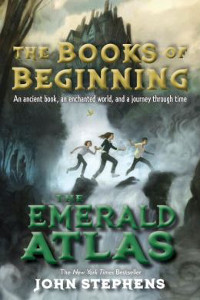 16. The Emerald Atlas by John Stephens. A fast and funny fantasy for kids about 3 siblings, lost parents, and magic books. John Stephens is a TV writer and sometimes I thought that with all the time travel and witty dialogue, this might have been stronger on film, (or at least a bit easier to follow) but it was a fun ride and I want to read the next two in the trilogy. Also Jim Dale does the audio book, and I might listen to Jim Dale reading the phonebook.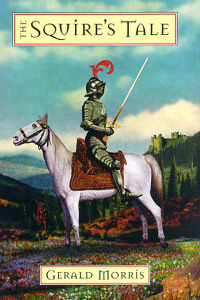 17. The Squire's Tale by Gerald Morris. I haven't read a lot of Arthurian novels, but Morris was a lovely introduction. In a style that was very similar to what I found in the beginning of The Once and Future King (I'm still reading that one), Morris does a great job of flushing out Sir Gawain in a more positive light than most retellings of the Arthur legend do. This one also reminded me of the Lloyd Alexander books. I also liked the next book in the series The Squire, His Knight, and His Lady.

18. The Phantom Tollbooth by Norton Juster. A classic I can't believe that I hadn't read before. I saw this book in a little library and read it in an afternoon. It's terribly cleaver and imaginative. I can easily see why it is a classic, and how Norton Juster is part of that amazing decade of children's literature when Madeline L'Engle and Maurice Sendak were first creating their own masterpieces.
19. 100 Cupboards by ND Wilson. A solid kids tale by a solid theologian, I thought 100 Cupboards was a really fun read. There are more books in the series, and I think that ND Wilson is going to fill out his world a bit more. It was bordering on a little creepy/scary for me (I'm a lightweight) but my local prodigious reading 11-year-old assures me it was fantastic.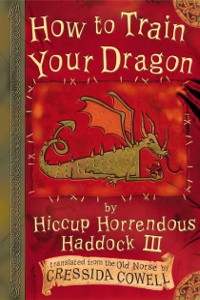 20. How to Train Your Dragon By Cressida Cowell. I'm a bit late to the Train Your Dragon party, but my goodness it was funny and cleaver! It takes some really great research about Viking days, combines it well with a menagerie of dragons, and a great hero's journey with some great gross Viking names. I listened to the audiobook, but I think that the illustrations in the written version make the story even stronger.
Fantasy
21. Mistborn Trilogy: Mistborn, The Hero of Ages, & The Well of Ascension by Brandon Sanderson. I think that the Mistborn series was the very best discovery of 2015. First of all, it's an amazing fantasy, with really well thought out and brilliant system of magic. Second, Brandon Sanderson is prolific, and relatively young, so there many published and to be published novels (some set later in the same world as this trilogy.) By far the books I have recommended the most this year.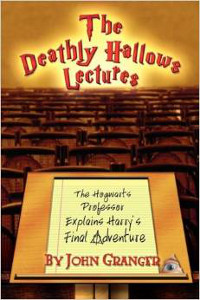 22. The Deathly Hallows Lectures: The Hogwarts Professor Explains the Final Harry Potter Adventure by John Granger. For book club in November we (re) read Harry Potter and The Deathly Hallows, I think it was my 5th time through Rowling's masterpiece. We're really big Harry Potter fans in no small part because of the work of John Granger. If you want to feel smart about why you have undying love for all things HP, read Granger. I thought that How Harry Cast His Spell was a little better organized and straightforward than this collection, but this one was great too.
23. Legend by Marie Lu. I am not a connoisseur of YA dystopias, but in my humble (and limited) opinion, Marie Lu's serieseis just as strong and compelling as Hunger Games and Divergent, so if you liked those two, try out Legend.
24. Winter (The Lunar Chronicles) by Marissa Meyer. The last installment of The Lunar Chronicles was a very satisfying conclusion to the series, and a lot stronger than the other book she put out: Fairest: The Lunar Chronicles: Levana's Story (to be fair, I think that it was really interesting and ambitious of Marissa Meyer to write Fairest, but ultimately Levana is the villain of the series, and I just didn't like her—because we're not supposed to!—so it is hard to have the protagonist be so unlikeable — interesting and tortured, but still really unlikeable.)
Novels
25. Possession by AS Byatt. This is my first AS Byatt book, and I was very impressed. I cannot believe that she wrote that many period poems and created a world that was so rich and detailed. I can't say that I loved it really. It was long, and I didn't really fall for the characters, but it comes together beautifully in the end, and like I said, it was an amazingly crafted piece of fiction.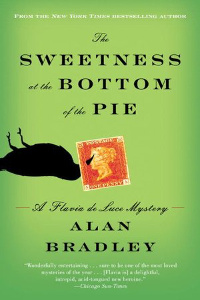 26. The Sweetness at the Bottom of the Pie: A Flavia de Luce Mystery by Alan Bradley. I have fallen in love with Flavia du Luce, the precious 11-year-old detective in these books. I cannot wait to read more of the series! I have not read a lot of murder mysteries (I do love The No. 1 Ladies' Detective Agency), but this book makes me see why people are so devoted to a good mystery.
27. Go Set a Watchman: A Novel By Harper Lee. A book club pick, that I am glad that I read because I think that it's amazing to look behind the curtain of the writing process of To Kill a Mocking Bird. The best parts of Watchman to me were the flashbacks to when Scout was little. I don't think that the ending was very satisfying, or that Lee had really answered her own questions that the characters raised.
28. The Rope Walk: A Novel by Carrie Brown. A book club pick, Rope Walk reminded me a little bit of To Kill a Mocking Bird with its tomboy protagonist, first name widowed father, older brother(s), and interesting neighbors. Ultimately, Rope Walk had a really sad ending that I didn't like, but it was well written and evocative of a New England summer.
29. Still Alice by Lisa Genova. A book club pick. Haunting and beautiful, Lisa Genova's first person narrative of early on-set Alzheimer's will have you wanting to call your mother to simply say how much you love her, and reflecting on what exactly makes you you. Beautiful and sad.
30. The Sacred Diary of Adrian Plass, on Tour: Age Far Too Much to Be Put on the Front Cover of a Book by Adrian Plass. I love all the Adrian Plass diaries, so it was lovely to return to Adrian, Ann, Gerald, and Leonard in this latest installment as they travel around preaching and being generally ridiculous. A satire on evangelical subculture set in England that has poignant reflections. A quick and fun read.
31.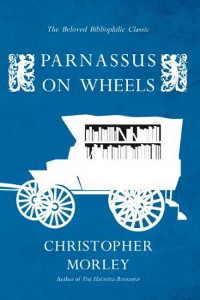 Parnassus on Wheels by Christopher Morley. A great book about loving books, this classic tale of a traveling library salesman who wants to retire and the spinster farmer's sister who impulsively agrees to take over is a fun whimsical read. Along the lines of Miss Pettigrew Lives for a Day and The Storied Life of A. J. Fikry that I read last year, Parnassus on Wheels is an afternoon read well worth the time.
What were your favorite 2015 reads?

 *Note* This post contains Amazon affiliate links, which means if you were to buy a book, I'd get a tiny commission at no cost to you. Thanks for supporting Stories & Thyme!*
Subscribe to Blog via Email

Instagram

Follow Me on Instagram!

Twitter

Follow me on

Twitter!

Favorite Posts

Archives