Newbery Review # 25 (Strawberry Girl, Lenski, 1946)
Strawberry Girl by Lois Lenski tells the story of Biddie Boyer and her family as they move south to a new town in northern Florida in the early years of the 1900s. This lovely historical fiction Newbery captures the rural poverty and toughness of the Florida "Crackers" as the Boyers begin to farm (strawberries) even as a feud begins to develop with their neighbors the Slaters. The Slaters think that the Boyers' newfangled ways of farming aren't to be tolerated.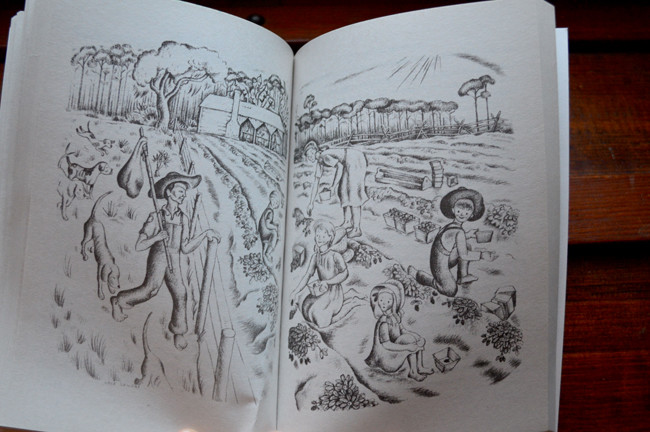 What I liked. I loved that Strawberry Girl gave us a window into a community of people that I hadn't really even known about. This whole world of Florida was pretty harsh, and people from Appalachia began to settle it fairly late compared to the West. Lenski gives the people a strong dialect and determination to see through the hardships of farming in Florida.
What was interesting. The Slaters, and the Boyers' conflict and resolution with them, was one of the most compelling parts of the books. The Slater boys beat up the school teacher and leave the community without a school for most of the book. Pa Slater poisoned the Boyers' mules in revenge for their fencing in their land and making it hard for his cattle to pass through. But you also feel compassion for the Slaters: Pa tends to drink all their money away, and Ma Slater is prideful but a strong woman. When Pa Slater got drunk and shot all their chicken heads off, Ma Slater invited all the neighbors for a party to eat the chickens, even though she had to tell them why they had all died. And in the end, Pa Slater, struck by the kindness of the Boyers saving his wife and children, gets saved by a traveling preacher, renounces his drink and hard-hearted ways and peace returns to the community.
What were some limitations. I think I would have liked the narration to be a little more inside Biddie's head to let us know a little bit more about her feelings about being a girl there. We see her fears and joys, certainly, but I liked her and wished we could have gotten to know her more.
Why I think it's a Newbery. This book felt more like what I would expect from a Newbery. It was a coming of age story. It revolved around a cultural group that isn't very well known. The story was short and straightforward, although the tension between the Boyers and Slaters keeps you reading until the end. I think it's a good sign that we've turned a corner with the Newberies, and if they are going to continue to be more like Strawberry Girl, that would make me very happy.
Similarity to other Newbery winners. It has a similar feel to Caddie Woodlawn and Thimble Summer, two other historical fiction books with 10 to 12 year-old farming girls. And again, we have right after WWII a novel about farm life and finding peace, similar to previous Newbery Rabbit Hill.
What it teaches me as a writer. I think the way that author Lois Lenski wrote the Slaters as so terrible yet slowly you learn to like them was impressive. I find that I am reluctant to write characters that are bad, or do bad things, at least for very long. I want Pa Slaters' conversion to come at the midway point, but it's more delicious as the ending. Lenski is able to make the Slaters really rich in their various manifestations of conflict with the Boyers. I also love that she let the women really solve the problems that their husbands had increased. It's a great look at the strength of those pioneer wives.
Have you read Strawberry Girl? What are your favorite pioneer books?
*Note* This post contains Amazon affiliate links, which means if you were to buy a book, I'd get a tiny commission at no cost to you. Thanks for supporting Stories & Thyme!*
Subscribe to Blog via Email

Instagram

Follow Me on Instagram!

Twitter

Follow me on

Twitter!

Favorite Posts

Archives