Newbery Review # 18 (Thimble Summer, Enright 1939)
The 1939 Newbery Medal winner, Elizabeth Enright's Thimble Summer, was really lovely. It was one of my favorite early Newberies so far, and not just because it's about a plucky Wisconsin girl named Garnet Linden—but that does help. Thimble Summer tells the story of a 1930s family in Southwestern Wisconsin one summer when they build a new barn, adopt a brother, and grow a prized pig. Garnet finds a silver thimble at the beginning of summer that breaks the drought, and she credits all the wonderful parts of that summer to the magic of that silver thimble.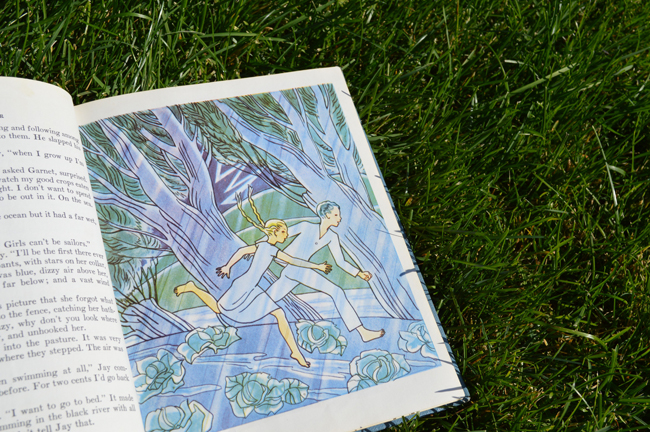 What I liked. I think that world, the setting of the farm and southern Wisconsin and the rural community was one of the strongest parts of the book. I loved Garnet as a character and the way that she was surrounded by family, friends, and neighbors. Together, they create a beautiful picture of a rural farming community: people genuinely helping and knowing each other. Garnet once even hitch hikes to a city some 20 miles away, and manages to make friends with the drivers along the way.
What was interesting. One thing that I thought was interesting was that this book was the first time we've received a little dose of pop culture in our Newberies, like references to Mickey Mouse and Coca Cola.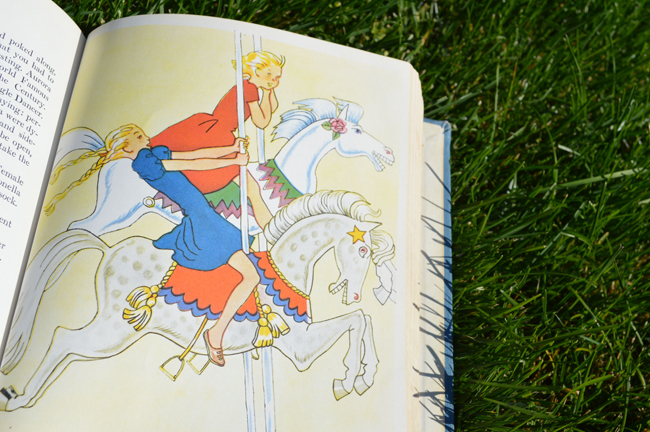 Also, I thought that Elizabeth Enright's Newbery acceptance address printed at the back of the book was really fascinating. I wonder if other speeches are recorded somewhere? It talks about how she started out as an illustrator (the illustrations are all hers in this book.) But I liked what she had to say about children: "There is a peculiar joy in writing about children for children. One naturally goes back to one's own childhood to find things. To me, the astonishing thing is in the way one took in life during those years. It was as though a thin, but tough, membrane had not yet grown between oneself and the rest of the world. A child sees everything sharp and radiant; each object with its shadow beside it." (p. 138)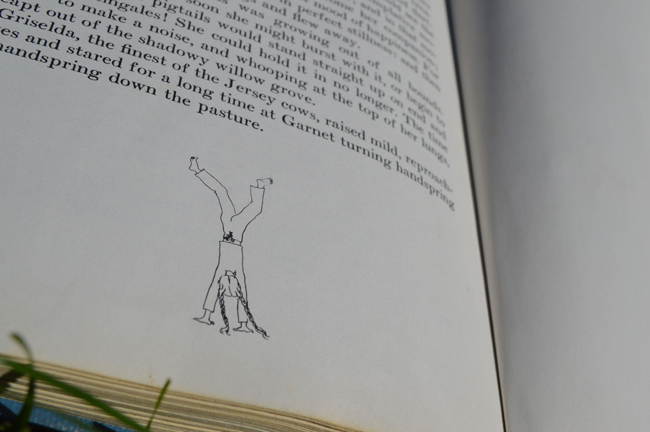 What were some limitations. I don't really have much to say about this, except that I would have liked to see more of the theme of how the thimble was magic, especially since it was the title of the book. I think it could have been a stronger theme, or Enright could have played around with the idea of magic, exaggerating things or making them seem magic at first.
Why I think it's a Newbery. Thimble Summer, is the sort of book I think of when I thought of Newberies that I hadn't read. It just is a solid story about an interesting character in the past. (Although interestingly enough it was more contemporary then; now it seems historic.) It has quite a few editions (considerably more than some of the other early Newberies), so I think that it's stood the test of time.
Similarity to other Newbery winners. It reminded me a lot of Caddie Woodlawn, another tale of a rural Wisconsin girl (although they are about 75 years apart). It is a more episodic tale like Roller Skates or Invincible Louisa although I think that the plot arc is stronger than those two. It also made me want to read a memoir about Southern Wisconsin that a friend gave Evan called The Land Remembers, so I can read descriptions of more Wisconsin beauty.
What it teaches me as a writer. One afternoon Garnet is bored and asks her friend Citronella to tell her a story. Well, Citronella launches into this story: Once upon a time a rich girl named Mabel lived in a giant mansion with chocolate and strawberry soda fountains. One day Mabel is driving in her little car and finds a sad beggar man along the road. Mabel asks the beggar why he is sad, and he says he's hungry, so she takes him home and gives him an ice cream sundae. BAM! The beggar turns into a prince, because Mabel broke the spell with her act of kindness. They get married and live happily ever after.
Garnet replies to this literary creation of Citronella's, "You always tell stories about people that are grown up and fall in love. I like stories about children and wild animals and explorers." (p. 58)
I loved Citronella's story (particularly the details about the chocolate and strawberry soda fountains), and I can relate to Citronella in that sometimes I just want to daydream lovely things for my characters. But I also need a good deal of Garnet's approach of adventure and animals and children. But I think, Garnet, you can have both: Chocolate fountains and hidden princes, and wild animals and hazards, and falling in love and happy endings after a lot of exploring and adventuring.
Have your read Thimble Summer? What are your favorite books about summertime?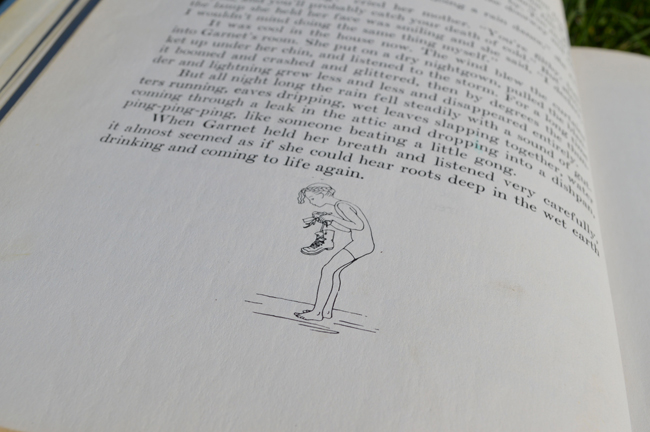 *Note* This post contains Amazon affiliate links, which means if you were to buy a book, I'd get a tiny commission at no cost to you. Thanks for supporting Stories & Thyme!*
Subscribe to Blog via Email

Instagram

Follow Me on Instagram!

Twitter

Follow me on

Twitter!

Favorite Posts

Archives