Baseball Game, Distillery Tour, & Carpet Removal — A Milwaukee Summer Weekend
This weekend we stayed home and enjoyed Milwaukee. Milwaukee shows off in the summer. The whole city seems to linger on porches or backyards, sipping drinks to the sound of kids running around. Or if they aren't home basking in the upper 70 degree weather, they are off to the state fair, or Summerfest, or a Brewers' game or Jazz in the Park.
We had a long weekend, since Evan got Friday off. And even though for nearly five months between jobs we could (and did) set aside days to rest, there is something about an employed (and therefore paid) extra day-off that is really special. We hadn't been out in nature for a while, so we headed a half hour west to walk among the trees at Lapham Peak State Park for the morning.
But the rest of the weekend was in the city with our people. We hung out with the family, went to our home church on Sunday (an event to commemorate with all our recent weekend, month-long travel) and spent four afternoon/evenings in a row with our community group: a group dinner on Thursday, a baseball game on Friday, a distillery tour on Saturday, and a carpet-removal party on Sunday.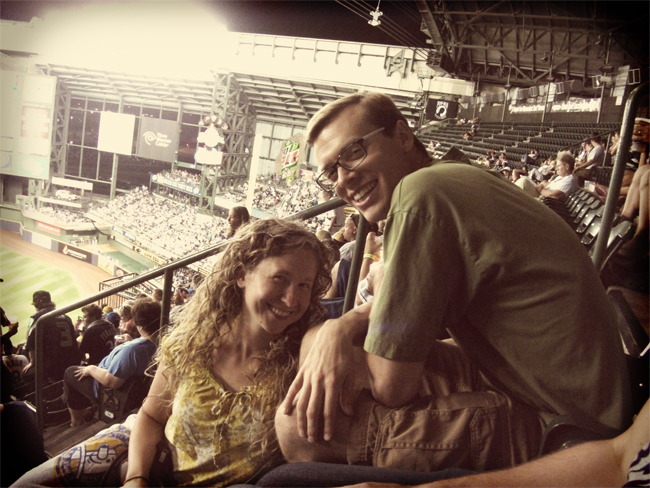 It is amazing what can become a party with friends. It's like the difference between studying for a chemistry test by yourself, or with the cute boy in your class. You might not get it done quite as efficiently, but it is a lot more fun.
It is an advertisement to how much I love spending time with our small group that I thoroughly enjoyed a baseball game, a distillery tour with samples of room-temperature straight liquor, and ripping up old carpet. A good thing to remember in novel-writing is to put your dialogue in interesting places that bring out unusual talents and unearth memories.
I hadn't been to a Brewers' game since I was in 5th grade and won some sort of Sunday school award where the prize was a Brewers' game. (I also hadn't thought of that Sunday school teacher in a decade.) Miller Park, however, has been built recently, which explains why my memories of the game from when I was 11 were of a considerably shabbier place.
I don't think I was excited as the kids from our community group. They were, and rightfully so, really excited about taking a mini-bus from a bar to the stadium before climbing four long flights of stairs to the very top of right field (or is it left field…we were by first base). Their tickets too were an award, for summer reading, I think.
Evan is always advertising the wonders of baseball games to me: not much happens so you can spend a lot of time talking. Eight of us went, and we got four seats in front of another four, so we could talk. We had an exciting first inning followed by a few low scoring ones, before the Brewers came back from behind in the later innings and went on to win 9-3. In between, there was dancing on the megatron screen by the kids, and sausage-mascot races, and fireworks when the Brewers hit homeruns. Of course, the best part was being together to cheer when someone got on base, or just enjoying the extended time to talk about things beyond what is most pressing.
Getting to know new friends is both a joy in discovering someone new, but it is also about discovering that you yourself are a new person at this stage of life. You sift back through your stories. You have a new perspective on the good and the hard things that happened five or ten or fifteen years ago. Time mellows some memories out, and brings new flavors into others. Like pressing apples into juice and fermenting juice into cider and distilling cider into brandy. We take out our college stories and our early married stories from the cellar and behold they've changed into something slightly different than before.
I have only recently learned to appreciate liquor. (With the great exception of piña coladas, I think I was born loving coconut and pineapple and rum.) Like the way that I learned to like any alcohol, I've learned taking sips of Evan's drink, making a puckered face of disgust, but trying again the next time. I figure that it takes about 20 to 30 tries of something before I like it. (Side note: I don't know if I'll ever love high-end scotch; that still elicits a very unladylike face of revulsion.) I learned to drink whiskey having Manhattans while watching and reading the Hunger Games last spring. So whiskey always reminds me of Hunger Games. And martinis remind me of playing Dominion with our dear DC friends Brittany and Daniel, although I ever only had sips of Evan's.
So I am only really learning to be able to sip straight spirits. But our community group was low pressure, and I could choose to not finish my tasting samples without shame. The distillery was fascinating, with its oak barrels and copper still. From the laws that have still been on the books from Prohibition, to the ways that small batch liquor differs from automated large batches, to just how fermentation (yeast turning sugars into alcohol) and distillation (turning liquids into gases and back into more concentrated liquids) work. It's an ancient practice that is constantly being slightly changed. (One of my favorite graduate school books was about medieval English women brewers Ale, Beer, and Brewsters in England: Women's Work in a Changing World by Judith M. Bennett.) So I feel connected to the past sipping gin with my friends and talking about tasting juniper and basil flavors and sharing stories around old barrels.
And we finished the weekend helping to rip out carpeting that was hiding beautiful wood floors with Ace of Base music and Moscow mules (lime & reed's ginger ale & vodka), and crow bars and needle noise pliers. It was a good ending, and not just because we played Pit and Nertz and had chicken tacos (lettuce wraps provided for us and cheese and beans for the vegetarians), but because it was a beautiful way to look at how we make a real impact in each other's lives. Now when we come to small group and stand on that floor, we'll remember this weekend. When we take the time to share our stories, to work and rest and celebrate together, we are making something lasting, and revealing something great.
photo credit
Where has the end of summer been taking you?
*Note* This post contains Amazon affiliate links, which means if you were to buy a book, I'd get a tiny commission at no cost to you. Thanks for supporting Stories & Thyme!*
Subscribe to Blog via Email

Instagram

Follow Me on Instagram!

Twitter

Follow me on

Twitter!

Favorite Posts

Archives