Walks in the Woods with Friends, the Rhythm of the Ordinary and Extraordinary
During our month in Atlanta, I continued to slowly work through (and very much enjoy) Alan Jacobs' biography of CS Lewis, The Narnian. Like all good biographies, this one is also a great deal about the time and place of the person, and Lewis' early 20th century England and Ireland are fascinating. One of my favorite parts of the biography touched on the 19th century romantic notion of walking through the countryside, something that CS Lewis and his friend JRR Tolkien both enjoyed. In my favorite line of the book so far, Alan Jacob's reflects, "When one stops to think about it, there is a great deal of walking in Narnia: in almost every book some of the characters set off on long journeys by foot…Likewise, when considered from a certain point of view, The Lord of the Rings, is hardly anything but friends going on long—really long—walks together." (p 53)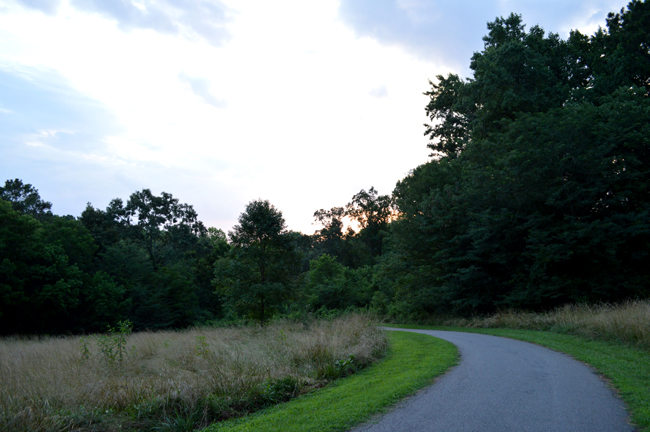 We've been home from our month in the south for a few days, and already my memories of our time are starting to just be that: walks in the woods and friends. We wandered through downtown Atlanta parks. We hiked up Georgia mountains. We strolled through North Carolina art towns. We meandered through old working-class Birmingham neighborhoods. We forded streams in hot 90 degree Durham afternoons. We hopped from a lunch place to coffee shop to cocktail bar one afternoon in historic Decatur, the city within a city.
We saw oil rigs off the gulf coast while we shuffled down a board walk laden with beach gear. We ambled along a wharf in Mobile Bay as herons and pelicans waited for generous fisherman to share their catch. We walked around a Mississippi airport waiting for a friend's plane to land. We explored the lush and quiet Samford and Duke campuses as friends showed off their alma maters. We roamed the patchy sidewalks around our hotel one morning at 6 am because a small fire in the laundry room caused the whole hotel to be evacuated before breakfast.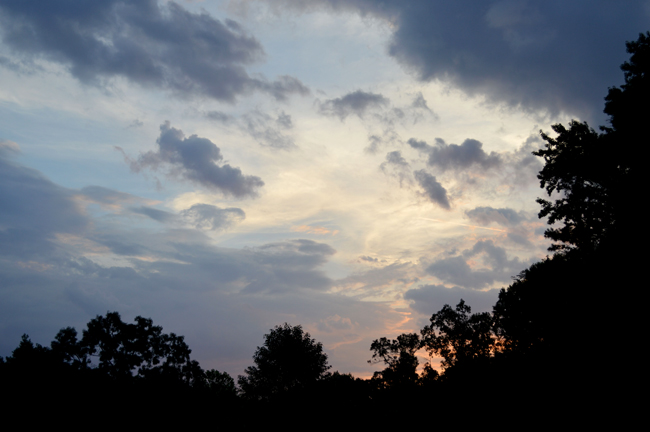 But most days, we enjoyed the long evenings in a little gem of a park we discovered: McDaniel Farm Park. A family farm that stayed in the same farmer's hands for the majority of the 20th century, McDaniel Farm Park was where you could find us, and a lot of Asian women, every weekday. When McDaniel died in the 1990s, the city turned his wooded land and many original buildings into a park. It was only two miles away from our hotel (but of course, there were not sidewalks that led there, so we had to drive to get there). We found it by simply looking for green space on Google maps (the only catch to this method of looking for parks is that golf courses and country clubs also show up as green spaces).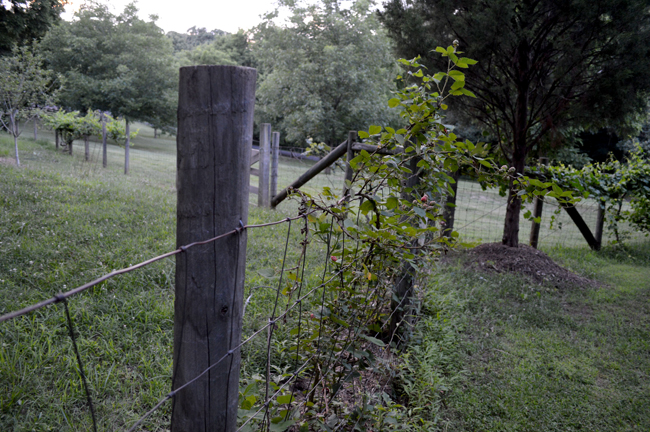 The strange thing is that as I list out all the places that we walked during the last month, it sounds like all we did was walk. But the truth is that most of the walking that I did was…on the treadmill, in the rather small and dingy "fitness center" in the hotel. I would have liked nothing less than to have 4 or 5 mile walks in the woods with friends every day. But that wasn't in the cards. Most days Evan and I got to our local McDaniel Farm Park for a quick 2 mile sunset walk.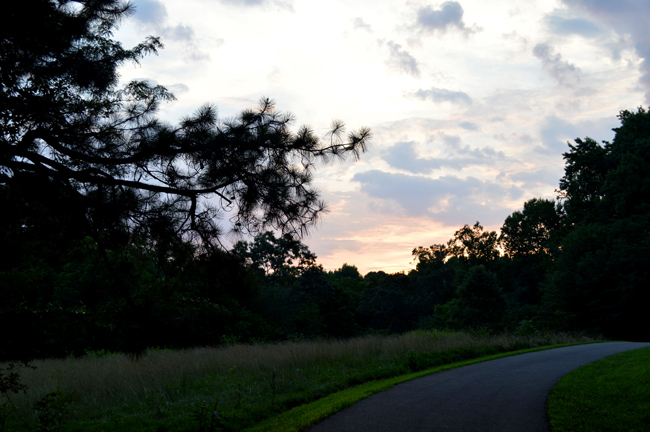 I think that there is an important lesson for me in this. First, and most practically, that I think I want to try to invest in a treadmill because it turns out that a long walk on the treadmill reading (or listening to) a book in combination with a short outside walk is a great partial solution* for me when whether or schedules make a long outside walk difficult. (*Partial solution is a brilliant term Tsh Oxenreider talks about in her blog and book Notes from a Blue Bike.)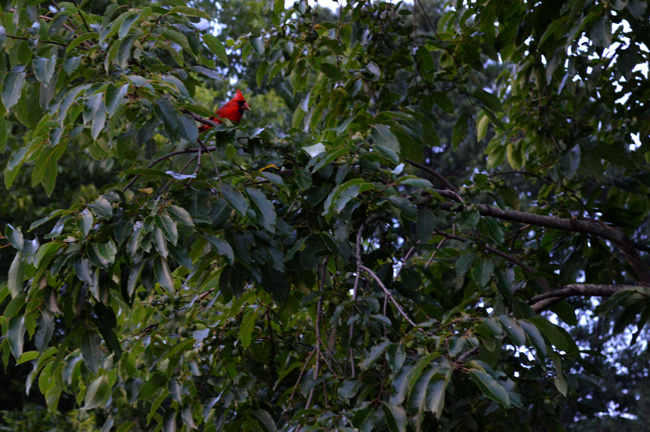 But secondly, and even more broadly, the tread mill + short outside walk + weekend excursion experience, reminds me that I tend to remember the occasional new and novel over the everyday mundane. It's the reason why I remember making one fancy breakfast with coconut pancakes and whiskey peach sauce (recipe forthcoming) over the 25 or so plain vegetable-heavy regular breakfasts I also made last month.
I can tend toward two extremes. One is to want to make everyday a coconut-pancake, 6 mile-mountain-hike, cocktails-with-friends day. Then, I can get discouraged that somehow laundry and mundane life seem to always prevent the special days. The other extreme is to feel that the extra hour standing at the stove carefully flipping pancakes and the other hour to clean up the explosion of ingredients from said pancakes is never worth it.
But neither is true. Sometimes it worth the 2 1/2 hours to drive to the state park, even though most days it's not. Most days we need a balance of mostly expedient with a little special, not-strictly-necessary-luxury. And sometimes we need the over the top, extravagant brunch and beautiful hike. We'll tend to remember the special days, the little special parts of the day, even though that's not representative of how we spend most of our days. The walks with friends in the woods are the exciting parts of life, the quests that we read about in epic novels, but characters both in books and real life spend much of their time on the more mundane treadmills and little parks of life.
We all take real and mental photographs of the beautiful parts of our lives. I hold dear all those memories of long walks in the woods with friends. We have to keep working to make room in our lives for those special excursions, because they are special, not-every-day-affairs. And that doesn't lessen the daily work we do. The rhythm of daily life and special occasions gives the other one meaning. Without the long climb up the mountain, the vista isn't as beautiful.
How do you balance special excursions and your own daily work?
Subscribe to Blog via Email

Instagram

Follow Me on Instagram!

Twitter

Follow me on

Twitter!

Favorite Posts

Archives