One of the surprises of the last month has been answering people's polite, "and what do you do" questions.  And the answer has changed, just like my official address, from, "well, I nanny, and tutor, and blog, and I'm working on a children's novel" to simply, "I'm a writer."
Sometimes, if I'm meeting someone with Evan, he'll explain how he's just finished a Masters in Teaching and is looking for a secondary social studies position. Then people will get so excited talking about who they know who could be a good contact, that the conversation never circles around to what I do. I've escaped for the moment. Also, I am extremely interested in those connections for Evan; that is the current and large project of the spring: find Evan a good job.
But it's also that introducing myself as "I'm a writer" seems so audacious. Sometimes, it feels like someone might say, "no, you're not."  I would nod, because sometimes I don't feel like I'm a real writer either.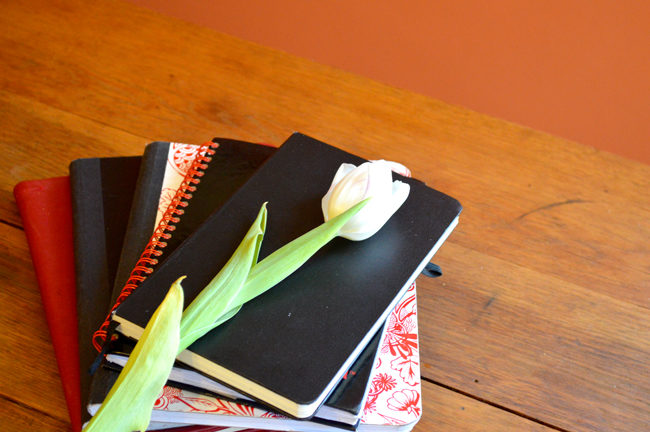 Saying I'm a writer seems to be tantamount to saying I'm a good writer or good at writing. Then someone could simply read a paragraph of my dyslexia, grammar, and syntax error filled prose and declare that I'm neither good at writing nor a good writer.  But, so far, no one has said that. People say a whole lot of different things, but so far no one, except in my own imagination, has told me that I'm not a writer.
I think I hesitate to tell people also because for so long it's been a secret. It's been a hidden part of me and my heart. And I've worked on writing a book in secret. Some of this is my own protective reflex to hide the vulnerable part of me that has received so much criticism from teachers over the years. And some of the desire to be quiet about the book writing has been respected advice from others: don't talk much about a work in progress because people can be unhelpful in their comments or criticism.
I have found that to sometimes be true. I used to work hard on having a good summary, an elevator pitch of my book for people. But I stopped that after someone rather close to me said, "Oh, so you're ripping off Narnia." I certainly hope I'm not.  I was torn at that moment from being rather hurt at that accusation, to almost laughing because it was almost comically rude. So sometimes just to keep people from saying something inappropriate, I've kept my description rather vague, for their own sakes. I usually say something like, it's a children's novel with dragons and fairies and gnomes.  Although last Sunday, I did have a sweet older man at church ask with some concern about whether vampires were going to be in my story and seemed quite relieved that, as far as I know, they are not.
But the truth is, that we moved here in large part so I could "be a writer." It has been years of preparing for this transition, Evan going to back to school, me writing along side tutoring and nannying, and moving 750 miles west. So now that we're finally here I have to, or get to, introduce myself as a writer.  It's a vulnerable thing. It's an audacious thing. It is in many ways, an act of faith. I feel God's call on my life to be a writer, dyslexia and all, so I need to step out and say that I am a writer.   I imagine that I would feel more official and real with an agent or an accepted manuscript, or a published book. But perhaps it would, or will, not. Perhaps claiming that I am writer will always feel mostly like an act of faith.
The funny thing about wanting to write for children, is that I actually talk with children about my writing very little. I mainly talk with adults (and I hope they'll read my work too). But two weeks ago, Evan and I were invited to Sunday lunch by a sweet family with two little boys, six and four. And then at the lunch table, the question circled around to me "What do you do, Amy?"
"I'm a writer. I have a blog, and I'm working on a children's novel," I answer.
The sweet six year old asks, "What is a children's novel?"
"Well, it's a book for kids, but it's a chapter book, so it's a longer book." I explain.
"What's it about?"  The younger brother asks. And I throw caution to the wind, all the good advice about not telling people what it's about. I just dive in. "It's a story about a little girl named Molly…" I begin.
And they are solemn, their blue eyes almost unblinking as they listen to my words about the beginning of what I have been filling notebook after notebook with. I finish, leaving them with the quest that the children in the book will have to undertake.
The conversation turns to something else. But five minutes later, the six year old, blurts out, "Are there pictures in your book?" I know in his head it is all finished, that I have just left it at home. I explain that I draw pictures for myself, but I'm not very good at drawing dragons. He, who loves to draw too, seems to understand this. Dragons are hard to draw. (They are hard to write, while I am on the topic.)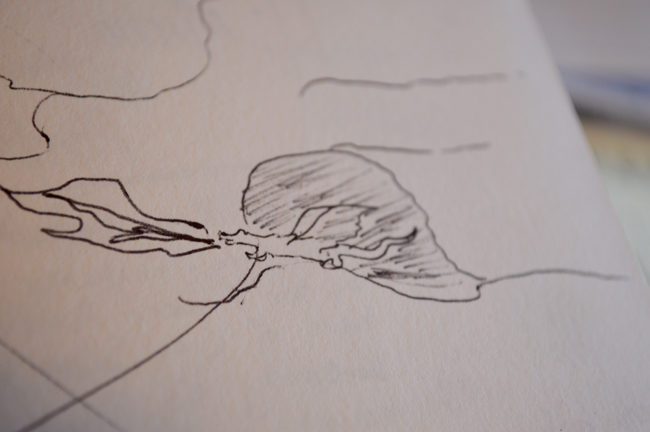 It was a magic moment, and one that I treasure—the excitement to read what I have written. And honestly, there have been quite a few adults who have after we finished said, "I want to read it!" And I want them too.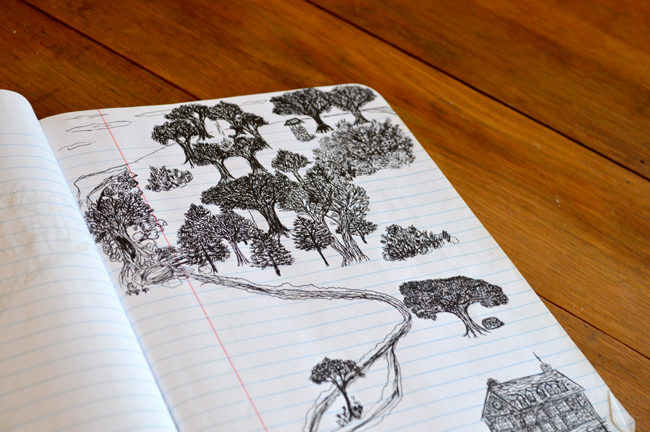 I still feel like I am play acting being an adult and being a writer, but perhaps that is what it means to be a writer: to play with words, make believe on paper, so you can give a child a book with drawings of a dragon in them.
How has the way you've introduced yourself changed over the years?
Subscribe to Blog via Email

Instagram

Follow Me on Instagram!

Twitter

Follow me on

Twitter!

Favorite Posts

Archives