It is the last days of our intact apartment. Kind friends keep asking how the packing is going for our upcoming move in 15 days, and I smile and say we haven't packed a thing. My husband, Evan sometimes will add that we've steadily over the years tried to get rid of things we don't need, so it shouldn't be too bad. I love that about Evan, he'll just say we're good at something that I get all worried maybe we're not actually good at. So, perhaps because of what I'd consider our faltering steps toward minimalism, or because my physical space affects my mental space, we haven't started packing. We also have two little ones in our space with us four days a week, so we wanted to hold off packing until they are done coming.
But I've been trying to notice those images on our walls that I love: black and white Ansel Adams photographs from college, quotes from beloved authors, or hard earned diplomas.
In our bedroom is a collection of blue and white hearts from past Valentine's Days. I love to make Evan cards, and this probably comes from watching my Dad give my mom home-made cards. My Dad always made us, my brother and mother and me, these beautiful Valentine's Day cards with hearts. No matter where we lived, there were hearts on Valentine's Day.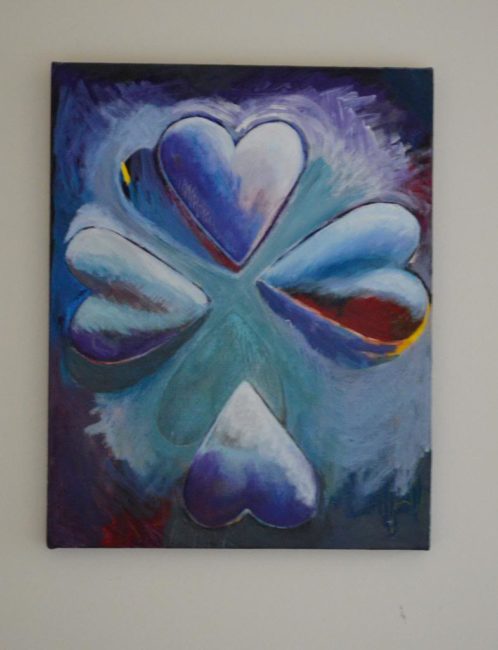 And we lived a lot of places. I don't remember the first moves, but I remember that the older I got, the harder the moves became. I, a creature of habit and routine with a vivid imagination and propensity for nostalgia, increasingly saw less of the positives for each move. And with each move, I think the normal sadness that comes from saying goodbye somehow turned into fear and anxiety of the unknown. I remember moving to New Jersey and starting in middle school in early January and missing the second day of school sick on nerves. Then three summers later I moved away from New Jersey, and I remember I not being hungry for a week.
It seems that sadness when it's not embraced and acknowledged ferments in my heart into fear and anxiety.  So I'm trying to let my heart be blue about this move. I am trying to understand what it means to be sad. I am trying to allow others to be sad about our leaving without needing to push it away. (A phrase borrowed from Jen @ EverybreathItake.com)
It is simply sad.
Leaving is sad. That does not negate that it can be the right and good choice. It does not mean that we don't long to stay. Sadness, it seems, like salt, can mingle with the sweet or the bitter, making each seem stronger.
I am reading this beautiful book about children and grief, hoping that I can try to say goodbye to my tiny toddler charge with as much grace and health as I can. One of the messages about grief is that how we think about sadness and loss as children impacts us far into adulthood. Grief can stack, so in grieving this move, I have to, in some ways, go back and grieve some of the other moves.
But being sad and saying goodbye well takes time. It takes thought. You have to remember all the beautiful and hard things about the place and people you are leaving. You have to get up early for breakfasts with friends or stay up to drive an hour home when you'd normally have been asleep by 10. But it's worth it: you have to give yourself space to cry or feel heavy or whatever physical manifestation sadness wants to take then.
All that to say, I have some packing of physical boxes and unpacking of emotional ones that I need to focus on these next few weeks. I need to give myself time to draw a blue heart Valentine for my sweet husband and fellow traveler into the unknown, and give my heart permission to be blue and mourn the ending of this season of living in Maryland. So I'm going to take a few weeks away from the blog. I'll come back in early March from Wisconsin and the beginning of Lent. Love to you all; stay warm.
How do you embrace sadness? How do you say goodbye well?
Subscribe to Blog via Email

Instagram

Follow Me on Instagram!

Twitter

Follow me on

Twitter!

Favorite Posts

Archives