9 Books of Stories and Prayers for Advent and Christmastide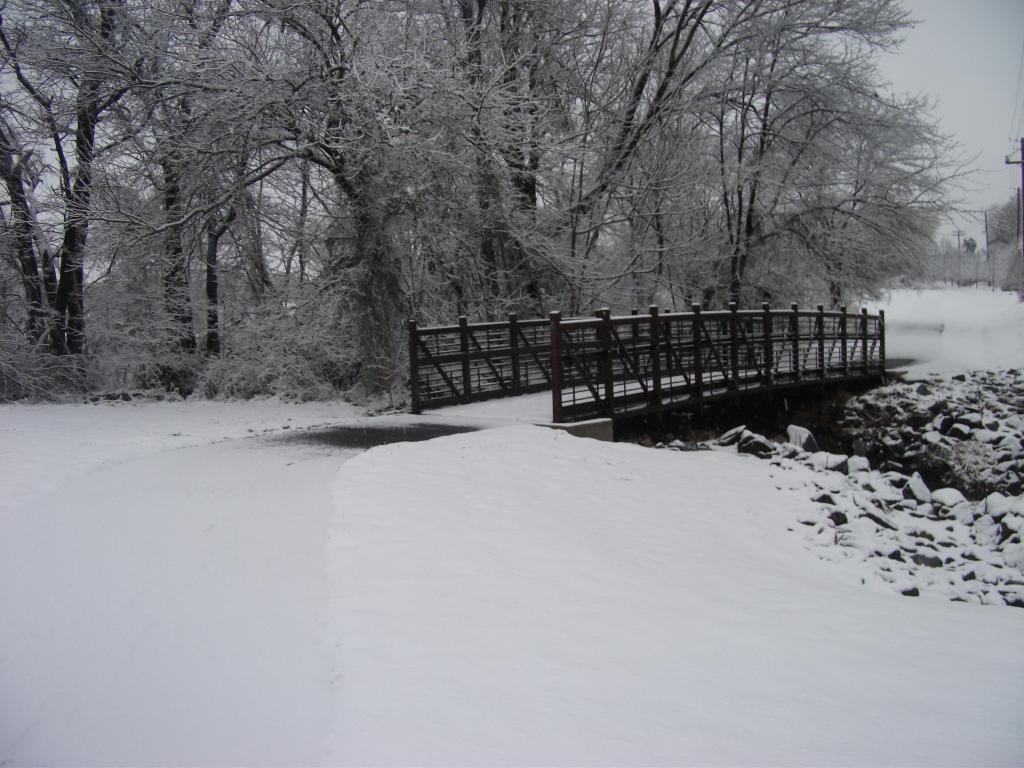 The snow has been falling thick and fast in Maryland these past few days. The morning after the Christmas ball, Evan and I left for a hike with just a few flurries, and when we got back five inches had fallen. The woods were deserted except for a few birds and three bounding deer, and even our own footprints were erased by the time we returned to the car.  Then an ice storm followed by more snow kept us from church that evening, and Evan from his first public school substitute teaching (hooray for being done with student teaching!) on Monday and Tuesday.  I think that December 10th should always be a snow day, so you can drink hot (coconut milk!) chocolate, listen to George Winston's December, and leisurely read on the couch in the middle of the bustle of Advent.
Even though, outside of the unscheduled break that comes with a snow day, there isn't a huge amount of time for fun reading in December, we still love our Advent and Christmas books. Scattered around our advent wreath, displayed on our bookshelf with Christmas cards from years past, and stacked near a manger scene are some of our favorite books for Advent and Christmas. Some are prayer books, some devotionals. Some are anthologies of Christmas legends, and some are well-loved Christmas classics.  Some are old treasures, and some are new finds. They represent the way that the season is full of magic and story, prayer and remembrance.  So today, here's a little tour of some of the books that we store in that box with the scented Christmas candles and the paper dove ornaments.

 9 Books of Stories and Prayers for Advent and Christmastide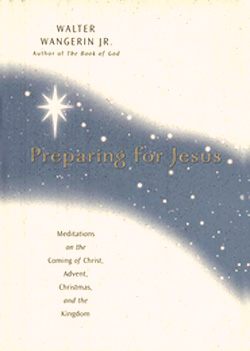 1. Preparing for Jesus: Meditations on the Coming of Christ, Advent, Christmas and the Kingdom by Walter Wangerin Jr.  With his classic lyrical and imaginative style, Walter Wangerin explores the roles, meditations, and prayers of Zechariah, Elizabeth, Mary, John, Joseph, Jesus, Simeon, Anna, and the Kings. Each day from the start of December through the 12th day of Christmas, Wangerin invites readers to reflect on a short passage of scripture with a meditation on the experience of the person and prayer. Today's reflection is on the way that Mary said "yes" to the Angel of the Lord, and how we too are to pray that we can echo her response. "Heavenly Father: Thank you for the faith of a maiden, in whose obedience your plan for the reconciliation of the whole world was begun. I beg you, too that you might empower me in pure simplicity. Teach my mouth and all my parts to make this single response to whatever task you set before me—this 'Let it be to me according to your word. Yes!' Amen" (p. 70)
2.  Advent and Christmas Wisdom From GK Chesterton compile by The Center For The Study Of C. S. Lewis by Thom Satterlee and Robert Moore-Jumonville.  Every Christmas, I almost always get Evan a Chesterton book. This volume I got a few Christmases ago, and it's just lovely. There is an excerpt from the vivacious and logical Chesterton, an excerpt from Scripture, a Prayer, and a suggested "Advent Action." Today's meditation is on homelessness in our homes. "The Christmas season is domestic; and for that reason most people now prepare for it by struggling in tramcars, standing in queues, rushing away in trains, crowding despairingly into teashops, and wondering when or whether they will ever get home. I do not know whether some of them disappear forever in the toy department or simply lie down and die in the tea-rooms but by the look of them it is quite likely. Just before the great festival of the home the whole population seems to become homeless." (p. 24) Oh Chesterton, why is it that every time I read you I think how timely, brilliant, and insightful you can be while being just so jolly and funny?
3.  The Divine Hours: Prayers for Autumn and Wintertime, compiled by Phillis Tickle. (I also write about this collection here.)
The great thing about the 3-volume set is that it has special prayers for each of the major fasts and feasts throughout the year. If I were disciplined enough to pray all the hours of Advent, the scripture passages selected for the prayers for Advent would be a thorough tour of the prophecies and their fulfillments we reflect upon during Advent. Also there are three times a day to pray the beautiful collects from the Sunday for the week. For the second week of Advent: "Merciful God, who sent your messengers the prophets to preach repentance and prepare the way for our salvation: Grant us grace to heed their warnings and forsake our sins, that we may greet with joy the coming of Jesus Christ our Redeemer; who lives and reigns with you and the Holy Spirit, one God, now and for ever. Amen.† " (p. 399)
4. Ancient Christian Devotional, Edited by Thomas C. Oden and Cindy Crosby.  Like, Divine Hours, this is actually a year-round liturgical resource, that has a section devoted to Advent. It's a companion to lectionary readings with short comments on those passages by various church fathers and mothers. Some are more accessible than others, but they are all conscious enough to provide a mosaic of ancient wisdom about a particular passage. This week the Old Testament reading is from Isaiah 11, and Bede writes "The prophet Isaiah testified that it was necessary that our Redeemer be conceived in Nazareth when he said, 'There will come forth a rod out of the root of Jesse, and a nazareaus will go up from his root. Nazareus can be translated either as flower or as pure…" (p. 16)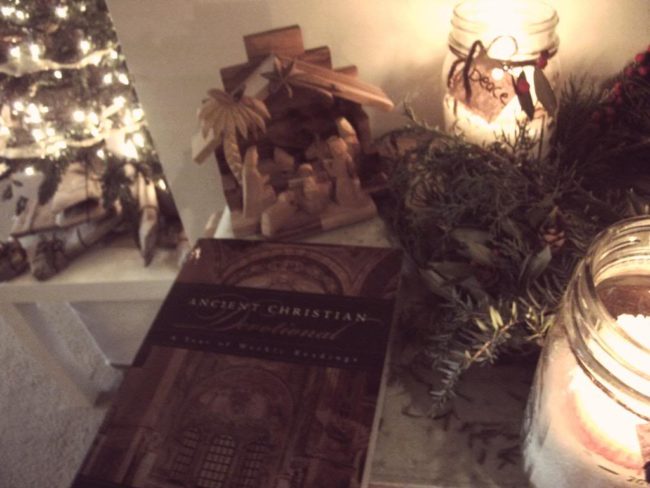 5.  The Christmas Story Book edited by Ineke Verschuren. I am not sure where my parents bought this English translation of Dutch Christmas stories, but I grew up with it on our coffee table at Christmas time. There are about 10 stories for Advent, 8 for the Birth of the Child, 8 for Christmas Night, 19 for Christmas around the world, and 13 for Christmas to Epiphany. I remember clearly my mother reading the Advent chapter, "The Star-Rider" and when we came to the part where it said, "Suddenly the rider thought: under what star will this crofter's child come into the world? For he had occupied himself all his life with the study of stars. As he observed the sky which was clearing and noted how certain starts stood to the moon he was startled…" (p. 52). My mother looked up, and sighed, and said something about how she and my dad would have to explain to us why it was ok to read stories about people seeing the future in stars, even though we didn't do that ourselves. I don't remember if that fuller explanation ever came, but I remember being just mesmerized by their Christmas fairy tales and short stories.  Now each year Evan and I read a few more stories from that same copy.
6. A Newbery Christmas edited by Martin H. Greenberg and Charles G. Waugh. This is a new book for us that we just checked out from the library last week. It has a number of short stories about Christmas from Newbery authors (like, Carolyn Sherwin Baily, Eleanor Ests, EL Konigsburg, Elizabeth Yates, Nancy Willard, Lois Lensku, Katherine Paterson, Rachel Field, Ruth Sawyer, Hugh Lofting, Beverly Cleary, and Madeline L'Engle. I, of course, turned straight to Madeline L'Engle's "A Full House." It's a little tale of a crowded house on Christmas Eve, told from the perspective of Mrs. Austin. I has all the warmth of the house scenes from any of L'Engle's books, with her special brand of pulling together images of Christ in unlikely places and people. I am looking forward to reading the others.
7.  Letters from Father Christmas by JRR Tolkien, edited by Baillie Tolkien. Before Tolkien published his enchanting stories for the world, he wrote his children letters from Father Christmas each year. With beautiful illustrations and a mischievous polar bear, these lovely letters are fun to sit down and read for a moment here and there. The edition I have has each letter printed on a separate piece of paper held in it's own envelop. (It also has a printed transcription on the back, since Tolkien wanted to capture just how old and shaky Father Christmas' handwriting was after so many centuries. But it is a lot easier to read the back first and then appreciate the time and energy Tolkien put into writing and illustrating the letters.) There are, of course, also appearances of goblins and elves!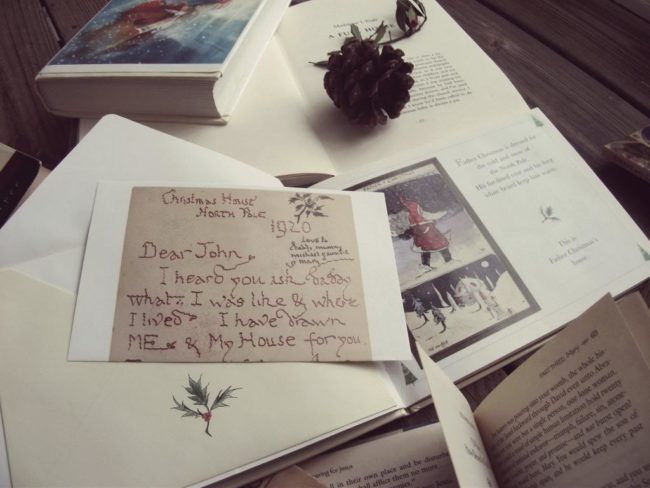 8.  The Lion, the Witch and the Wardrobe by CS Lewis.  The first published volume of the Narnia series takes place, as Mr. Tumnas explains to Lucy in the beginning of Chapter 2, during the time when the White Witch "has got all Narnia under her thumb. It's she that makes it always winter. Always winter and never Christmas; think of that!" (p. 16). And of course when Aslan comes back and the spell of the White Witch is undone, then Father Christmas appears bearing gifts. "Some of the pictures of Father Christmas in our world make him look only funny and jolly. But now that the children actually stood looking at him they didn't find him quite like that. He was so big, and so glad and so real, that they all became quite still. They felt glad, but also solemn." (p.103) And Lewis has Father Christmas leave us with a beautiful Christmas toast: "A Merry Christmas! Long live the True King!"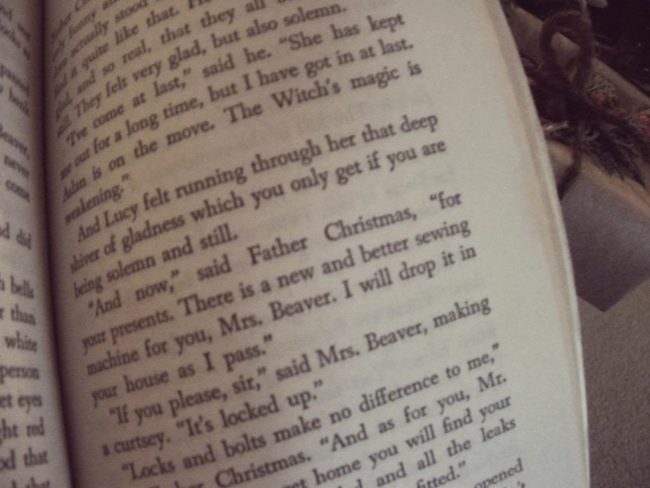 9. Box of Delights by John Masefiled. Evan grew up watching the BBC version of this classic English children's book by John Masefield taped from a rare American showing sometime in the early 80s.  It is the tale of a boy who is given a magical box to protect and help Tatchester Cathedral have its 1000th Christmas eve service. It has talking mice and rats, wolves, magical shrinking and flying, time travel, lots of snow, and a fun cast of characters to aid and hinder Kay on his way.  As for as the 1984 BBC version, well I have to say that it has taken me several years to get past the truly strange "special" effects and sound track, but slowly it is also becoming part of our Christmas movie ensemble next to Elf and my guilty pleasure chick-flick—The Holiday.  But The Box of Delights, along with Dickens' A Christmas Carol, are the two books Evan loves to read (at least parts of) every Christmas.
What are your favorite Advent and Christmas reads?
*Note* This post contains Amazon affiliate links, which means if you were to buy a book, I'd get a tiny commission at no cost to you. Thanks for supporting Stories & Thyme!*
Subscribe to Blog via Email

Instagram

Follow Me on Instagram!

Twitter

Follow me on

Twitter!

Favorite Posts

Archives