Hi Friends.  I wanted to pop in and let you know that I love you and blogging, but my October is more than I can handle, so I'm going to take a little blogging break for the rest of the month.
In hindsight, I should have planned and announced this at the end of September. I probably should have anticipated that hosting a 3-year-old over-night for half the week for most of the month would mean that comforting and reading to a small boy would take up the time often spent writing this blog.
I'm trying to listen to my body and my limits—the cold I got last week and the neck pain I have this week are reminders that I need to practice doing less right now. We're nearing the end of this intense season: 50 days from the end of Evan's student teaching.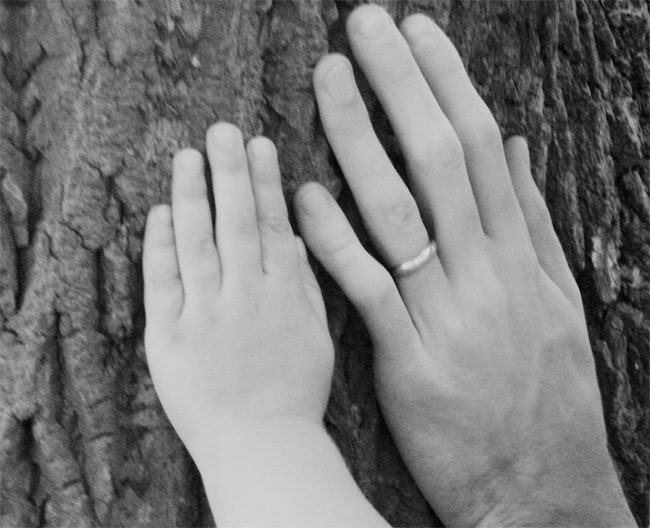 The above picture is of the two sets of hands I've been holding a lot lately.  So, thanks for being patient, and I look forward to finishing up my thoughts on prayer come November. Hold on to your hats because I think I'm going to write about Twilight after that.
If you're looking for something amazing to read in the meantime, here are some of my recent favorite posts from wonderful bloggers.
What I want to pray: the pursuit of enough: ask me what i have for you  :  Micha Boyett
What I need to remember: the healing power of a toddler's tantrum  :  Janet Lansbury
What I like to make: reusable antibacterial wipes  :  Becoming Peculiar
How I'd like to order my space: a montessori environment  :  How We Montessori
What I want to believe: what is art  :  Chatting at the Sky
How I'd like to write: on small writing  :  Caroline Starr Rose
What I want to read: favorite book ever, ever  :  Conversion Diary
Happy October!
Subscribe to Blog via Email

Instagram

Follow Me on Instagram!

Twitter

Follow me on

Twitter!

Favorite Posts

Archives