Every few summers, my family has made its way to a small cabin in northwestern Ontario.   For a week or two we live without electricity or running water in a little Canadian log cabin.  Over the years that I have gone to the cabin, I have learned a little about making things by hand.
There are no roads to the little cabin. It sits next to two other cabins that my great uncle and his work colleagues built almost 70 years ago. Now it's in the middle of a national forest. You have to fly in on a seaplane, or portage in from a logging road.  It is gorgeous and isolated.
We go there to fish and to be in the quiet.  The best things about this cabin are the hardest. There are no stores to run to.  You have to plan carefully and bring in what you'll need.  But of course you don't always plan exactly what you'll need.
When I was sixteen we portaged in from the logging roads for the first time. It was a series of misadventures.  The "path" was swampy, because it turned out it was really a streambed. There were biting black flies—a lot of very large, black, biting flies. The canoe we had carried down the quarter mile river-bed-swampy-path tipped over when the motor was put on the back.  As a result, the motor was submerged and wouldn't start.  The canoe paddles had inadvertently not been packed.  So there we were, sun setting, no motor, no paddles, biting flies, in the middle of a national forest logging road.
But we made do. We made protective anti-black-fly gear from several pairs of my dad's socks. We helped each other walk slowly and carefully down the streambed. We took apart kayak paddles so we had four half a kayak paddles. And we paddled a canoe and two kayaks in a zigzag pattern, with half a kayak paddle each in the dark, three miles along the shore to the cabin.
That is what creativity and making things sometimes looks like: cut-up tube socks and half a kayak paddle. It's functional. It helps you get where you need to go.  Sometimes when we travel untamed paths we have to make things to help us along the way. Making things in the little cabin wasn't always about just getting by; it could also be a bit more whimsical.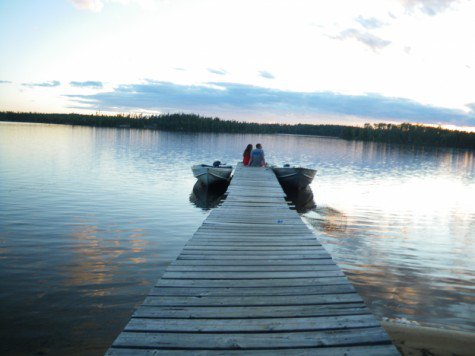 Three summers ago my brother brought his wonderful girlfriend with him to the cabin.  He also had my grandma's diamond set in a new ring.  And as they set out to watch the sunset together one night, we wanted to celebrate Candace coming into the family.  I think a normally scheduled engagement party would have included cake and banners, music and friends.   But we only had tiny, wild blueberries, white birch trees, tamarack pine trees, the sounds of loons and seagulls, and the four of us.
So we got creative. We first threw together a blueberry cobbler because we did happen to have some flour (this was in the pre-paleo days). Then, my mom and I found scraps of birch bark on which to write a note and made a little miniature scene of happy animals out of pinecones and sticks. The diorama was whimsical and silly. It was also not the first diorama my mother and I had made. When I was in fourth grade we spent weeks making a diorama of Laura Ingalls Wilder's first house from the book, Little House in the Big Woods. As the happy couple came back from their sunset watch with entwined glittering hands, we had candles lit and the little nature scene on the table that reflected the joy we all felt. My sweet sister-in-law still has one small pinecone pony on her bookshelf in Milwaukee.
Over the years we've made a lot of things in Canada. Some of the things we've made are beautiful: water color paintings of the lake, southern California style cabbage fish tacos, even a little table from cherry wood cabinet scraps when the first cabin got a serious remodel. The same remodel also provided a more functional creation. My dad used a piece of siding to make a leg splint when a motor sliced his knee open. When you can't run to the store for supplies, you repurpose and, as my dad said with his knee bound up in siding and wire, "you punt."
As much as I love being in the woods like that for a week, I appreciate having stores (and hospitals!) for the other 51 weeks of the year. I am grateful for the convenience and financial means to buy most of my things. I try to recognize it as an opportunity to vote with my money to support other people who make things well.
But doing without once in a while helps me notice that I don't have to buy everything pre-packaged. I am capable of making things. I can problem-solve with the materials I have. I can celebrate a joyous event by making simple decorations from pinecones.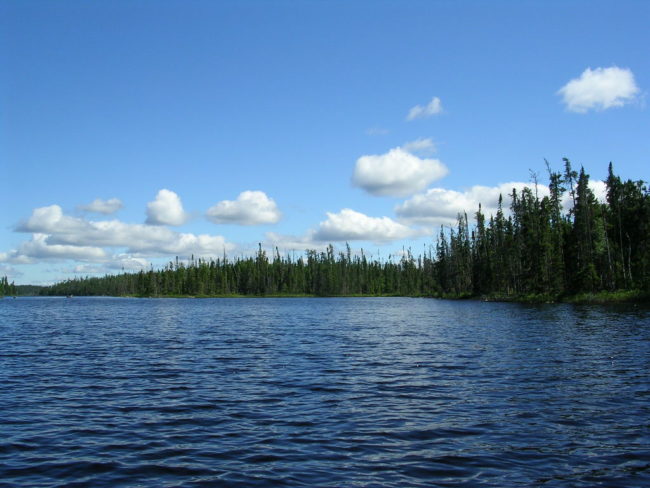 Making some things by hand can, just like in the little cabin in Canada, help capture beauty and facilitate living well. It can be a place to practice creativity. It can also be a place to practice stewardship to make room for creativity in other places.
When I make my own hairspray, deodorant, lotion, and soap to use and to give away as gifts, I like to think of my pioneer ancestors who lived in little cabins like the one we visit in the summers.  I imagine how Ma Ingalls from Little House in the Woods would have worked to celebrate the joys of life and make a way for her family to live well.  I know that making a birthday card by hand or knitting a wool scarf is a far cry from homesteading, but using my hands to create things is still important. Making a few things connects me with how my great-great grandmother would have lived as well as to how my own little family practices making do for a week or two on the little lake in the big woods.
When have you had to be creative just to make do? What things do you like to make by hand?
Subscribe to Blog via Email

Instagram

Follow Me on Instagram!

Twitter

Follow me on

Twitter!

Favorite Posts

Archives