Newbery Review #37 (Rifles for Watie, Keith, 1958)
I am not normally someone who would pick up a book about a US Civil War soldier, but since Rifles for Watie by Harold Keith was next on the Newbery Award books (#37, winner for 1958) I plowed through it. The first thing I noticed was that it was long and very well researched. Actually, sometimes I felt like the author Harold Keith, who did all the research for the book in conjunction with his MA in history in the 1940s, sometimes just wanted us to know something neat he had uncovered. As I have my MA in history, I understand this impulse, but it did slow down the pacing in the beginning.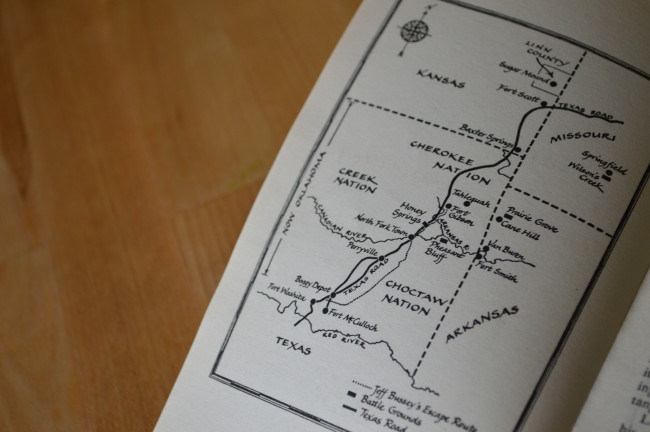 What I liked. I liked a number of the kind, older characters who took care of the main late-teen character: Noah Babbit, who was based on a real itinerant printer with the same name, and "Heifer" a nickname for a deformed, part-Cherokee Confederate cook. Our main character, Jefferson Davis Bussey, joins the Union Army at 16 and by 17 (and about 2/3 of the way through the book) finds himself an undercover scout in the Rebel army under the Cherokee leader Watie (Pronounced "weighty" and also a real person photo below) in what is now Oklahoma.
What was interesting. Because of the setting in the west, the plot of a Union Soldier undercover in a place that mostly sided with the Confederacy, and incredible primary research by the author, Rifles for Watie is a pretty unique look at the Civil War in the West. For a Civil War book it's pretty PG; most of the main characters make it and the language and violence is pretty tame for war time—all of which makes it a strong kids' book. One word of advice though: the blurb on the back of the book gives a lot away, I think because the title needs some explanation, so if you don't like spoilers, try not to read it.
What were some limitations. Overall I felt like the characters were pretty well-developed, and Keith manages to really drive home how people in both the North and the South in the War were generally good people fighting for their homes. Keith gives a lot of attention to the way the Native Americans in Oklahoma had really embraced a lot of white culture, intermarrying, having slaves, and continuing to also have a lot of political alliances and conflicts with various tribes. However, sometimes it seemed like his full Native Americans and enslaved Oklahoma characters were a little stereotypical in their dialects and uneducated speaking. Also sometimes Keith's descriptions of Jeff's love interest were pretty antiquated: "although the girl's skin had a brownish cast, her complexion was lovelier than wild strawberries," (p. 113) or "Dad gum! She was pretty as a basket full of red monkeys" (p. 119).
Similarity to other Newbery winners. Rifles for Watie reminded me a lot of Johnny Tremain, with a young boy growing up in an American war as a lens to understanding the war. But it also reminded me a bit of The Dark Frigate, equally well researched, but a lot more accessible than Dark Frigate. If you read it in conjunction with (the much, much shorter book) The Matchlock Gun, you would get a good sense of the history of fire arms in the US. (The rifles in the title of this book are Spencer repeating rifles (pictured above) which could shoot 7 shots before needing to be completely reloaded. These were a pretty big advancement, and part of the widespread smuggling of northern-made weapons into the South.) And Rifles for Watie also reminded me a bit of Adam of the Road with Jeff's widespread adventures and faithful dog companion(s) before a sweet reunion with parents.
What it teaches me as a writer. As a writer, I think that the richness of Keith's research and knowledge of the world carried the book through a rather slow opening. And in contrast to the information dumps and drawn-out early parts of the war and book, I thought that Keith handled the falling action or denouement really well, creating a sense of a full circle by having Jeff reverse the path he took to leave his home and join the army in coming back in reverse along the same path. He did a great job coming full circle after a satisfying ending. And I love a good ending.
Have you read Rifles for Watie? What are your favorite US Civil War books?
*Note* This post contains Amazon affiliate links, which means if you were to buy a book, I'd get a tiny commission at no cost to you. Thanks for supporting Stories & Thyme!*
Subscribe to Blog via Email

Instagram

Follow Me on Instagram!

Twitter

Follow me on

Twitter!

Favorite Posts

Archives