13 of My Favorite Books for a Natural Hospital Birth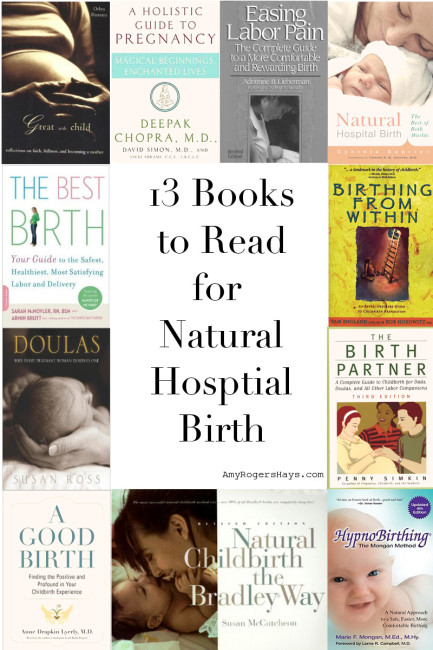 For many years I have loved reading books and blogs about babies and birth. Long before I was pregnant, or even trying to become pregnant, I have had a strange proclivity to peruse the 618 & 649 sections of the library, bringing home books on colic, toddler boundaries, and baby brain development, long before I had any children to practice on. (i.e. nanny)
One of the great things about actually being pregnant was the joy of taking my rounding belly up to the library checkout counter with my pile of all things baby books, finally feeling justified in checking so many of them out. (I don't think my librarian really appreciated the importance of the moment; he had a very discreet, politely disinterested look of someone who has learned to not make small talk about the eccentricities of people's literary interests or their sudden abdominal weight gain.)
Books about birth are plentiful, perhaps trying to make up for the gap in communal knowledge, or perhaps just because it's such an intense experience, one in which fear can play such a large role: fear of pain, fear of the unknown, fear of death, fear of exposure, fear of failure, etc. Which books will speak into the fear that an expectant mother (or just someone who likes to read about birth…) has depends largely on that individual's experience.
For me, I knew that I was going for a natural birth in a hospital, so I didn't want to read a lot of books about why either epidurals were awesome or why hospitals were terrible. (Both definitely exist, and I am sure they have really been the just-right book for some people.) I wanted to read about practical ways to stay calm, to understand what was happening to my body, and to have good stories about birth to help me imagine my baby's birthday.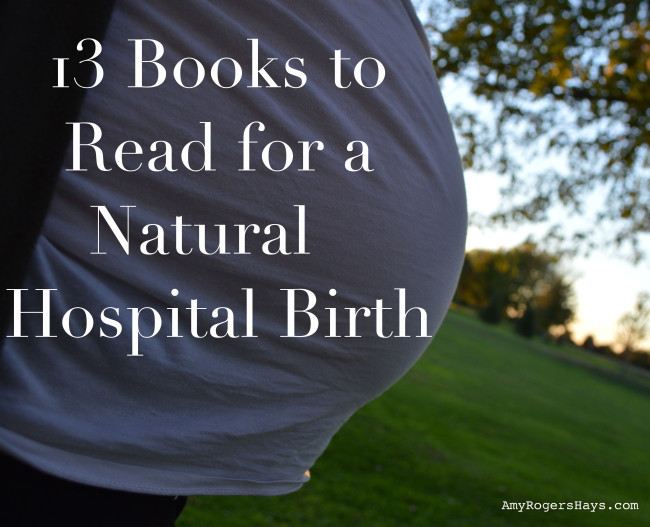 1. Cultivating the "Right Mindset" Book
A Good Birth: Finding the Positive and Profound in Your Childbirth Experience by Anne Drapkin Lyerly (2013).
Written by an OB doc-turned-researcher, this book explores Lyerly's extensive three year qualitative research project interviewing over 100 women about what made their birthing experience good. Lyerly manages to take a balanced approach while engaging so many of the issues that make birthing such a challenge to navigate in and outside of the hospital. She highlights the varied ways that women felt and let go of control, agency, security, connectedness, respect, and knowledge. I really felt understood in all my conflicting feelings about birth when I read this book, and empowered to cultivate those things that support a good birth. In a genre that can be dominated by anecdote and statistics, this qualitative study/social science approach was refreshing and yet very readable.
2. Book to Read with Dads-To-Be
The Birth Partner – Revised 4th Edition: A Complete Guide to Childbirth for Dads, Doulas, and All Other Labor Companions by Penny Simpkin (2013)
Written by physical therapist Penny Simpkin, this book is such a great practical way to think about how labor companions (Dads, doulas etc.) will actually help a laboring woman labor. Whether showing how to do a hip squeeze, ask a nurse for more time, or decide when to go the hospital, this book helps everyone imagine how to work together. It is easily the best single book to have a Dad-to-Be read (because in my experience most dads for some reason don't want to read a dozen books on birth). It has illustrations of positions, ways that dads can help, especially if you have a doula there (and let me go ahead and recommend that you do!). It's well-organized, balanced, concise and thorough with great illustrations and instructions.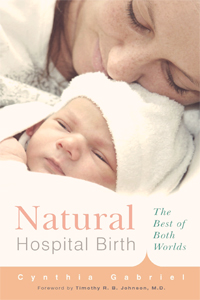 3. Practical Book about Hospital Births
Natural Hospital Birth: The Best of Both Worlds by Cynthia Gabriel (2011)
Written by a medical anthropologist and doula, Cynthia Gabriel's book is a really encouraging look at a natural hospital birth. A lot of natural birth books try to cover hospital, birth center, and home births (inevitably making hospital births sound harder…), so I really appreciated a book geared just toward natural hospital births since that was what we had already decided to do. I loved her idea that dreaming of birth plans can help you uncover what is really important to you. I particularly enjoyed her writing about her experience working in Russian hospitals, and it made me more passionate about how hospitals can be really great places to birth in, and we should all be working toward making them into such places.
4.  A really pro-hospital outlook
The Best Birth: Your Guide to the Safest, Healthiest, Most Satisfying Labor and Delivery
Written by labor and delivery nurse Sarah McMoyler, this book lays out why and how a hospital can be a great place to labor.  While she does write in support of natural birth, ultimately I think her bias against doulas and motto, "healthy mom, healthy baby–however you get there" are not entirely helpful. I think in some cases your labor and delivery nurse can act as a doula (I think some of my nurses would have been great at that, but definitely not all of my nurses) and that yes, "healthy mom, healthy baby" is absolutely the top priority, but what exactly does "healthy" mean? Psychologically healthy? Spiritually healthy? With your gut-microbiome and your perineum intact? I think that one of the advantages of the natural child birth movement is that there is a wider, more holistic approach to defining "healthy." So those caveats aside, why I think that McMoyler's book is helpful is that it is a positive outlook on hospitals and staff. A lot of natural birth books are like: most doctors and nurses want to be helpful…but…here are 80 reasons that they aren't. This book lays out what most hospitals and especially labor and delivery nurses are trying to do, what the terminology and procedures you'll run into are, and ways of using the hospital space to labor in.  I think that developing trust — trust in your body, the birthing process, your spouse, your doula, AND your doctors and nurses are all really key to a good birth. This book will help you with the last two: trusting your doctors and nurses at the hospital.
5. An Art Therapy Approach to Birth
Birthing from Within: An Extra-Ordinary Guide to Childbirth Preparation by Pam England (1998)
Written by midwife and therapist, Pam England, this book takes a personal growth approach to birth, using art therapy and visualizations to help mothers explore their fears and anxieties about birth. I really loved this book; it is filled with great drawings, an abundance of approaches to cope with fear and pain, and somehow strikes the balance of encouraging natural birth while preparing mothers for how to have a good birth that has a lot of interventions. This is definitely the book that I feel like I would want to return to and slowly do more work in if I'm blessed with another pregnancy.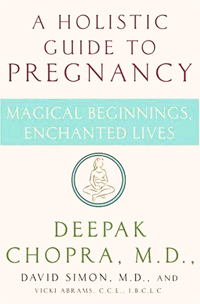 6. Favorite Integrative Book on Pregnancy
Magical Beginnings, Enchanted Lives: A Holistic Guide to Pregnancy by Deepak Chopra M.D. (2005). Written by the popular integrative eastern approach doctors Deepak Chopra and David Simon along with nurse midwife/ lactation consultant Vici Abrams, this was easily my favorite pregnancy book. So many pregnancy books are so heavy on nutritional advice that as a paleo eater I just flat ignored. This book has a big emphasis on self-care (massage, yoga, meditation, natural remedies), advice on eating that, while definitely not paleo, is much more balanced than typical books, and an acknowledgement of the spiritual dimensions of pregnancy. It really is an integrative approach to pregnancy!
7. Favorite Spiritual Pregnancy & Birth Memoir
Great with Child Debra Rienstra (2002). Calvin College English professor Debra Rienstra writes the most beautiful memoir on the pregnancy and birth of her third child. Filled with thoughtful reflections on Scripture and a warm and intimate voice, Professor Rienstra is such a comforting guide to journeying through pregnancy. Opening with a miscarriage and closing with Postpartum anxiety/depression, her book covers the beautiful and painful parts of pregnancy with honesty and thoughtfulness.
Practical Methods and Approaches to Natural Birth
For more of a narrow and practical focus on how to actually handle contractions these were some of my favorites.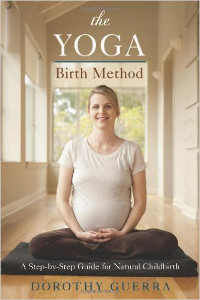 8. The Yoga Birth Method: A Step-by-Step Guide for Natural Childbirth by Dorothy Guerra (2013).
This has a great set of asana practices that I used in the earliest stages of labor after practicing them throughout my pregnancy. It was nice to know that I could always cycle through the child, cat, cow, down dog, squat, mountain, warrior II, triangle, wide angle forward bend, pigeon, crescent, frog, and butterfly poses. She also gives modifications that labor partners can do and ways to modify the asanas as labor progresses.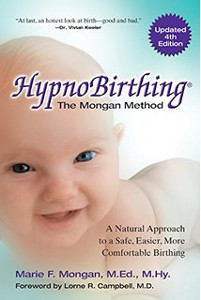 9. HypnoBirthing, Fourth Edition: The natural approach to safer, easier, more comfortable birthing – The Mongan Method, 4th Edition by Marie Mongan (2015).
If you are interested in mindfulness, meditation, and a self-hypnosis approach to labor and delivery this is the classic book. I really liked the meditation practice CD that came with the book, and just like the yoga book I used it in the earliest stages of labor and throughout my pregnancy to help me relax and get back to sleep.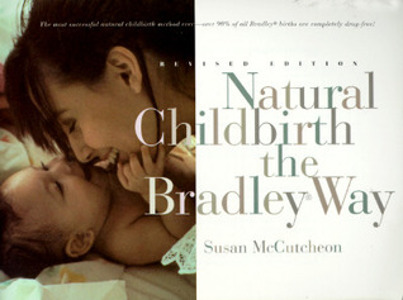 10. Natural Childbirth the Bradley Way: Revised Edition by Susan McCutcheon (1996).
This is a classic for a reason. First, it has amazing late 70s early 80s photos of naked birthing crunchy moms with feathered hair from the original 1985 edition. Second, it does a really great job of explaining how birth happens with illustrations and metaphors—because being able to picture what is happening during labor is cited as one of the key components of birthing well. Third, it combines both a relaxation approach (like Hypnobirthing) and a husband coached approach (like the Birth Partner). I did end up sort of laboring in the Bradley position, I think. Honestly I don't really remember if my bottom arm was out behind my back or not… but I know that I used the Bradley labor position to sleep for the vast majority of my pregnancy!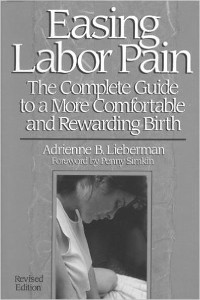 11. Easing Labor Pain: The Complete Guide to a More Comfortable and Rewarding Birth by Adrienne B. Lieberman. (1992)
This book does an amazing job of covering the varied approaches to pain coping that have becoming popular in the west since the 1960s. I found the history really fascinating. (For example there was a whole birth method based just on yawning!) I would love to see an updated version of this book that would summarize the last 25 years of birthing techniques. If you are interested in the technical aspects of pain pathways and the whys behind popular birthing methods without the bias of a particular method, this is a great book.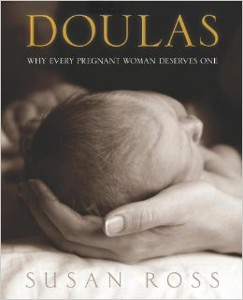 12. Doulas: Why Every Pregnant Woman Deserves One by Susan Ross (2012).
If you are on the fence about getting a doula, read this book. It does a great job of outlining what a doula does and how she can be such a helpful part of labor. It definitely has a hypnobirthing slant, and talks about birth in Australia — but I found both of those to be really interesting. Doulas can be the like the very best of all these books, because they are students of birth, gently suggesting a position or offering encouragement when you need it most.
13. Ina May's Guide to Childbirth by Ina May Gaskin (2003).
Ina May is the mother of the modern natural birth movement, and her book is a classic for a reason. I found the second half of the book to be more helpful than the first half—which is mostly birth stories that are pretty anti-hospital and made want to just drive down to her commune ("The Farm") and have her personally be my midwife. The second half of the book is filled with her wisdom, pictures, and approaches that she's used in her long and successful career as a midwife. The last week of my pregnancy I basically just watched a bunch of YouTube videos of Ina May talking about the beauty of birth.
…
The funny thing about labor is that while it dominates your thoughts while you are pregnant, it is over relatively quickly, leaving you with a newborn who needs to eat and a postpartum body that needs to rest and recover. So many new moms say that they wished they had read a lot more books on breastfeeding, sleep, and postpartum recovery. Here is what might actually be the more important list of pregnancy reading : 10 favorite books for postpartum care and recovery.
*Note* This post contains Amazon affiliate links, which means if you were to buy a book, I'd get a tiny commission at no cost to you. Thanks for supporting Stories & Thyme!*
Subscribe to Blog via Email

Instagram

Follow Me on Instagram!

Twitter

Follow me on

Twitter!

Favorite Posts

Archives