This week's Newbery, Monica Shannon's 1935 Dobry, follows a little Bulgarian peasant boy named Dobry, who loves the beauty of his farming community but longs to capture it in drawings and sculpture instead of just tending the fields. A cozy tale for the beginning of winter, Dobry has vibrant characters — a storytelling grandfather, an industrious strong mother, Roda, a gypsy bear who gives massages by walking on people's backs, a Muslim sheep herder, a beautiful shoemaker's daughter, and an artisan stove maker. But it has an even more vibrant setting and culture—snow-covered tomato patches, diving in the frozen lake for St. John's cross, a bare-chested snow-melting contest, gypsy visits to clean copper pans and visit their cinnamon colored bear, and Christmas fasts and feasts and Orthodox services.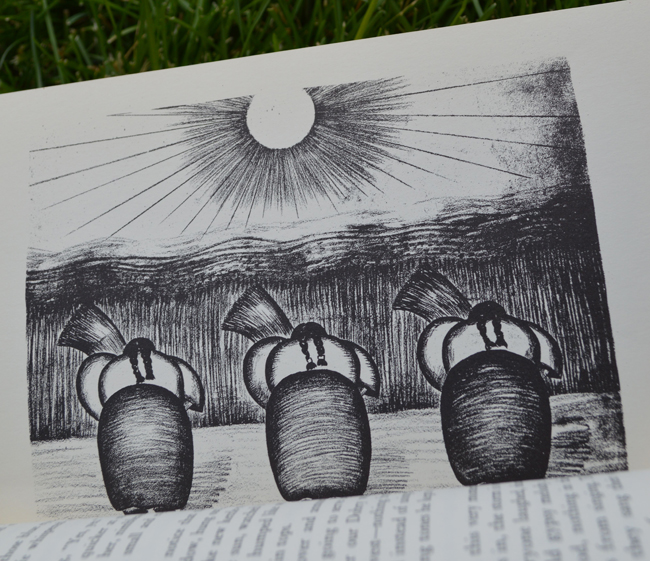 What I liked. I loved the picture of Orthodox farming life, and especially an artist finding his way. It made me think of my own father, an artist and Orthodox Christian. The description of food and farm and art is really beautiful.
What was interesting. The gypsy bear who gives massages was the most unexpected character. It turned out to be slightly anti-climactic when we actually meet the bear (she is a docile masseuse), but she represents the way that so many cultures and traditions—Gypsy (Roma), Orthodox Slavic, and Turkish-speaking Muslim—have mixed in the Bulgarian countryside, which is so well represented in this book.
What were some limitations. The plot was a little hard to follow. I enjoyed the individual passages a lot, but the first half of the book seemed to take place within a few weeks, and then suddenly half way through it was four years later. If I hadn't read the inside jacket and known that Dobry was going to want to become an artist, I think it would have been even harder to follow that suddenly he loved to draw. It is still a book that I would enjoy pulling out sections of (especially the Christmas chapter); the chapters seemed to flow much better than the book as a whole.
Why I think it's a Newbery/ Similarity to other Newbery winners. It's a coming of age tale set in a faraway land, which seems to be two of the preferences of those who awarded the Newbery in the 20s and 30s. It had a similar poetic flow as Waterless Mountain and interest in the community and culture like Young-Fu.
What it teaches me as a writer. I especially loved the farming metaphors that Grandfather would use to talk about letting Dobry choose his own path:
"People are not all the same, any more than the vegetables, fruits, trees, and animals are all the same. A fox lives one way; the buck another way. Both have different needs. A pine tree will die where a poplar tree will grow. Grapes need sun; celery needs shade and more water. Some plants need to be moved; other plants die if you move them. There it is, Roda. To the devil with 'easier'! What seems an easier life to you would seem a harder one to Dobry. He needs to draw, to paint, and Dobry is going to be a great man just as his father said he would be." (p. 108)
What I love about this is that it uses descriptive language that you'd normally think of for setting, but uses it to further character development and as a beautiful dialogue exchange. It's a good reminder to not be afraid to let my characters describe both setting and what is on their hearts.
Have you read Dobry? What are are your favorite farming stories?
*Note* This post contains Amazon affiliate links, which means if you were to buy a book, I'd get a tiny commission at no cost to you. Thanks for supporting Stories & Thyme!*
Subscribe to Blog via Email

Instagram

Follow Me on Instagram!

Twitter

Follow me on

Twitter!

Favorite Posts

Archives