This past weekend we drove down to Illinois again to visit two of Evan's cousins and their wives. We swam in a lake, grilled kabobs, played board games, went to church, and then let the men go into Chicago for a Liverpool Football Club friendly match. While the boys were away cheering at the match, the wives talked about books and writing and family. It was a sweet time of talking about the stories we loved to read and the ones we'd love to write. It was the kind of conversation that ended with a great list of books to add to our to-read list.
I have been slowly embracing this "being a writer," thing. Putting words to paper is slow and good and hard, and yet most days I don't feel like a "real" writer. But I was almost surprised this weekend that I had some specific recommendations for how to start writing, and the questions people sometimes ask me about writing: How much of the plot do you need to know before you start? How do you write good dialogue and develop good characters? How do you stay passionate about a project to see it through?
So over the next few months, I'm going to reflect on what I am learning about writing. This week I'm going to share the five books on writing that I've loved and five books I want to read (or finish reading).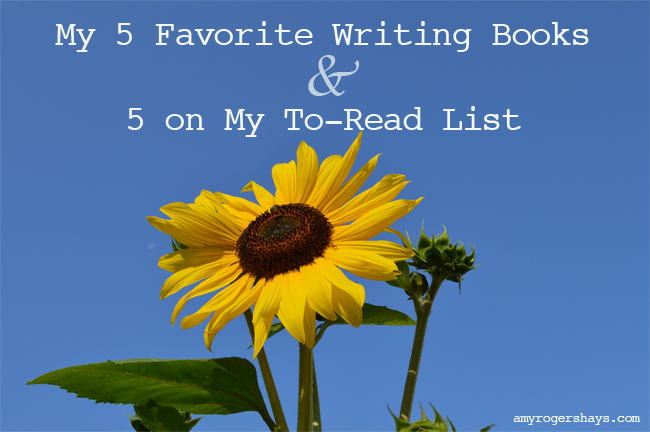 My 5 Favorite Writing Books:
On Writing: A Memoir of the Craft by Stephen King. I confess I have not actually read any Stephen King because I'm not a big fan of horror, or being scared in general. But I loved Stephen King's On Writing, a part biography, part advice book about life and art and writing. Evan and I listened to the whole thing on audio book during a long Wisconsin to Maryland drive. I loved hearing about his routines and advice, his early rejections and triumphs. Even if you aren't interested in writing, it's just a really great book.
Bird by Bird Some Instructions on Writing and Life by Anne Lamott. This is usually on everyone's favorite list of Writing Books, and for good reason. It's amazing. Anne Lamott can tell a story like no one else, and this book is full of stories and profound truths and funny moments. I read it first in high school as a gift from my mother's college roommate who is a writer, and I think it helped to keep my love of writing alive for the next decade.
Writing Magic: Creating Stories that Fly by Gail Carson Levine. Mainly aimed at children, this straightforward book by the wonderful children's author Gail Carson Levine is surprisingly helpful for adult writers as well. In a clear, encouraging, and straightforward manner she lays out the principles of writing stories well, and reflects a lot on the specific creation of her own books. I think this book would be especially good as curriculum for elementary and high school writers looking to develop their fiction skills.
A Writer's Guide to Harry Potter; How to Improve Your Writing by Studying the Bestselling Series by S.P. Sipal. I love Harry Potter, and I think that JK Rowling is brilliant. This book looks at so many of the things that Rowling excels at and offers observations and helps tease out general principles for all writers to use in their own works, fantastical or not. (A companion book to this one, although not intended specifically for writers is John Granger's book How Harry Potter Cast His Spell. Warning, these books may make you want to stop writing and spend a week re-reading the whole Harry Potter series.)
A Million Miles in Thousand Years: How I Learned to Live a Better Story by Donald Miller. This is not really a writing book per say, it's more a book about a writer who is applying the principles of good story telling (specifically screen writing) to his own life. This is the book that really helped me decide that what I wanted my life to be about was writing.
On my To-Read List: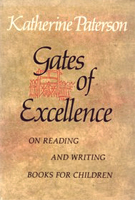 Gates of Excellence: On Reading and Writing Books for Children by Katherine Paterson.I respect Katherine Paterson and her work so much, and I'm looking forward to her reflections specifically as a Christian who writes children's novels. I read The Great Gilly Hopkins over Christmas and was so touched by its message about facing the adventure before you with kindness.
Walking on Water: Reflections of Faith and Art by Madeleine L'Engle, one of my all-time favorite authors. I'm looking forward to her thoughts on rest and work, on creating art and the written word. I've read some of her journals, and Listening for Madeleine: A Portrait of Madeleine L'Engle in Many Voices, and felt like I got to know L'Engle more as a complex, flawed, and wonderful person through those reads.
Writing Down the Bones: Freeing the Writer Within by Natalie Goldberg.  For a few months, everywhere I turned people were recommending this book to me. So I'm listening, and I've got a copy (from that same friend of my mother's who so generously gave me Bird by Bird 15 years ago).
The Artist's Way by Julia Cameron. I've gotten a few weeks into this before, but I think my perfectionism really stopped me from completing it, so I'm hoping to do it again with imperfect (short and irregular) morning pages and dive into those 12 movements away from fear into art. From the last time I started it, I remember feeling so encouraged that many people said they thought they couldn't write because they weren't good at spelling. Dyslexics unite!
Naming the World and other Exercises for the Creative Writer edited by Bret Anthony Johnston. A birthday present from Evan from a few years ago, I've enjoyed the introductory essays from various experts, and although I admit that I don't really have a ton of time between (my sporadic) morning pages and blogging and my work in progress to do additional exercises, I still think reading through them will be enjoyable.
What are your favorite books about Writing?
*Note* This post contains Amazon affiliate links, which means if you were to buy a book, I'd get a tiny commission at no cost to you. Thanks for supporting Stories & Thyme!*

Subscribe to Blog via Email

Instagram

Follow Me on Instagram!

Twitter

Follow me on

Twitter!

Favorite Posts

Archives