Seven years ago yesterday, we got married. I was too excited to sleep. I woke up at 3:30 am, convinced that no one was going to remember to get communion bread. So I tried to sleep for another hour. I couldn't believe that I had actually made it to that day, through the 9 months of long-distance engagement. But sleep would not come. I gave in and got up to bake bread without a recipe. The rest of the house (which included a lot of out of town guests) slept. And as I pulled out that multigrain flat bread out of the oven, I looked up in that early May morning light, and I saw him walking up my drive way.
He couldn't sleep either, so he had walked over from the local hotel where he was staying. I left the bread on the counter, and we went to breakfast. We walked eight blocks to the diner where I had had my first job washing dishes at 15. We ordered omelets and fancy coffees, and we just basked in the glow of the day that was ahead of us.
It was a still moment before the hair-dos, and getting dressed, and the endless pictures, and the commotion of hundreds of our closest friends and family coming to make sacred vows with us. But for that moment it was just us.
Yesterday, I woke up at 5:30. The early morning May light filled in the upstairs-cabin bedroom with full day light at that early hour. I tried to go back to sleep for another hour. But we've been getting up around six for a year—teacher's schedule. And I've never been any good at sleeping in. So I got up to make us breakfast: sautéed kale and broccoli and cabbage with sausages and eggs. It was a quiet start to a quiet day.
We marveled that we had made it through the past year. We made it through the grueling hours of student teaching and nearly full-time tutoring. We made it through packing up and moving across country. We made it through waiting for the birth of our niece and saying goodbye to some of our closest friends. And as of Thursday we had made it through waiting for a job. Here we were, with a job for the fall and health insurance that starts mid-summer.
On the cusp of a new chapter, we started the day with breakfast.
Thousands of breakfasts separate those two dishes of eggs and vegetables and sausage. Easter brunches with ham, and Christmas morning coffee cakes, hurried breakfasts gobbled up before running out of the door, or slow banana pancake stacks that stretch a Sunday morning out. These breakfasts make up 2,557 mornings of married life.
Sometimes I remember that breakfast on my wedding day, and wonder if I had known how hard moving across country, looking for a job, joining a new church plant, and learning to be a part of an extended family would be. I wonder if it would have damped that joy. Probably not, I was foolishly, wonderfully in love, and I had made it through the long journey of waiting. And it didn't really matter what was ahead of us, because it was us who would face it. And here we are again, move, new job, new church, more family, and still us to face it. And us to start the day with vegetables and eggs and sausage.
We have learned a lot between those breakfasts. We've learned about working hard and resting well. We've started and ended projects and programs. We've learned to say yes when we want to say no, and no when we want to say yes. And we've learned a lot about breakfast. We've learned about what foods nourish us, and what foods make us sick (sorry Jack Johnson, no more wheat banana pancakes). We've learned that the basic daily choices about what you consume, with your mouth, your mind, and your heart set the course for your day, your year, your life.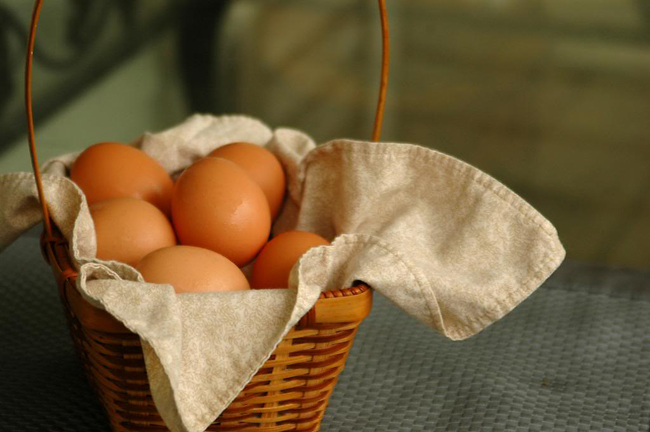 I don't know what the next seven years will hold. But I know that I won't face it alone, and every day I'll start the day with a good breakfast.
What are the everyday things that help you mark joyous occasions and time passed?
Subscribe to Blog via Email

Instagram

Follow Me on Instagram!

Twitter

Follow me on

Twitter!

Favorite Posts

Archives