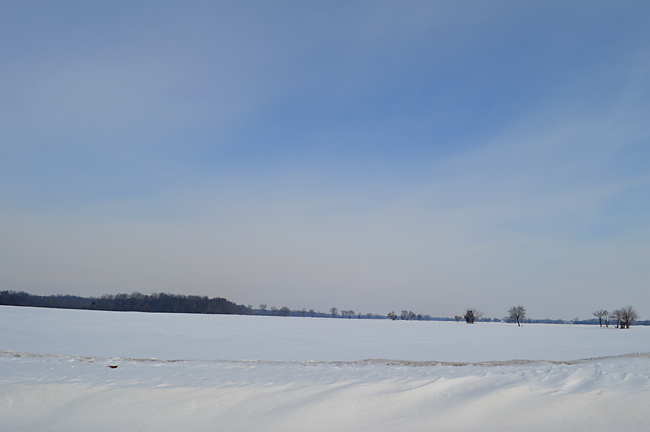 It is Lent. I want coffee. It is winter. I want spring.  It is unsettled. I want routine. But here we are, at the tail-end of winter, at the very beginning of Lent, a week and half into the adventure of Wisconsin.
There is sometime so very physical and embodied about Lent and moving. The regular is interrupted, and bodies are pushed and denied for a little while to get to some place new.
The dozen scratches on my hands and bruises on my shins, although fading, are still visible. They are markers of ovens scrubbed and coffee tables hauled.  My red writing journal sits next to a cup of black tea in a borrowed mug at my brother's kitchen table.
We arrived in Milwaukee late on last Friday in early March.   In a 16-foot yellow Penske truck towing our little red Hyundai, we were honorary truckers for a day, parking in extra long spots at the back of the Ohio Turnpike rest stops, getting $100 worth of gas next to salt-encrusted semi-cabs.  Jim Dale read us Harry Potter and Order of the Phoenix for most of the 14 hour drive.
In the ten days since our late arrival, we've hauled boxes down stairs and upstairs, into basement corners and under rafters in crawl spaces. We've opened a new bank account, gotten a new library card, found a car mechanic, visited 5 grocery stores, 2 churches, and 1 historic light house.
People have been incredibly welcoming and kind. My father-in-law drove hours to help us pack up our truck, slept on an air mattress in our empty living room, and scrubbed out our refrigerator late into the night. My old harp teacher drove out to our new home to pick up and babysit my large harp. I hadn't seen or talked with her in 15 years. My grandfather offered to let us retreat to his lake cabin for a few days. It's a half hour a way without a box to unpack and had an internet-signal strong enough to video chat with our little three year old godson, who I used to nanny, back in DC.
Both churches we visited had so many people greet us that we were some of the very last people to leave before the building was locked up. And of course it's difficult to enumerate the ways and lengths that my brother and sister-in-law have gone to welcome us, giving us the finished attic of their home, lending us their truck to take our car into the shop, and stepping around boxes as we settle.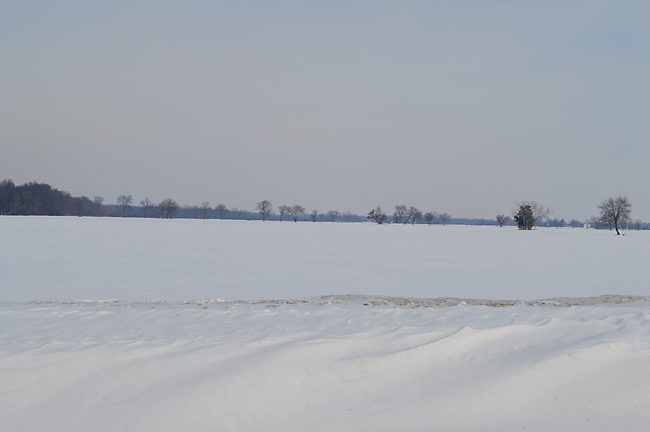 Settle. I have been surprised at how much the first week my heart felt unsettled.  Anxious is probably the proper word for it.  It just seemed to be free-floating anxiety, not really connected or caused by any one thing in particular, but it would settle and attach on one thing or another depending on the day: What if I left the kitchen too messy? What if we weren't supposed to park the truck there? What if we couldn't see a car in our blind spot?  What if I had to go to the bathroom in the middle of the night and woke up the whole household as the dogs barked at the creeping figure on the stairs?  What if…?
And the great irony of anxiety for me is that anxiety seems to be an issue solely of the mind, but I find that my anxiety is best dealt with in my body.  A two-hour walk on a country road behind the cabin on a warm 36-degree sunny morning, and I feel lighter, more able to tackle each day.  I pull out my long neglected yoga mat and kettle bell weight and feel my arms protest, but I feel strong and sore the next day.  I scribble notes down about what we did on what day, and my hand seems to untangle the thoughts as it moves across the page.  My body and my heart are connected.
I know this. I know that investing the time into physical acts of caring for myself will give me dividends of a peaceful heart to be productive for the other hours of the day.  But I forget and need to be reminded.
Lent is like that too. It is the physical discipline of fasting that untangles my heart.  I sit down without coffee to write, and I notice that it is gone, notice that I wish it were there, notice that I depend on it, notice that it is Lent.  I taste my tea and think of how we are getting ready for Easter, for the Feast of Feasts.  I feel my stomach empty without mid-afternoon dark chocolate, and think of how we are journeying toward springtime, to the promise of great renewal, where broken is healed, where the empty is filled.
I am tempted to think that I cannot do Lent well because we have just moved. I am not ready.  I can't even make a regular dinner without opening two boxes to find some forgotten piece of kitchen gear. How can I make a Lenten meal? But Lent arrives, whether we are ready or not.  It meets us in our empty morning coffee mug, in our anxiety-filled hearts, and invites us to look toward Easter, to look toward the time when we are truly at peace, no longer sojourners in a foreign land, but truly and completely at home, feasting with our Heavenly Father.
Where is Lent finding you this year? How do you find that physical practices impact your spirit?
Subscribe to Blog via Email

Instagram

Follow Me on Instagram!

Twitter

Follow me on

Twitter!

Favorite Posts

Archives