Skip the Sandwiches: Simple Lunch Solution – Salmon Salads
After re-imagining breakfast without cereal, the next step in your day is lunch.  How do you do quick and easy lunches without sandwiches? One solution that a lot of people use is leftovers: just put whatever you had for dinner into a Pyrex container and skip off to work. But what if you ate all of your leftovers last night? Our solution to the lunch question is Salmon Salads.
Wild Alaskan Canned Salmon.  It's a great source of protein and fat. It has a lot of minerals in the skin and bones. Just add some homemade salad dressing, and it tastes great. Because it's already cooked and shelf stable in a can, it's convenient. It's not as cheap as peanut butter and jelly, but it is cheaper than tuna, and we like it better than tuna anyway. If you buy salmon in a case, you can definitely make yourself a quality lunch for probably a little more than $2 a day.
Now, to be clear, canned salmon isn't as good as fresh salmon. It doesn't taste as good, and the lining of some cans can be a source of BPA. However, there are a lot of great things about salmon, even beyond the fact that it is easy to get wild caught. One of the most notable of its great qualities is that it is full of vitamin D and omega 3s. The Healing Kitchen did a great piece on comparing various canned salmon, which provides more detail, and while they don't love the Whole Foods' brand, we buy the one with the bones included, which is slightly different than the one they rated. For us, the price is right and the pros outweigh the cons.
Another one of the great things about using canned salmon is that it's a fairly mild fish.  You can add various spices and really have a lot of different kinds of salad. (My favorite place to get spices is Penzeys).
If I were going to serve salmon salad to friends over lunch I might throw in some chilled roasted asparagus and mushrooms, fresh peaches, chopped red onion, hardboiled egg and fresh basil. Also, I might add some extra ginger and a little honey to the basic olive oil and vinegar salad dressing.  This lunch is not only good enough to make me hungry as I describe it, but also to keep Evan and I running on a daily basis. We never tire of it, in part because it is just so good, but also because we can always change up the spices.
Everyday Alaskan Canned Salmon Salad
(2 Servings)
Ingredients:
1 can (14.75 oz) Wild-Caught Alaskan Salmon
1/4 to 1/3 c Extra Virgin Olive Oil
2 teaspoons Sherry Vinegar
1/2 teaspoon garlic powder
1/2 teaspoon dried mustard
1/8 teaspoon salt
1/8 teaspoon pepper
6 oz Organic Spring Mix Salad
2 oz Cashews
Directions: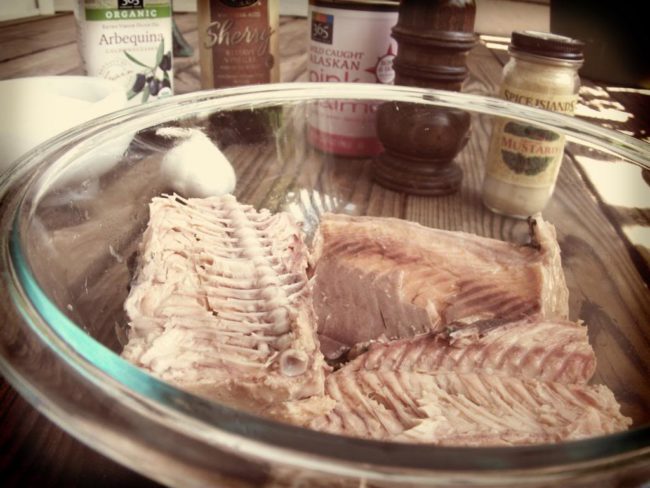 Open the can of tuna, drain out the water, put into a mixing bowl.
Add the olive oil, sherry vinegar, garlic powder, mustard, salt and pepper to the salmon.

Mix well in a bowl.
Serve over Spring Mix Salad.
Optional: Add cashews if you tolerate nuts or if you are not on an auto-immune elimination diet, blanched vegetables, and a side of "roasted" sweet potato. My favorite way to eat sweet potato is with a bit of coconut oil and a pinch of cinnamon and salt. And by roasted, I usually mean I put it in the microwave poked with a fork for 8 to 12 minutes, depending on size.
Update 2017: We still eat this for lunch most days, but I tend to put steamed brussel sprouts and avocado and a chopped apple in instead of cashews, just to up my veggies!
Travel Suggestions
This lunch packs well, especially if you wait to put the dressed salad over the lettuce until right before you are ready to eat. Otherwise, the lettuce can get a little soggy.  We pack our salad greens and cashews in our stacking deviled egg containers with the deviled egg tray removed, and the dressed salmon in a small round pyrex . Together with another pyrex full of coconut oil – cinnamon sweet potatoes and a couple of ice packs, it all fits well into our soft body cooler.

If you're getting ready to send little ones to school, there are a lot of great ideas about how to pack Paleo lunches over at NomNomPaleo.com, ThePaleoMom.com, PaleoParents.com, and their podcast ThePaleoView.
What is your go-to lunch?
Subscribe to Blog via Email

Instagram

Follow Me on Instagram!

Twitter

Follow me on

Twitter!

Favorite Posts

Archives