Six Strategies For Having Paleo or Other Special Dieters Over for Dinner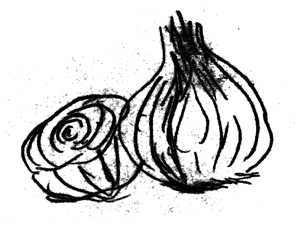 Sharing a meal together is a wonderful way to practice hospitality.  It is symbolic of communion and a special part of every culture. But cooking for people with food allergies, intolerances, and preferences can feel overwhelming. It's harder to break bread with people who don't eat bread!
Today I'll suggest six styles for inviting paleo or other special dieters over for dinner: picnic-style, potluck-style, cooking show-style, salad bar-style, basic-style, and adventurous-style.
But before I dive into the six styles, here's an excerpt from a little skit I wrote for last year's parish variety show about trying to plan a party for multiple special dieters.
…
Inspired by real-life events
Evan: Ok, so what do we need to pick up for our big St. Patrick's Day Party?
Amy: How about the traditional corned beef, mashed potatoes, and cabbage?
Evan: Well, wait we have two vegetarians who are coming, don't we?
Amy: Are they both strict vegetarians? I thought that I heard that one of them eats local organic meat—is the corned beef going to be local and organic?
Evan: Hmmm, let's see, it's from New York State, is that local?
Amy: Probably not. What about the potatoes?
Evan: They're local, from eastern West Virginia and USDA organic, but we also have a paleo-eater coming, and I think potatoes count as a grain.
Amy: I thought I saw them eating sweet potatoes at potluck last week.
Evan: That might have been yams.
Amy: What's the differences between regular potatoes, sweet potatoes, and yams?
Evan: I'll look it up.
Amy: Oh, never mind, forget I asked and forget the potatoes.
Evan: Everyone can eat the cabbage dish right? What are the ingredients?
Amy: Let's see I saw a recipe on Pinterest for Traditional Irish Skillet Cabbage: 1/4 cup butter, 1/2 teaspoon seasoned salt, 1 medium head cabbage, coarsely shredded, 1/4 cup chopped onion, 3 tablespoons vinegar, 1 tablespoon granulated sugar.
Evan: Butter's out for the vegans.
Amy: What about just boiling the cabbage and onions?
Evan: Nope, yesterday on Twitter I saw that two people are on an in-season, raw foods diet…
Amy: What about RAW, local, organic cabbage and onions?
Evan:  I think only the onions are ok, since they were harvested in season, and we've stored them locally.
Amy: You mean those onions that someone found while they were foraging for acorns?
Evan: Yeah those onions.
Amy: Wait! I just saw on Instagram that we've got ourselves someone on a juice-cleanse. Evan: We'll have to juice the onions.
Amy: But what about the water?
Evan: What's wrong with our filtered water?
Amy: Well, we have that small group who's only drinking tap water to raise money for the clean water initiative.
Evan: Oh, yes, the solidarity with our unfiltered brothers movement.
Amy: Maybe we should have everyone bring their own water.
Evan: That sounds reasonable. Ok, I'm emailing out: BYOTW, bring your own tap water, and we'll provide the freshly juiced, raw, organic, local, in-season, foraged, vegan, vegetarian, and Paleo onions.
…
Here are six suggestions for how to have Paleo or other special dieters over for dinner so you're not just serving onion juice.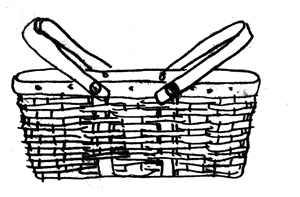 Picnic-Style: Have Everyone Bring Their Own Food. This is the easiest one. Just ask your friends to bring their own meal. Then prepare dinner for your household as usual. It feels a bit more fun if you are actually on a picnic, but it works in-doors as well. This is what we do for last minute get togethers with friends we know well. We just pack-up leftovers and heat them up at their place. (We bring our own soda siphon for sparkling water sometimes, BYOSW) Sometimes we'll share a dessert or salad greens as well.
Potluck Style: Have People Contribute a Dish or Two.  This works well if you ask your special dieter to bring the dish that you are most concerned about. For example, if figuring out a carbohydrate is stressful (Yams? Sweet potatoes? Regular potatoes?) then ask them to bring the side dish.
Cooking-Show Style: Cook a meal together with your guests.  The right recipe and prep is helpful with this, but cooking together can be a lot of fun and it allows your special dieter to help you along the way if something isn't ok for them. (Instead of butter, let's use coconut oil!). My friend Julie just had me pick out a recipe, and then she bought the ingredients. Then we cooked it all together, and she discovered a great new recipe for chicken tikka masala chicken.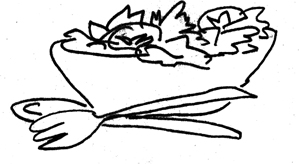 Salad-Bar Style: Keep Ingredients separate so people can pick and choose.  This works great for taco salads or curries. If you have all the ingredients in separate containers, then people can just go buffet style, skipping the parts that they can't or don't want to eat.  (Yes, I'll have the foraged local onions, no, not the imported cabbage.) You'll want to watch the sauces you cook things with, but keeping the ingredients separate goes a long way. We do curries this way when we have vegetarian or vegan friends over, since Indian food tends to still feel substantive without meat.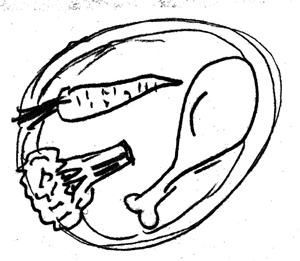 Basic Style: Keep it simple, just cook up meat and veggies. This is more Paleo specific, although the principle is the same across the board.  For Paleo people, a meal is meat and veggies, sometimes with optional extras of fruit and nuts. Being willing to host and pay attention to your guests is more important than fancy food (or an immaculate house). Your guests will much more appreciate simple food, than having to hurt your feelings (or their tummies) pointing out a fancy ingredient they can't have. (…Actually, potatoes are nightshade, and I'm avoiding those…) For Paleo people, just cook up some meat and steam some real veggies. We have dear friends who each time we come over grill salmon and asparagus with rosemary, lemon, salt, and olive oil. It's one the best meals we eat all year.
Adventurous Style: Research and try out a new Paleo Recipe! Log on to one of the many wonderful paleo blogs and pick a recipe that sounds good. (Try cauliflower mashed "potatoes"!) I'd suggest emailing your guests your recipe plans just to make sure that what you're planning is the same version of Paleo they are eating. This has worked well for when my sweet triad friends Elizabeth and Diana cook for me. Some of my favorite places to start looking for recipes are nomnompaleo.com, civilizedcavemancooking.com, againstallgrain.com, paleoparents.com, thepaleomom.com, paleomg.com, elanaspantry.com, and marksdailyapple.com.
Of course you can mix and match these styles. Pick out a recipe, cook it together, and have your Paleo friends bring the exotic ingredients like arrowroot flour and a dessert.
My final advice is regardless of what you choose, make sure you still tell people the all the ingredients.  Several times I've asked people if they have any food intolerances, and they vehemently declare no, and then I bring out frozen banana with chocolate and nuts for dessert, and they reveal they can't eat bananas.
So make sure you tell your guests what's in everything, and don't be afraid to make a last minute switch if something doesn't work, even if it's a half-eaten tub of coconut ice cream.
Happy Hosting!
What tips and tricks do you have for cooking for friends with special dietary needs?
Subscribe to Blog via Email

Instagram

Follow Me on Instagram!

Twitter

Follow me on

Twitter!

Favorite Posts

Archives